And our Everest journey began, leaving aside the temple visits and hitting the road. In fact, we encountered many temples on our mountain journey, which we walked for days.
EVEREST JOURNEY
So, incredible and mystical temples were waiting for us at great altitudes. Actually, it was our thoughts that made the temple mystical. Because these monasteries, located at the point where we say "Nobody lives here," and far from the center, was amazing. After completing our Everest journey and returning to Kathmandu, we stayed in the country for a while to relax and rest. Before we went to the mountain, we stayed in Kathmandu for a while to get the things we had determined in our minds, and then we said, "Let's go, that's all for here, and then we bought a plane ticket to Malaysia. We were buying one-way plane tickets so we could go where we wanted and stay as long as we wanted.
When I look back now, I see that this is the real journey. To get tickets for another country in the morning by deciding the previous evening when you're done with what you're going to get from that country.
If you can, travel with one-way tickets for once in your life and decide your next trip there.
MY EVEREST JOURNEY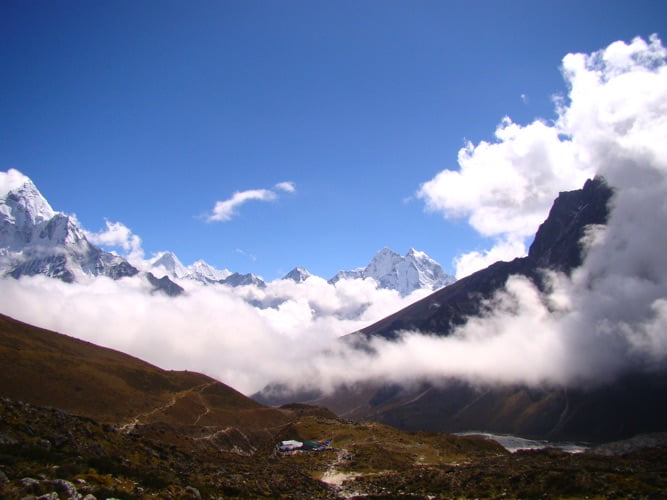 My trip to Nepal was a crazy one, in which the word "crazy" was inadequate. Now, I think it was breathtaking. What made me feel this way was how we felt while climbing Everest. I made this decision in an unplanned and unprepared situation, unaware of what was about to happen to me. I didn't even know the Everest journey started at the world's most dangerous airport. Actually, there was not a single mountain that I had climbed professionally before. Yes, you heard right, I will explain everything to you in detail in the rest of the article. But first, let me tell you how I suddenly made this decision while walking around Nepal with my flip-flops.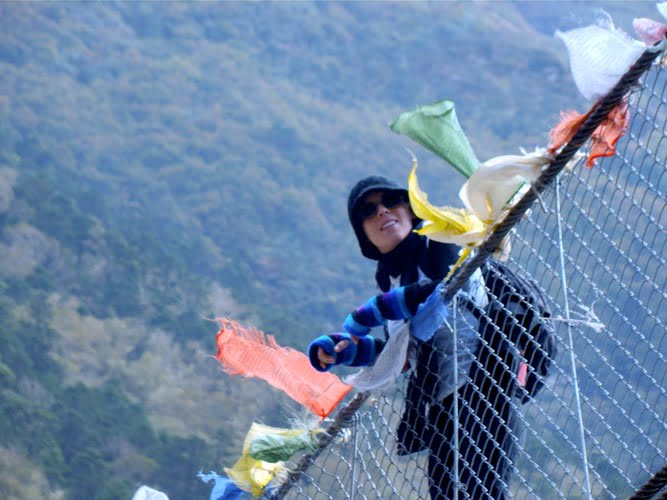 I was walking the streets of Kathmandu, Nepal, as if I had taken a trip back in time. At the time, I could only connect my phone to the internet when I sat in a café with Wi-Fi. Even though I complained about it at the time, when I look at it now, I can see it was a great experience. I had to discover everything myself. That's why, everything that I came across was new and indescribable to me. I was always asking myself "What am I doing here?" and I was proud of myself for being able to come to this city where time stopped. I had confusion about experiencing most emotions for the first time.
Most of my friends were sending me messages, saying "Share it with us, tell us about your journey". Some people said excitedly, "One day I'll go to Nepal, Kathmandu (Kathmandu). I will climb Everest, and that day I will come true my biggest dream,". And then I realized that it was most people's dream to come to the Himalayas, to visit the cities here.
There were many mountain advertisements prepared for tourists in the streets that smelled of incense. Of course, the favorite was Everest, as usual. Agencies were handing us all kinds of brochures that mountain courses were written on. At that moment, I thought, "Isn't the Everest one of the places that people dream of all their lives and cannot go to?" I never imagined myself when I had these thoughts in my head.
In the society I live in, most people put off their dreams for retirement and then find themselves dealing with soil works in the garden of a small summer house they bought, without being able to come true any of them. The idea of missing out this life always scared me.
My birthday was coming up, and all of a sudden, I decided to give myself a dream as a gift. That's when I made a promise to myself that every year, I would give myself one of my dreams to live life to the fullest.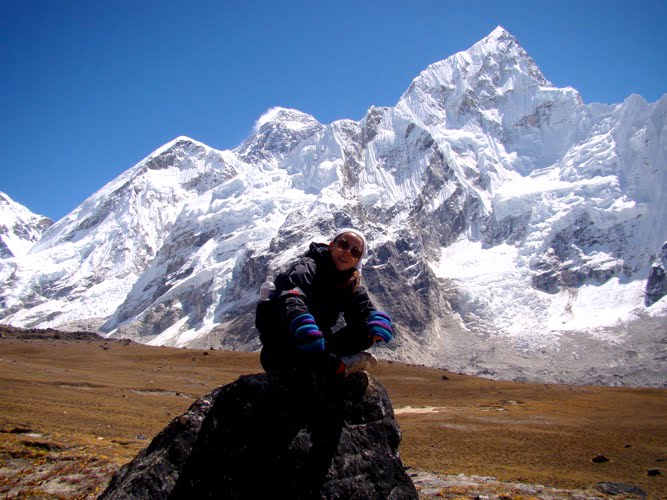 I was often hearing tourists talking about Mount Everest while walking in the streets of Kathmandu Thamel. In fact, one day, a tourist in a cafe mentioned that he would try to climb Everest track next time, that he did not have time then, and that he would definitely try it if he could change the return ticket he bought. I thought, "I wish he'd buy a one-way ticket like us! Then, he'll have time for such madness."
So, what was I going to do for my birthday this year? Really, what should be on a person's to-do list before s/he dies?
I've never felt any desire to go up a mountain before. That was the first time I felt it! When I asked my cousin Ali, "Let's climb Everest,", he only said "Are you crazy" with a smiling and calm voice, and I remember he laughed out loud, pushing the limits of his serious personality. "You must be crazy, I haven't done any sports in my life, my daily walk has not exceeded 30 minutes. How are we going to get there? That's impossible!" he said. Well, "wouldn't you like to do something like that one day? "I asked him. "Yes, of course, one day when the time comes, I'd like to come back here and do it," he said. He said the answer I was afraid of. That moment will never happen again. I turned to Ali and said, "Okay, then! You know the right time will never come, right? I have never climbed a mountain in my life. Why not this Everest track?" After a big laugh, I added: "Come on, let's go!"
I don't know how I convinced myself and Ali afterwards, but we went to the O2K café where we enjoyed going in the Thamel area and had a cold drink to talk about this idea and find out which agent was proper for us. Ali and I still did not believe that we would embark on such a journey but I was thinking, "Why not?" We got a reliable name from the café's staff. I didn't know how reliable the name they suggested was because the employees knew him, but with the name we got, we quickly left the café and went to talk to the agent. When we went to the agency they gave us a few suggestions, but strangely, Everest, Base Camp, Mount Kala Patthar started to fascinate us more than the other options.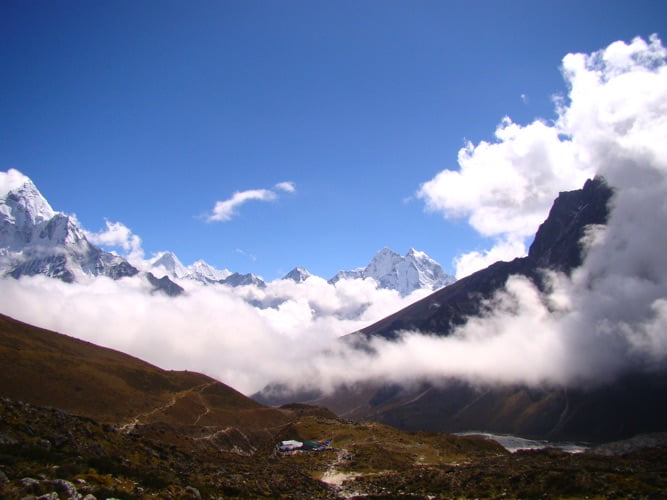 We were thinking of going to Malaysia after Nepal and we were also aware that if we spent our money on this Everest journey, we would have small amount of money in our pockets for the rest of our trip. And we hadn't even bought our return ticket yet. Nevertheless, we made this decision unaware of another adventure that would wait for us in Malaysia after Nepal with the money left in our pockets, feeling that it was worth everything at the time.
Yes, it was definitely going to be an unforgettable birthday present! We were going up to the mountains, a day later. I quickly found a phone and called home. "Mom, I've decided to go to Mount Everest, I won't be able to call you often. Just so you know, I'm going to call you as soon as I descend." It was like I told my mom, "I'm going to the store to buy bread." She said, "Okay, call me when you get back and be careful" It was as if the feeling that I would be in trouble if I didn't come back safe made me shiver more than the mountains. After talking to my mother, I opened Facebook and shared this idea with all my friends, and then we hit the road with our missing, inadequate items.
How Did We Prepare Our Bag for The Everest Journey? What Do We Have in Our Bag?
After such a title, I would like to share an article about what should be put in the bag like a professional mountaineer, but our bag was no different from the bag of a tourist going on vacation. Actually, the mountains and roads require serious preparation, but we were very unprepared.
What Do We Have in Our Bag?
In line with the tips, we got from our guide, we got up early the next morning and started wandering around the Thamel region, where all kinds of tools were sold for those going to the mountains. If you suddenly make decisions like we do, don't make a big deal out of your bag. You can buy great stuff from Kathmandu, Nepal and set off.
In fact, I was surprised to see that some of the brands that I do not know about their prices, but that I remember were extremely expensive for that period, were sold very cheaply here. At first I thought these might be fakes, but then I found out that most of these coat and shoe companies that sell mountaineering supplies have factories in Nepal. That's why you can buy these mountaineering supplies from Kathmandu for a much cheaper price. Even you can even buy a plane ticket to Nepal with the money you would normally spend on that expensive coat in your own country, and then buy the same coat from here at no cost. That's why we were able to buy great products without overspending. But we had to get sleeping bags, hats, gloves and some more stuff, and we were supposed to leave the next morning. Our time was running out, on our way up the mountain, when we learned that we could find wonderful products brought from Tibet in one of the villages, yes I know it's unbelievable but Our journey began with my flip-flops.
Maybe you're goint to ask, "why were you so unprepared and relaxed?" Most people do mental, sometimes physical and sometimes spiritual preparation to realize their dreams throughout their lives, but they don't realize that life is running out while they wait for that big day to come, right? Life is going on very quickly and we often miss the moment. And we're never ready.
Sometimes we make things so big in our eyes that we don't have the courage to start anything we dream of. That's why I just wanted to experience it, without getting too caught up in too many details…
In fact, when I think about it now, not knowing the difficulties of this journey was what got me there. We weren't acting like tourists, we were acting more like Nepalese. Everything was in our favor, we were pleasant and relaxed. Now I can say that I'm glad I let it flow and experience the surprises that life has offered me.
World's Most Dangerous Airport: Lukla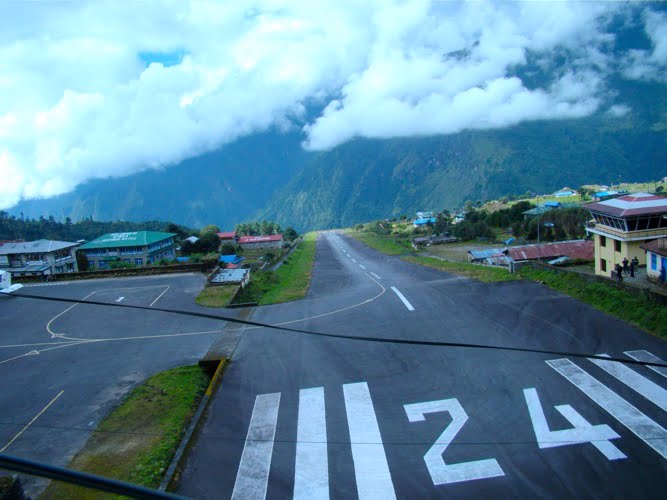 The next morning, we met with the crew and made our way to the airport. Whether you want to climb Everest or go to Everest camps like me or to Kala Patthar, you need to go to Lukla Airport. Of course, it's fine so far, but if you notice that this airport is the most dangerous airport in the world when you're about to get off the plane, it's going to be an extraordinary experience. Yes, you got that right, that's exactly what happened to us.
When we were at Kathmandu Airport and our guide showed us a plane that looked like a minibus, I thought he was joking. When we came to the gate of the plane, they gave us cotton and candy at the entrance. That's when I started questioning my decision. But it was too late! When I asked them, "what are we going to do about the cotton?", they said, "You're going to close your ears with the cotton."
I understood why they were handing out cotton with engine noise when the plane took off. We were fascinated by the view of those magnificent Himalayas, even though the noise was loud. We flew for about 35 minutes. Given that there were so many flight cancellations and delays, it was lucky that we came on the first flight. Five minutes before landing, our pupils grew when we realized there was no landing field in front of us and we were heading towards a mountain. Ali and I looked at each other. "God, where are we going to land?" I asked him. There's no landing field! There was a 500-meter plain on the cliff at the edge of the mountain and we were going to land there. They must have gone crazy, what if we couldn't land? It was crazy to go down that hill, and that's when I found out it was the most dangerous airport in the world.
Indeed, Lukla Airport was a place where planes crashed into the mountain from time to time. At the time of our landing, the front of the landing field was open, but just ahead, a layer of fog covering the mountain was coming towards the field. As we were about to land, we didn't even want to think about a layer of fog suddenly covering the landing field. At an altitude of 2,845m, you land on a sloped, made on the edge of the cliff, average 500m-long field, and suddenly the uncertain weather of the Himalayas covers the landing field with adverse weather conditions like snow, fog and wind. If you see such a scene in a movie, you would find it exaggerated, but when you experience it, you realize that it could be real.
You can see the track from the photos I took. Lukla Airport is located at an altitude of 2,845m (9,333ft). It is also known as Tenzing-Hillary Airport. In times of intense wind and fog, the landing field is closed and they only very experienced pilots are allowed to fly. Air density is significantly lower than sea level, which has a significant impact on the amount of power generated by aircraft engines. The longer the landing field at high altitudes, the better. But Lukla Airport has a length of only 527m (1,729 feet) and a slope of 11.7%. That's why only helicopters and small propeller planes are allowed to land. Most flights take place early in the morning. Due to the uncertain weather in the Himalayas, cancellations are common in Lukla. Needless to say, there are many planes that have not been cancelled and have been subjected to these bad conditions and crashed while in the air. Lukla Airport in Nepal is blacklisted by the European commission.
We landed safely on the landing field with the slightly jolting effect of its wheel. I couldn't leave that tiny airport for a while after I got off the plane. I stayed there and watched planes flying over the cliff edge. Then we moved on with these images in our minds. Our journey was just beginning, but I was already satisfied and adventurous with what I had experienced in Luklada, the most dangerous airport in the world. Simply put, even the fact that the plane would drop itself off that cliff on the way back from here was exciting. I couldn't imagine the rest of this journey.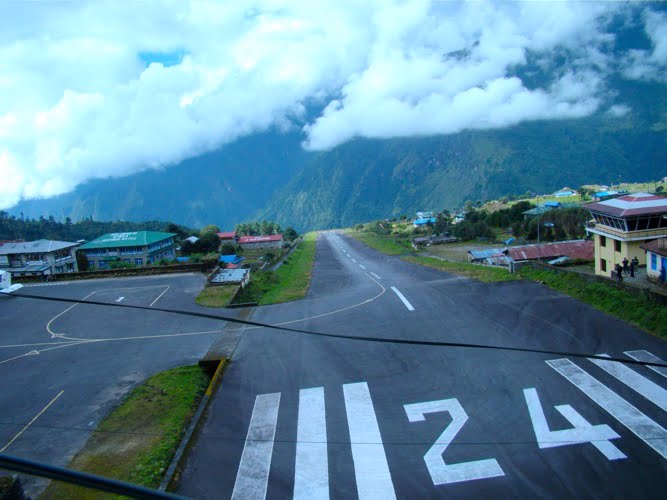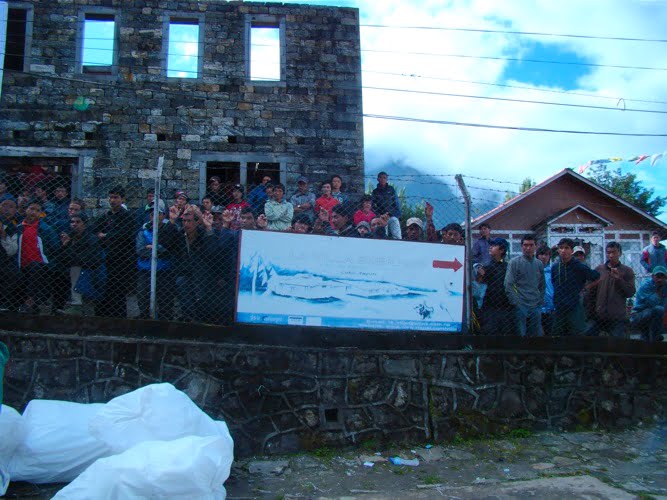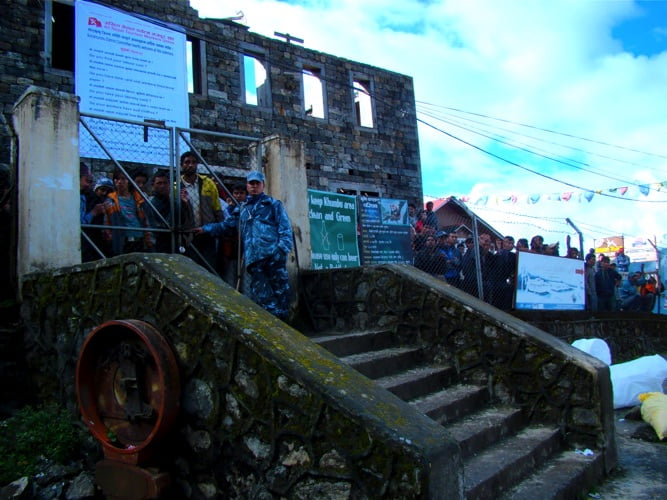 Journey Course: Lukla (2,860m) – Phakding (2,640m)- Namche Bazaar (3,438m)- Dingboche (4,260m) – Duglha (4,600m) – Lobuche (4,940m) – Gorak Shep (5,160m)
Everest Base Camp (5,364m) Kala Patthar (5.643)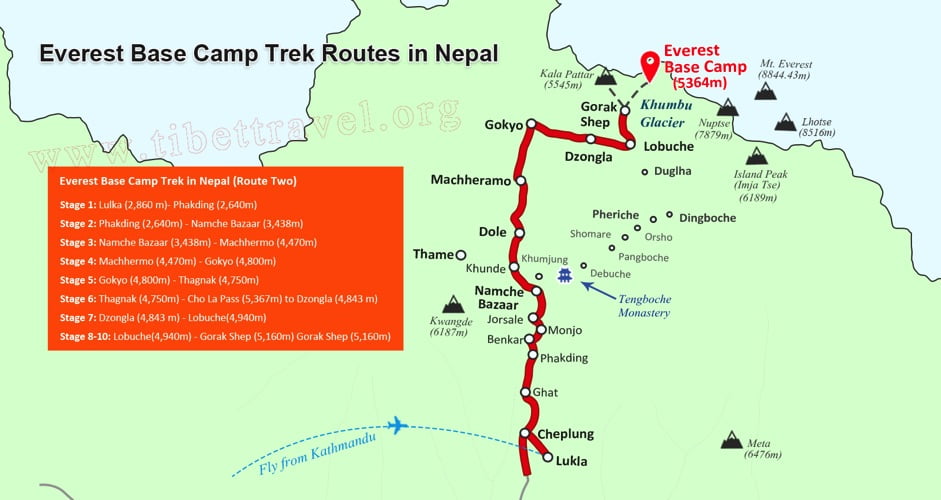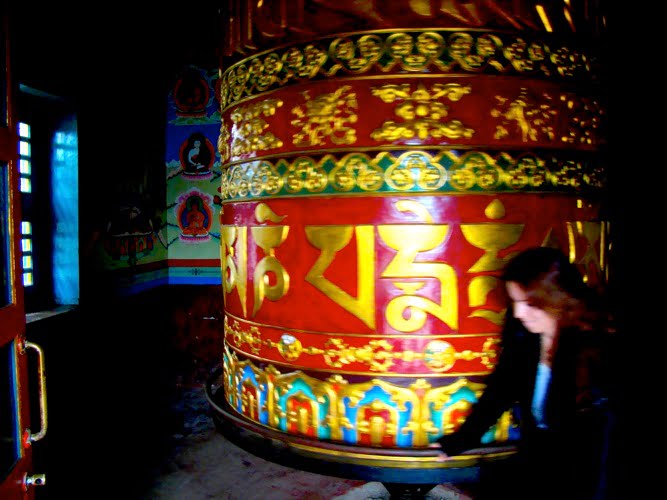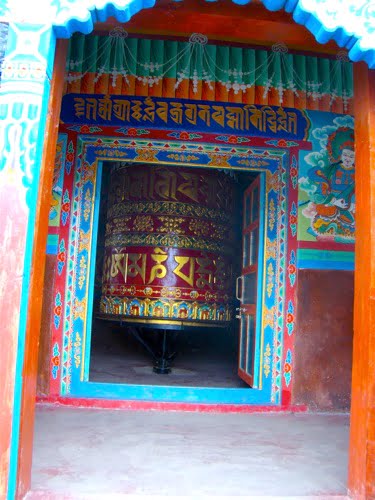 Our first stop is Phankding (Height 2,860m), which is the village of Sherpa. They say we should walk for about 3-4 hours, but I think we arrive much faster. The downhill path may make you happy at first, but if you think that you will go back too far on this path, every descent downhill hurts you later. Along the way you are accompanied by wonderful mountains, flowing waterfalls, Dudh Kosi River in the UNESCO world heritage list, fresh oxygen. I'm walking like Heidi on vacation, unaware of what's going to happen to me. Of course, with my slippers and ordinary sport shoes…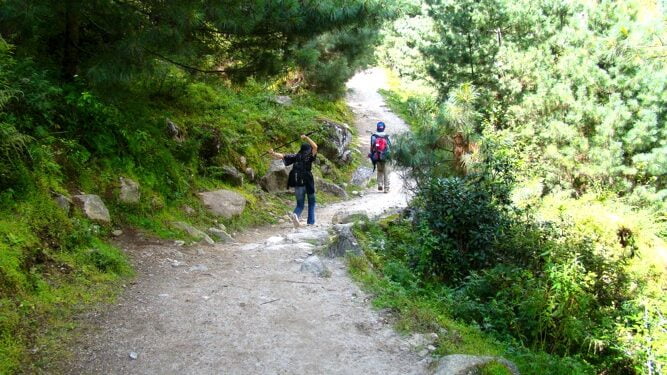 We are surprised when we arrive at Phakding (2-640) towards noon because we still have energy and curiosity; our guide says that accommodations should be at certain points, that it is important for the body to get used to altitude. Phakding's altitude is almost the same as Lukla Airport, where the plane landed. It's even a little lower. We actually seem to be climbing, but mostly going downhill.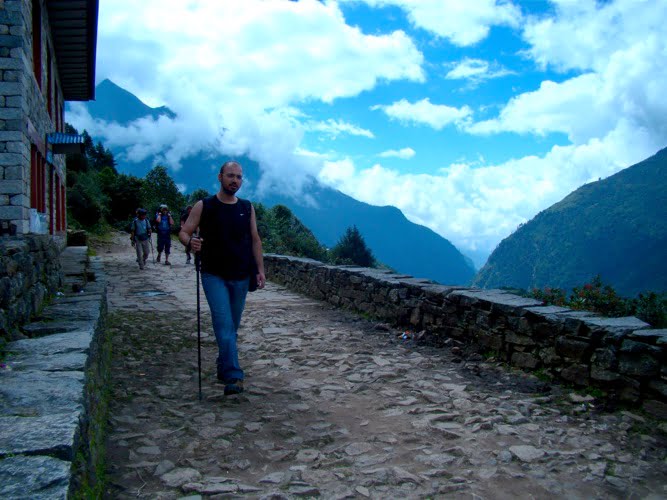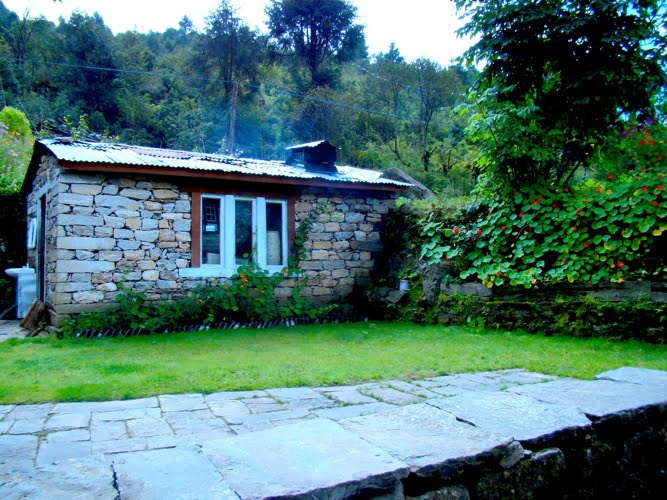 Our guide says we should stay here, but then adds: Our next stop is Namche Bazaar (3,438m). Can you walk there? We are so excited that we say 'Let's do it' without asking any of the questions such as how many hours does it take to walk to Namche Bazaar, is it difficult to walk to Namche Bazaar? We're moving on our way.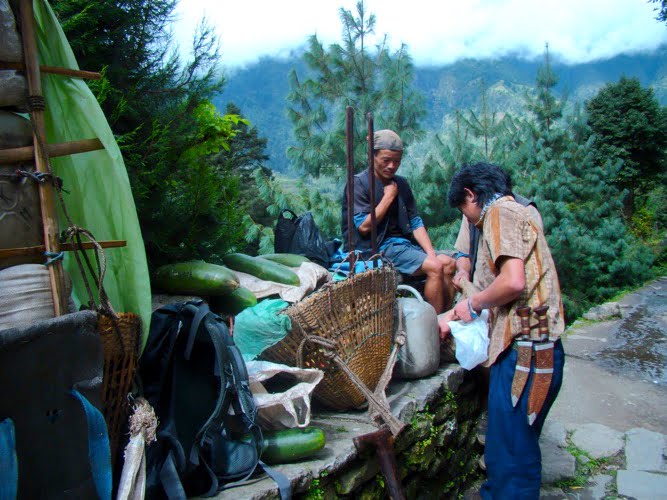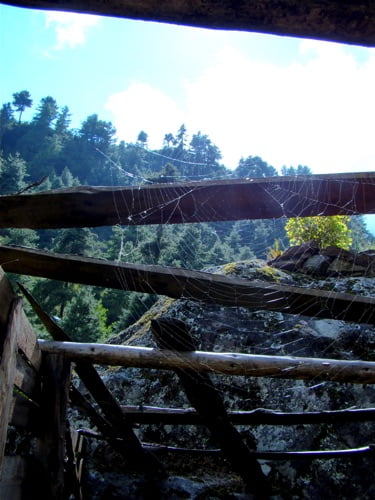 Now I learn that the altitude of Lukla (2,860m), which was actually the first stop we landed at, was enough to stun us. In other words, it's actually important to relax at the point where we arrived by plane but we chose to stay at Namche Bazaar (3,438m) for two nights rather than staying here because we didn't feel anything.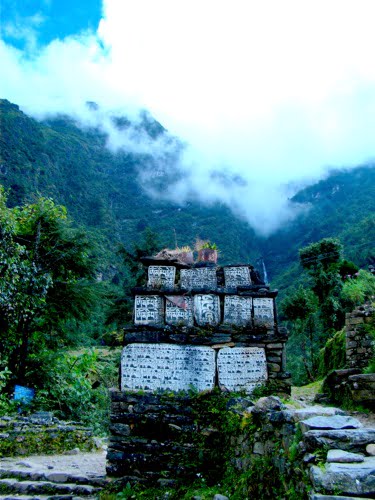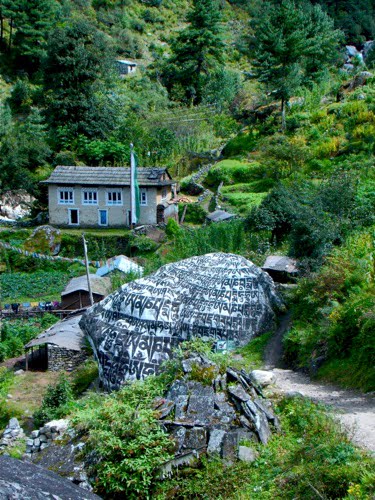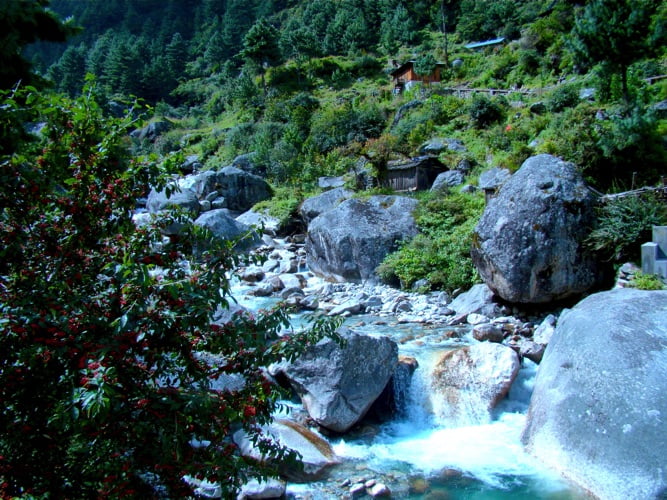 Namche Bazaar (3,438m)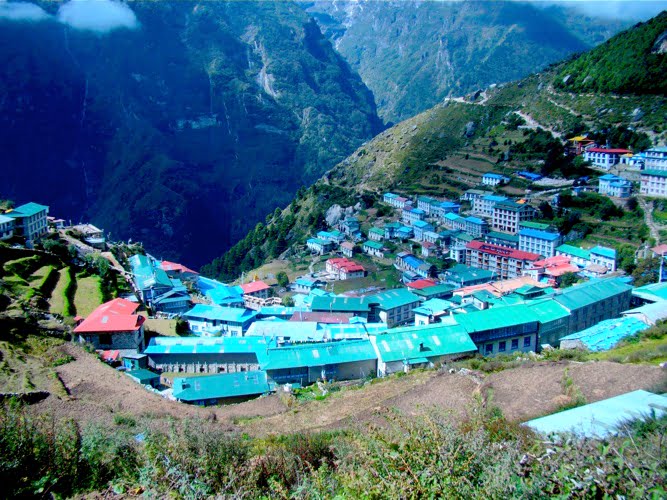 We later realize that walking for 7-8 hours is waiting for us. In fact, the main course is Phakding (2,640m), which starts later. There is usually a downhill road on the way to Phankding. It's an uphill course with steep slopes and hiking paths from Phankding to Namche Bazaar (3438).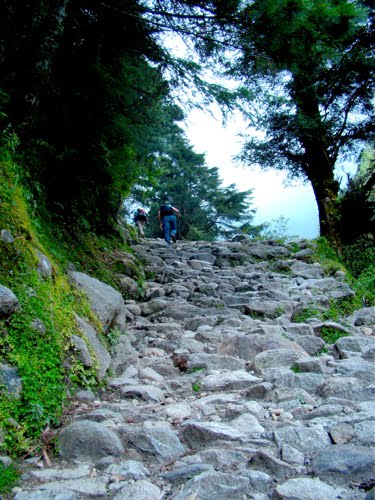 We took a lunch break because we were hungry. Since we do not understand any of what is written on the menu, we ask our guide what to eat and he explains: "24-hour Dal Bhat power!" He means that if you eat Dal Bhat food, you will have enough energy to walk 24 hours a day. That's why many guides and porters often prefer this dish. We order Dal Bhat food even though we don't like its appearance so much. Of course, we finished our meal half dissatisfied, unaware that this was the best meal we could eat at that moment, as the food and accommodation would become much worse while we were going camping at Everest Base.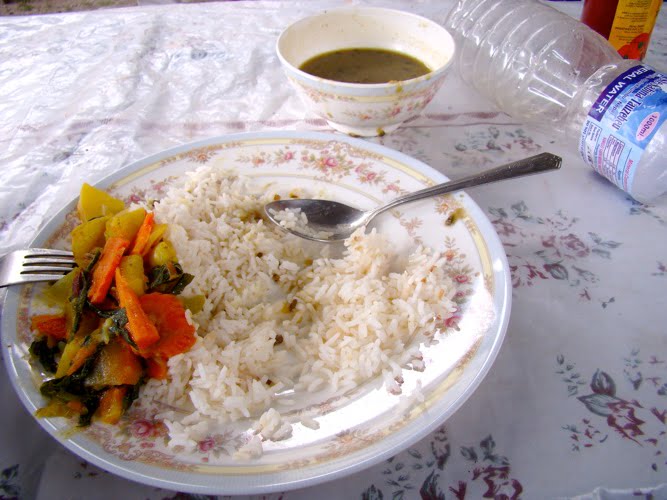 SAGARMATHA NATİONAL PARK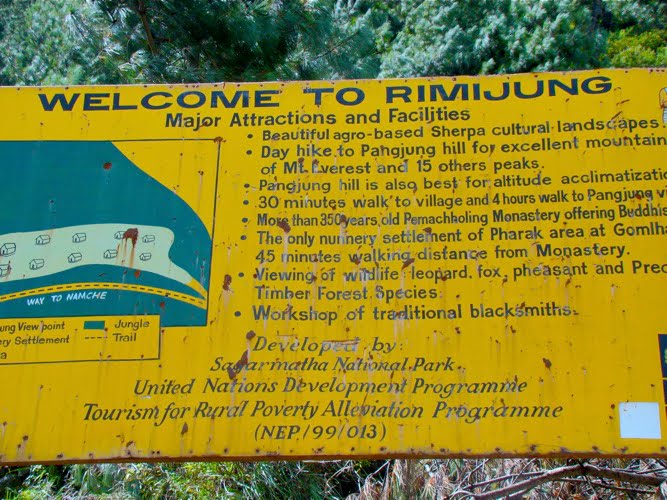 After checking our permissions in Sagarmatha National Park, we're officially entering the Everest region. While crossing many villages and bridges, the colorful prayer flags hanging along the road, we are accompanied by the sounds of waterfalls and rivers.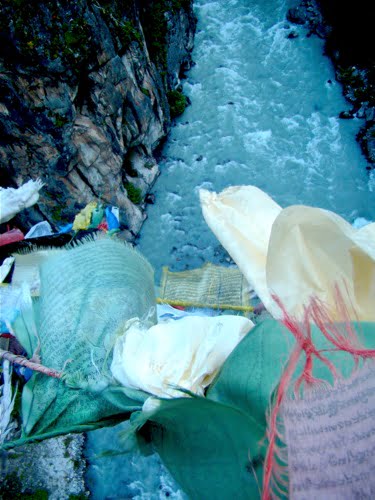 FLAG EXPLANATION: Flags are usually red, yellow, green, blue and white in color and measure 15.2-20.3 cm.
Traditionally, prayer flags are used to promote peace, compassion, strength and wisdom. Prayers and mantras are believed to spread goodwill and compassion far away from the wind.
There are two kinds of prayer flags: Lungta and Darchor.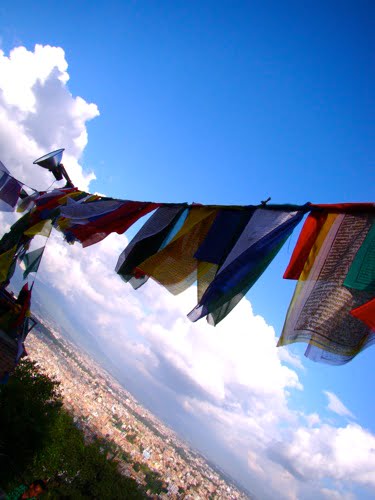 Lungta prayer flags;
Represent an element and an aspect of the usually enlightened mind. There are five different colors. Here they are, respectively: Yellow (soil), green (water), red (fire), white (wind), blue (sky). These prayer flags are hung on monasteries, stupas and rocks in mountain passes. As flags move in the wind, good wishes such as peace, strength, compassion and wisdom are spread to all people.
The Darchor prayer;
Flag flies to strengthen values such as longevity, wealth, health in the wind. They are vertical prayer flags made of large, banner-shaped cloth attached to a pole. It means increasing life, wealth, health and richness.
Although we come across a lot of tourists on the road, the main memorable images belong to the porters who go up with heavy loads on their backs. In fact, when I think about it now, what made us feel like we were walking on a simple road without realizing our tiredness, was the porters passing by us quickly with the refrigerator on their backs. They climbed these paths so easily and comfortably that it was as if they were carrying a cardboard refrigerator model on their backs. We were going to say we were tired for a moment, but this time, someone else was coming out from the corner with an oven on his back. I constantly think about this, how can someone who is almost the same weight and height as me climb up on these roads where I am out of breath, like an ant, with an item 10 times heavier than himself on his back? I respect the work they do and the effort they put into making money.
As the evening goes dark, our excitement grows because we can't imagine how we can get up those courses in putter darkness. Our guide keeps saying, "We have to get there before getting dark in the evening." Still with flip-flops on my feet, I'm clambering up the roads with a different kind of fear inside me. The sun had set, it was dark and we were able to enter Namche Bazaar. When we finished that last steep and saw the small village, I was able to take a deep breath. Namche Bazaar, which makes all these people say what they are doing here, was in front of us with all its beauty and the pretty appearance of the lights on the houses.
We were so tired that we could only come to ourselves by staying here for two nights. We were stunned when we arrived in the evening, but this was a different kind of feeling. Such a fast climbing hit us, the altitude sickness showed itself slightly, but we were not very aware of this situation.
What is Altitude Sickness?
I want to tell you about altitude sickness. It is a decrease in the amount of oxygen in the blood (hypoxia) due to insufficient breathing (hypoventilation). It is seen in the ascents made without adequately adapting to altitudes of 2500 meters and above. Symptoms that begin to appear in the first 12-24 hours are headache, dizziness, fatigue, cough, nausea, loss of appetite and vomiting. If the symptoms are severe, descend to altitudes lower than the current altitude immediately. In other words, if you go up very quickly, you have to go down again. Of course, this situation varies from person to person.
We set off from Kathmandu unaware of this situation. First, we arrived in Lukla, which is 2,860 m, where we had to see the effects of altitude. Maybe we did, but excitement and curiosity outweighed all these effects. And before we got used to it, we arrived at Namche Bazaar, which is 3,440 m. My God, we had climbed up at a crazy speed for someone who had never climbed a mountain before. That's why we decided to stay here for two nights. In this way, we would both rest more comfortably and spend more time at a high altitude. Looking back now, I think it was the right decision. Because I remember that evening. When we arrived in the village, there was a great sense of fatigue and relief. I think spending two nights at that altitude made us stronger.
Namche Bazaar had its own mystical aura. We got a great sleeping bag and boots from there. In the evening, when the streets began to get dark and the wood stoves began to burn, I felt like I was walking on the stony streets of our village. I'm surprised at how people live at such high altitudes. I saw people carrying refrigerators, ovens, construction stones, tubes all along the way, and what else was I going to see?
When I woke up in the morning, I was trembling a little. It was a bit colder here compared to Kathmandu. I was wearing everything I bought, trying to recover myself on a street that saw the morning sun. I couldn't believe my eyes when I saw the Nepalese children half-naked and cheeky on the doorstep. It was too cold for me and these kids were naked, they were bathed in front of the door by their mother. It was a trick of my mind, actually the weather wasn't that cold after all.
I thought to myself, "Look here, how happy and joyful these kids are." I remembered how children were brought up in my country. In such a weather, people wouldn't let kids out even with a t-shirt. Could this be possible? A child should wear his jacket and hat. So, the children didn't have to get cold in this weather, and they weren't getting sick anyway, the health was already gushing out of their red cheeks.
That's where I made a promise to myself, and if I ever had a child, I'd walk him around half-naked, ignoring the cold. The cold wasn't something to be afraid of, it was about how you got your child used to it. I took off my jacket and gloves, ashamed of myself. I even went to the fountain where the snow water flowed with a T-shirt and washed my face with cold water. I really came to myself. It even made me feel unreasonably hot. Well, now a new day was beginning for me.
Climbing From Namche Bazaar to Tengboche
(from 3,440 m – 3,870 m)
After two days of resting in the village of Namche Bazaar, we set off and started walking around 6:00 a.m. We were seeing Everest for the first time, albeit from afar. It was both fascinating and made you think, "Oh my god, are we really going to walk all the way there?"
Have You Ever Seen A Yak?
As I moved on the road, I was unaware of the yak (Tibetan ox) I had come across with the camera in my hand, fascinated by the Himalayan mountains rising around me. I had barely met before and always kept a distance between us, but we had to be respectful to each other on this narrow path.
I had never seen a yak before, and I didn't know how this bull-like animal would react, so I was ready to get out of the way with the utmost respect. Our guide said, "You'll come across with hem more and more along the way, get used to it now!" We were walking for hours, crossing bridges constantly and we were constantly encountering yaks on the roads. We came across with this animal many times untill we had to cross a long narrow bridge side by side.
Now, the roads where bird sounds were heard began to become less gradually, the trees got shorter, and the number of birds decreased. As we walked upwards, a barren environment awaited us. The number of people and residents of the villages was also decreasing. On the roads, there were priests, shrines and monasteries where religious rituals were performed. We were visiting all of them every time, praying and turning the wheels.
I couldn't help but think about how people lived in the tiny villages with triple-room houses that we encountered on the roads. As the hours passed, we were walking away from the center, and my anxiety grew with the feeling that even if I wanted to, we wouldn't be able to go back immediately.
Tengboche Monastery (3,870m)
When we arrive in Tengboche, we see a monastery that we never expected to be there. After walking for hours and climbing high and thinking that we can't come across a decent settlement anymore, it really surprises us when we come across a huge monastery and village.
I think it is one of the special feelings of Tengboche to dream of being confined to a monastery alone, when tourism was not so common years ago, and trying to understand why it was built in such a remote place. Although the steepness of the paths, height and fatigue begin to affect us a little, we still want to visit the monastery before resting and then we take a break.
Monasteries on Mount Everest!
As a matter of fact, the way we walk is not that tiring under normal conditions, but height and psychological factors are starting to tire us a little.
When we got here, I really wanted to take a shower at all costs. Sleeping in the same clothes all the time, getting cold and sweating due to the changing weather during the day, and starting to feel a little bad made me want to take a shower. I needed some rest. That's why I asked to be able to take a shower at our accommodation. There were no bathrooms in our rooms. They took me to the shower at the back, where a thin stream of water was flowing for a small amount of money. The water didn't warm you up or make you cold. But it was obvious that if I didn't stay in a warm place after I got out of here, I'd be sick. There was no hairdryer, and I had long hair. After one of the employees said, "Don't worry, we're going to light the stove now.", I felt a little relieved and decided to take a shower in the backyard, where I felt like I was washing in the street. I struggled to take a shower under a thin, half-warm, half-cold water that made me shiver from time to time. I was happy to be able to soap my body no matter what. I was constantly saying "I'm not cold, there's no cold, I'm not cold, " under the shower, and I was convincing my mind not to feel the cold. Now I understood better how people are enlightened on Nepalese roads: Taking a shower was like meditating.
I took a bath with pleasure in the cold water that normally made your teeth shiver, and after I got out of the bath, I sat next to the stove that had just started to burn, and I didn't get up until I got warm. Everything looked so much better now.
From Tengboche to Dingboche (from 3,870 m – 4,410 m)
As we set off in the morning, we learned that the Japanese tourists who arrived yesterday evening were not feeling well due to altitude sickness and had to descend today. We were starting to get scared. Actually, we were not very aware of the psychological pressure we were under, and fortunately we were not, which actually gave us deep comfort and confidence, but we could still be affected occasionally.
The fact that our English was not very good also kept us away from tourists who constantly shared their experiences on certain subjects. In the evenings, tourists from all over the world gathered in a common area and shared their experiences with each other.
Isn't that what life is like? Wasn't it affecting your life that when you're trying to get to the top, make your own deep journey, people around you are constantly sharing their own experiences and saying, "You can't"? And then before you know it, you could followthe experiences of others instead of your own fears, and most of the time you can give up trying. That's why we blocked our ears and moved on.
We were no longer giving any of the reactions we did when we first set out on the road; we were used to the constant mountains, bridges and roads. We saw a mountain peak in the sky, and we were saying that's the end point. Then, after walking for hours, a completely different summit would appear in front of us. How could we not see such a majestic and high mountain? It was like it was hidden, we couldn't see the other mountains without going up, it was like a magic.
Dingboche (3,870 m)
Now the number of people and villages we encountered on the roads was much less. During the walk, there was a small hut on the side of the road and an old man in front of it was knitting rope. I thought, "what is this old man doing here alone?" It was like he was not in a distant place, but on a separate planet. It seemed like he had neither a television nor a radio. He was unaware of the outside world, at that moment I was thinking of many things. I guess I was going back and forth between different thoughts as the oxygen got low. What religion did he belong to? What was his belief, what did he eat, what did he drink? The nearest village was far away. Who was coming to visit him? Wasn't he tired of being alone? I was sorry about him. For a moment, I thought, "Is it because I belong to a religion, I will go to heaven and that old man's life unaware of anything will end in hell?" That's when the polarizing ideas fell apart inside me. It was as if the entire line between us disappeared and we were in the same circle. I felt so close and one with someone I had never met. That's when many of the concepts in my mind became abstract and monotony. With the depletion of oxygen, I was constantly reviewing my life, my way of life, the mistakes and the truths I was taught. We were walking for hours. Sometimes we didn't talk to each other for hours, we just shut up like we were in a deep meditation. In fact, concentrating on the road was already a meditation in itself, and now we could neither go back nor waste time lingering on the roads. All that was left was to walk, to walk, to walk quietly.
From Dingboche to Lobuchea (from 3,870 m – 4,940 m)
From there, the paths became more and more like the surface of Mars. Frankly, we thought green nature would accompany us throughout our journey. Rather, we didn't think that nature would change as we went up, caused by the decrease in oxygen. It was like we were on a movie set. There was no need to become an astronaut, we walked every day and felt like we had traveled outside the world. This was supposed to be a prototype of Mars.
How do you find clean water when you go up Mount Everest?

How can you disinfect your water if you need to drink dirty water in the mountains?
As oxygen decreased, we were supposed to drink water more, but there was no grocery store selling water. There was only water sales at the way stops and you had to pay 10 times what you paid at the center. These people were bringing these waters by walking for days on their backs, so if the price was 100 times more than 10, it would still be worth it. But we couldn't store water either, this time our load was getting heavy. One of the climbers we met on the way said he couldn't understand why we paid so much for water, and he pulled a powder out of his pocket. We mixed it into the water we filled in our pet bottle from the river and shook it. The color and smell of the water changed quickly. "Here, now you can drink the water!" he said and moved on.
Ali and I looked at each other. "Was it that simple to find clean water?", we thought. That's when we found out that some climbers get clean water. If we drink a lot of water, we would feel the effects of altitude much less. Of course, the other fact was that every time we drank water, we needed toilets. There were no longer toilets on the roads. Here, this is the most luxurious toilet I could find. We no longer had any wet or dry wipes left. I had a timewhen I had to wipe my butt with a rock I found. if we had that powder that disinfects the water , we would both wash our hands and meet our personal cleaning needs much more easily with the water we filled from the rivers into our bottles. We also wouldn't drink limited amount of water and wouldn't feel the symptoms caused by altitude. We couldn't understand what that dust was in our English, but after returning from the trip, I did research on what could it be. I would like to share this information with you because if you go on such a long journey and need clean water, this information will be lifesaving for you.
Bleaching powder, chemically called calcium oxychloride (CaOCl2), is an active ingredient used to kill germs and bacteria in drinking water. The main content of bleaching powder is the element of chlorine, which acts as the main disinfectant material. Prepare a 5% chlorine solution as the first step. To do this, mix 15 grams of bleach powder with 100 ml (half a glass) of water and wait for 15-20 minutes.
In addition, there are disinfectant powders in small packages produced by P&G company. The P&G product is a small sachet containing powdered ferric sulfate (flocculant) and calcium hypochlorite (disinfectant). It is sold in areas where people have limited access to clean water and also to non-governmental organizations around the world. It causes the death of heavy metals, chemicals such as pesticides, bacteria and viruses in dirty water. Thus, this allows you to create clean water in areas where you have limited access to water.
I'll put the P&G's link here so you can get more detailed information. If you can find other products in small bags that are easy to carry and can easily disinfect water, you can choose them.
https://translate.google.com/translate?hl=tr&sl=en&u=https://www.cdc.gov/safewater/flocculant-filtration.html&prev=search&pto=aue
4620 m Dhukla + Thukla Yad Lodge- Restaurant
To be honest, as I went up, the food started to make me nauseous. Because in this region where water is so precious, it was obvious that people didn't wash their hands very much and I couldn't help thinking about how they cooked their food.
I was trying to choose or eat simple meals as much as possible. The practical ready-to-eat food options peculiar to their own countries, which the Far Eastern mountaineers brought out of their bags and obtained by adding only hot water, caught my attention. I wish we had such alternatives in our country, I could not help thinking about it. In the years I went, alternatives were limited, but now you can make this journey with incredible options. Of course I am talking about a few options, if you try to move your kitchen here, you will neither enjoy this journey nor experience new tastes. I am now incredibly happy and grateful for everything I've eaten and tasted, no matter what.
Lobuchea (4,940 m)
Here are the last two place.
After staying here for the night, there was only one place left. The next stop would be Gorak Shep (5,164 m) and then we would visit Everest Base Camp, then go higher and reach Kala Patthar (5,500 m). Everest peak was 5800 meters. Then we would meet the mystical energy of Everest. God, shall I tell the truth? The summit no longer appealed to me. I don't know if it was because of the altitude, my psychology could no longer enjoy this trip.
Ali said he was not feeling well and he withdrew to his room. As a matter of fact, I wasn't feeling well either. I didn't want to have dinner in the evening, but our guide said we should definitely have a snack in order not to lose our strength. I just wanted milk and oats. While I was thinking that cold milk and oats would be a light choice and would relax me, sugary oatmeal cooked with boiling milk came in front of me. My stomach couldn't handle the heavy milk smell and I took a few spoons and stopped eating.
I went to my room to rest and lay on the bed, and suddenly I jumped out of bed and opened the window, as if I couldn't breathe. I opened the window, but there was no air, like someone had taken our air away from us. I opened the door and found myself in the vast, star-filled night that felt like I wasn't on Earth. The moonlight illuminated the stones, the stars lining the sky much brighter than I could see. I tried to breathe deeply, but I couldn't. I was looking forward to the comeback and blaming myself for these thoughts. It's like it was wrong to start thinking, "Let this trip be over" when people were dying to come here.
Luckily, one of the people who stayed there that night was a doctor. I always felt lucky enough to have coincidences in life. They gave me a pill. They said if I still don't feel well in the morning we have to go down. My God, that's not fair! We've been walking for days and we're so close! Now how were we supposed to come here from far away and go down as if nothing had happened?
We got through a hard night. I had strange dreams all night. An occasional panic attack was engulfing me. The idea that the helicopters flying over our heads during the day were carrying someone made us uneasy. I saw one of the helicopters stop near us and pick up someone on a stretcher. We didn't have any insurance and we didn't have any money to pay for the helicopter. That idea was disturbing.
How would we go back to a hospital from here, where we walked for hours, for days? It was impossible, the concept of distance was a feeling I had never known in my life. It was as if we had arrived in another galaxy on a spaceship and it was impossible to return to Earth. I had to protect my mental and physical health. I had to stay away from the tricks of my mind. I kept giving myself advice, saying, "Everything's going to be fine, you can do it." I was no longer the same person as when I set out on the journey. I had the feeling that I had to complete this course, the determination and ambition of an athlete before the competition. However, we were just laughing as we set off.
Morning Hours in Lobuchea… (4,940 m)
Things weren't going well. Ali wasn't feeling well when we woke up the morning. The guide said we had to go down; the last place had left. Ali said, "Yasemin, you go up, do this for us, the camera has very little charge left, go and take that photo!" "No, I can't leave you alone, how could that be?" We were going to stay at separate stations tonight? Could we go up on the same day and then go back to where they took Ali down?
Another guide would take Ali down to the previous stop. That way, he'd feel so much better. If I wanted to get down to where Ali was that evening, I had to climb up Kala Pathar and then get off both stations in the same day.
Our guides said, "This is impossible, only a Nepalese can do it. If you really believe you can do this, we should hit the road without wasting time, jasmin." All I thought about at that moment was to see Everest. "Okay, let's do it!" I said. We started to go up much faster than our normal speed.
Gorak Shep (5,160m) – Base Camp (5364m) – Kala Pathar (5643m)
I finally came to Gorak Shep (5,160m). We passed Base Camp (5,364 m) and continued on our way. Because we didn't have much time. We had to be fast, we moved on to Kala Pathar.
My guide and I set off from Lobuchea (4940m) in the morning. I was walking hardly; it was as if there was a great weight on me. I felt like I was trying to walk underwater. I was trying to be fast, but I was moving too slowly.
Suddenly the guide's nose started bleeding. I was surprised at first, but he acted very naturally and continued with a napkin that he stuffed up his nose, saying it could happen occasionally. In the short time we've had, I thought I'd be able to adjust to some altitude.
We continued on our way and passed by Everest Base Camp, we didn't spend much time there because we had very little time. We started climbing the mountain again. After 5100 meters, everything was much slower, I was tired and I was moving slowly. I still had no intention of giving up. We went up to 5500 meters and I looked up mount Everest with my eyes filled with tears.
We took those photos with my last remaining battery.
Everest Base Camp was down there, I could see it from a distance. We went up very fast, I started to feel dizzy when I came up, that's when I realized that the altitude hit me too. I was exhausted, and we had to land where Ali was before dark.
I felt like I was going to fall to the ground on top of Kala Pathar. I sat against the mountain for a while. I just listened, and I was experiencing two emotions together at the same time: The joy of continuing on such a decisive path without giving up a dream I set a goal, and the surprise that I chose such a challenging course for what I was trying to get here for. From time to time, I felt like my legs were getting loose. It was like I couldn't have any strength in my legs all of a sudden. We frequently get down on the ground and took a break.
I had to think carefully about the choices I made in life… They should be joyful and not discouraging. I started to smile, when an indescribable happiness engulfed me, I looked at the mountain, I had an incredible sense of satisfaction. I laughed to myself and said, "I'd appreciate it if you choose to travel to the seaside next time."
When we got to Gorak Shep, we took a little break.
We had decided to take a break at the foot of the Kala Pathar Mountain so that we wouldn't get nauseous before we went up. We had to eat something and get our strength together because we had a long way to go. We had a hot noodle soup, which I think it was remarkably delicious. At the same time, there was the joy of knowing that we were on our way back. It was like the soup was giving me a strange pleasure.
The guide said, "I hope we can get to Ali today! You know what, I'm going to try such a course for the first time."
All I remember on the way back that day was walking for hours. I think we walked for 17 hours without a break. walk,walk,walk…
As I went down, I felt much better and more energetic. But, it was starting to get dark and we kept walking. There was a strange power and energy inside me, all I wanted was to see my cousin okay. There was no phone where we could make contact with him and I was wondering about him. And I was carrying the photos I took for him like a treasure. Finally, we could see where we were going from afar. We didn't say a word the whole way. It was like an astral journey, which you weren't in. Only the feet were walking.
It was just starting to get dark, the lights of the village were visible in the distance, and when our guide said, "Here they are," I had a big smile on my face. Ali greeted us when we arrived there and he was fine. Everything was fine, unbelievable, but we had completed this journey and were going down. It was one of the few moments in my life when a sense of peace engulfed my body. I immediately sat on a mat and felt nauseous as soon as I sat down. Because even though I was sitting there, my body was still walking. I was standing, but I still felt like I was walking. It made me sick.
My guide said, "Keep walking, but take your steps slower." I couldn't adapt to stand still. It was like staying at sea for days and landing. It still feels like your brain is at sea, that's exactly how I felt. My brain couldn't stop, I felt like I was stepping all the time. I thought I was going to get some rest when I got there, but it didn't work out that way. After 1-2 hours, I felt more normal, but when I went to bed at night, I couldn't sleep properly. It was only after a certain hour that I was able to go to a deep sleep.
When we woke up this morning, it was like we had triumphed. Our guide was proudly telling the locals what we did yesterday. He pointed at and said, "We achieved an extremely difficult objective". We were so relieved now. The way down and the way it made us feel was indescribable. I knew college athletes did height training to boost their energy. We had a high energy on the way down, both psychologically and physically. There was a strange happiness upon us, we succeeded, it was as if a burden had been lifted.
Our guide hung his shirt on the wall. If you go there and see our t-shirt, take a photo for us and send it.
Well, now we were starting to enjoy everything; As we went down, the trees were getting green again, bird sounds and spring air were spreading to nature.
When we left that dangerous atmosphere and came back to Kathmandu, we felt like we were at home. Especially the comfort of that hostel was indescribable. I cannot tell you the joy of bathing with fragrant soaps. I didn't want to get out of the bathroom for hours. I can't forget the uninterrupted sleep I had in the evening by putting my head on a soft, fragrant pillow. I can still remember the sleep I slept that night.
After our first night in Kathmandu, we went to celebrate this adventure. Now I see that the craziness and journeys I've experienced in my life as I've gotten older have become more mind-boggling.
And after the whole trip was over, we settled in a nice hotel for one night in Kathmandu, Nepal. We stayed in another place for one night because we could not enter our modest place with other terraces and colorful lights at that time of the night. Now what I'm about to tell you may sound very simple to you. I'm going to talk about how the ordinary things we do every day mean in our lives. We had come down from the mountain, it might sound like a weird analogy, but we smelled like dog hair that got wet in the rain and then got dry. Or it could be another smell. In any case, we definitely stunk. I bathed at least once, even though it was under the most difficult circumstances. Ali couldn't even take that bath.
We walked into the room and everything seemed clean to us. First, we went to the toilet, we used the restroom with the strange feeling of doing our toilet in a modern and clean condition. I can't tell you about that shower afterwards. We turned on the hot water. Plenty of foam, soaps, shampoos… God, what a bathroom that was. I didn't want to get out of the shower. Never in my life have I felt such a great luxury. When I came out of the bathroom wrapped in white towels, the steam and smell coming from behind me was worth seeing. Then I threw myself on a big, soft bed with white sheets. That's when I stopped. My feelings were exploding in me. I was comfortable and free. It was all like a dream, my eyes closed for the best sleep I've ever had as I waited impatiently for it to happen the next morning.
Malaysia Adventure