The most delicious Iranian foods are Aşk Reste, Iranian kabab, Fesanjan, Dizi, Gheymeh, Zereşk polo, Gorme Sebzi, Kashk, Nebat and more. I want to talk about the Iranian food that I fell in love with when I first went to Iran in this article. I definitely recommend you to taste Iranian food. Because each of them is so delicious and beautiful that it is not possible to get up from the table without your stomach hurting because you are full.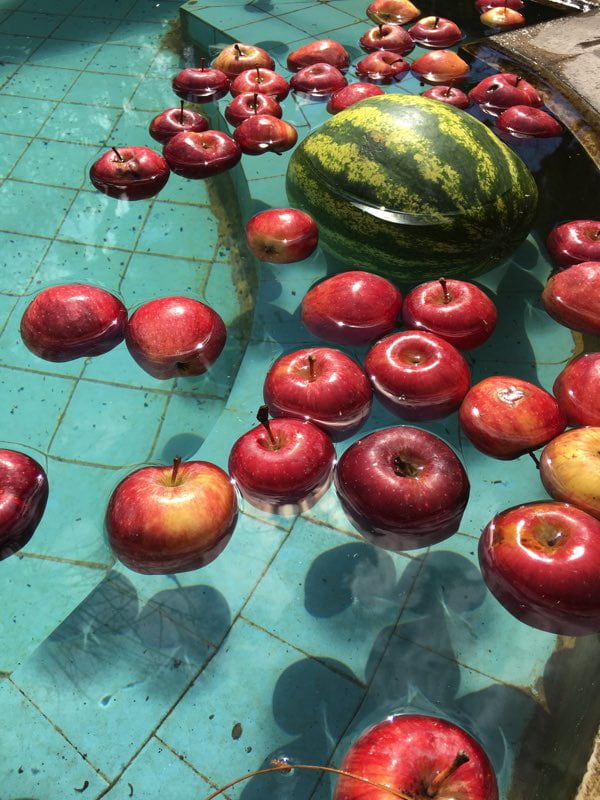 Oh my god, those foods on the table..
When it comes to Iran's indispensable tastes and Iranian dishes, kebabs are the first to come to mind. That is why most people think that Iranians always eat rice and kebabs. They may be right in this idea up to a point. But contrary to what you might think, there are also incredible vegetable dishes and soups in Iran.
If you really want to experience Iranian cuisine and you just eat kebab and come back, I'm sorry, but you haven't met Iranian cuisine yet. Let's talk about what you should not return without tasting when you go to Iran.
When you go to Tehran, foods you should not return without eating;
Iranian Cuisine
I would like to tell you about the rice I ate in Iran during my trip. One day a rice with cherry (Albalu polo), one day with pods (bagali polo), another day with saffron (zereshk polo) and another day with vegetables (sebzi polo) accompanied our table. Every day I would ask for the names of the dishes and try to find out the tastes that put on the table.
Zereshk Polo
I guess I should mention Zereshk Polo when talking about the dishes served with chicken in Iran. Zereşk Polo comes out as a sweet-sour taste with the meeting of pomegranate and rice, which is famous in Iran, but you can see this rice served with lemon or various sour fruits. I think you will love this dish, which is a colorful rice.
Tehcin
Tehchin , like many Iranian dishes, is made from rice. This dish, which is made by putting ingredients such as rice, eggs and chicken in it, is served in the form of a tart.
Lubia (loobia) Polo
Lubia (loobia) Polo is a combination of "polo", which means cooked rice, and "loobia", which means green beans. This dish is cooked together with beef or mutton. In some restaurants, you can also see cinnamon put in it to make the dish even more flavorful.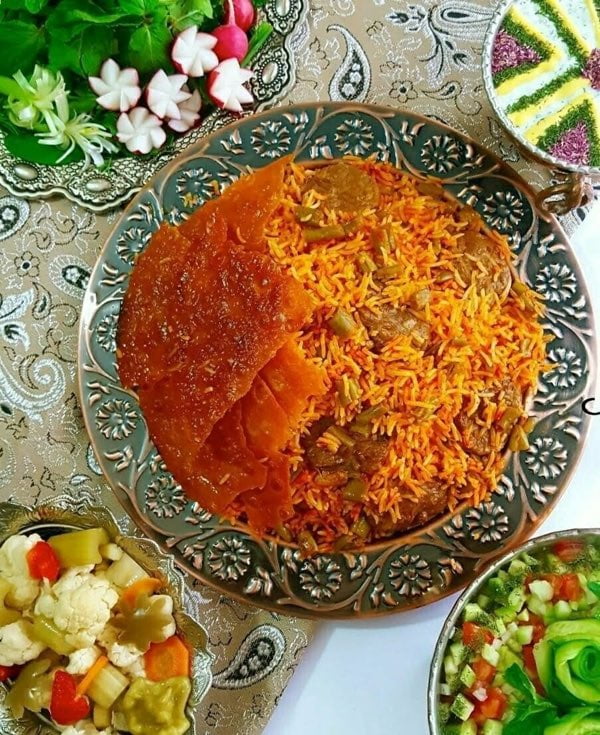 Bagali Polo
It is made from the famous grain rice of the Iranians by mixing it with the pods called rice bagali, which is made with saffron and spices, and sprinkled with dill. Bagali polo dish, which can be cooked moderately in the oven or on the stove, can also be served with mutton special to Iran.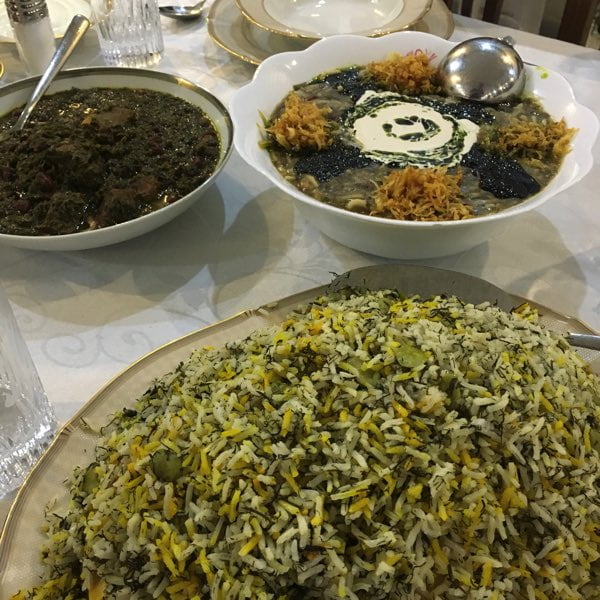 Zereshk polo, kebab soltani, fesencan, borani esfenac , kewish bademcun, gorme sebzi, geyme , aşı reşte… Pages of names could be added to the list… There were large tables in the middle of the houses and kebabs, salads, soups, fragrant pitas that came with rice in the middle. When all this was made for you and a huge love was added to it, the dinner tables turned into a feast. I was beginning to feel greater happiness and commitment as I was there every day. Each one was familiar to me, and I was deciding that some of my behaviors that I couldn't understand were genetic. Definitely sit at such a family table if you fall on your way to Iran.
Ashe Rashta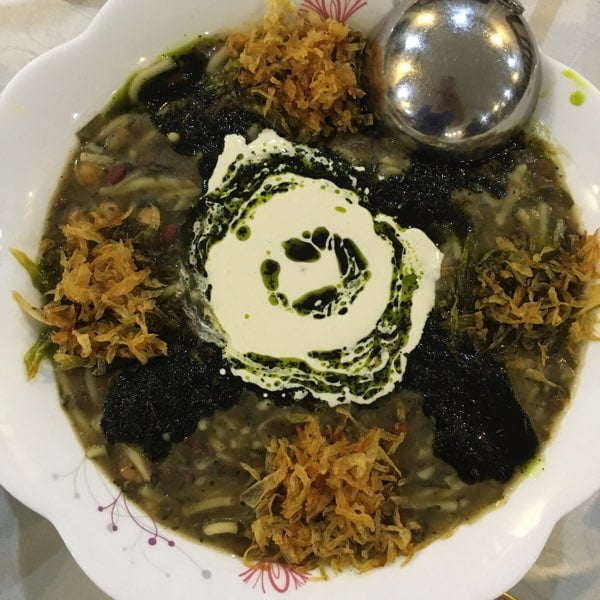 "Seyed Mehdi" soup kitchen is located on Vali-e-Asr Street, in Tecriş square. Anyone who has traveled to Tajrish only a few times has definitely seen this place. Usually long queues form in front of the store but here Love Reste is worth it to try.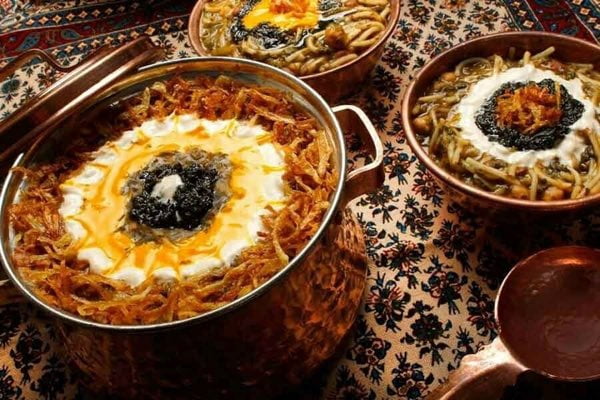 The most beautiful Asha Rashte I ate was cooked by my aunt in Iran. When I first tasted it, it tasted a little weird. The cream like spoiled cheese spilled on it later reigned in my heart. Doesn't food make sense in your mind with the moments and memories you already have? The beautiful days I lived there, the atmosphere of love and the smell of the food my aunt cooked in the kitchen all day made me fall in love with these dishes. Therefore, if you don't like Ashe Rashta when you first eat it, I recommend that you give it a few more chances to say your opinion and give it a try.
Helim and kalamkar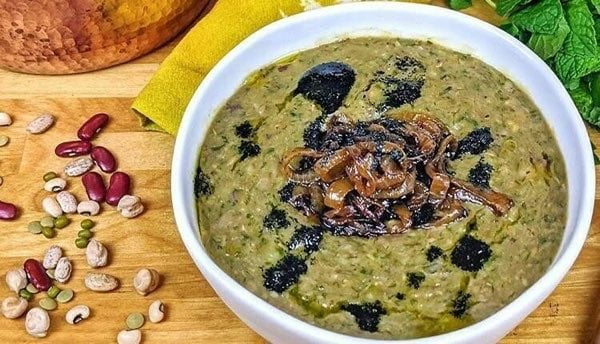 Without a doubt, "Niko Sefat" is the most famous and popular soup kitchen in Tehran's Enghelab Square. For many years the restaurant has been attracting customers from all over Tehran to Enghelab Square.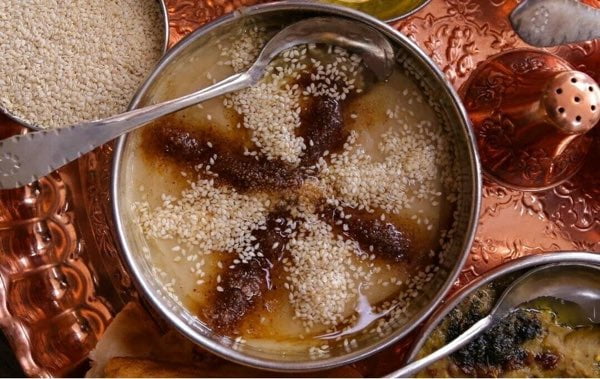 Due to the popularity of Nikosfat, it is quite crowded most days and evenings, and you have to wait in a long queue.
Dizi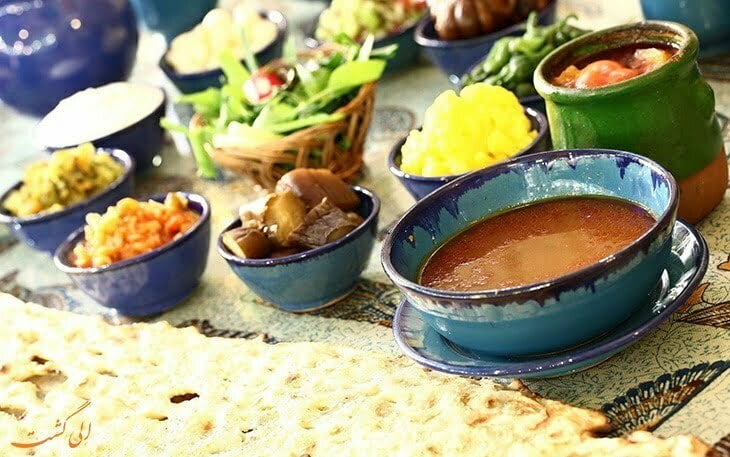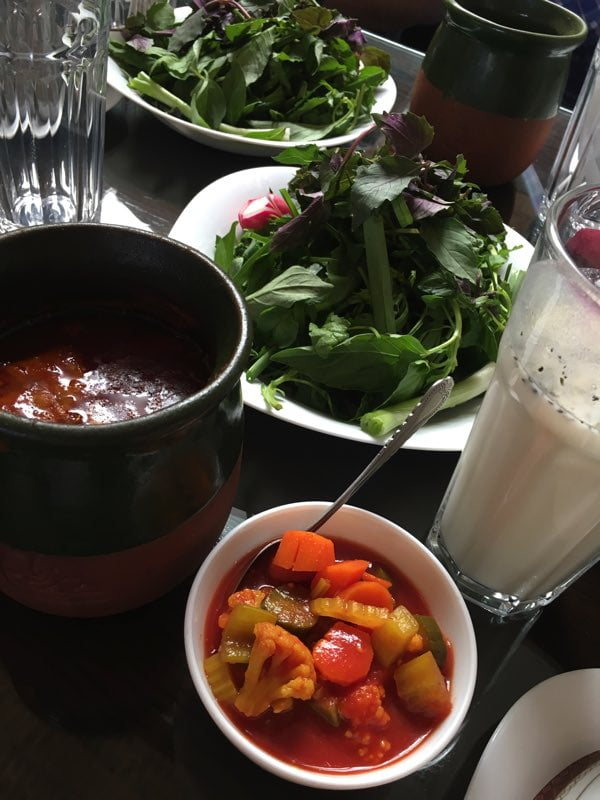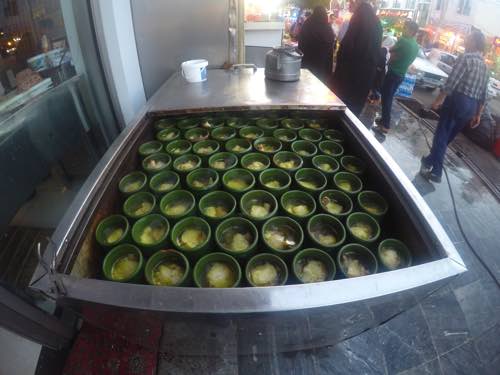 Ab gusht or Dizi is a delicious traditional Iranian dish that is still appreciated by everyone despite the popularity of fast food and Western dishes. Dizi is eaten with pickles, fresh Sengek bread and onions.
Many people come to the restaurant "Iranshahr" from far and near Tehran to eat delicious Dizi. This restaurant serves the dizi on stone plates and brings with it all the appetizers such as yogurt, pickles, olives.
The decoration and ambiance of this restaurant is also traditional. Its walls are full of scenes of Shahnameh and paintings of Tales of One Thousand and One Nights.
Liver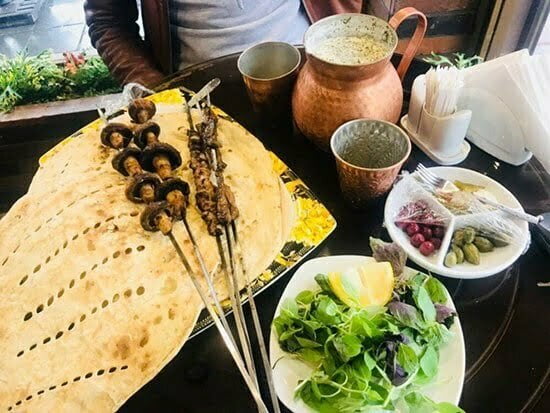 One of the most attractive options for Iranians to snack on during the day is liver. It is a dish in which the meat of lamb or veal such as heart, liver, intestines is roasted in a coal fire. Liver, which people usually find delicious, is served with buttermilk.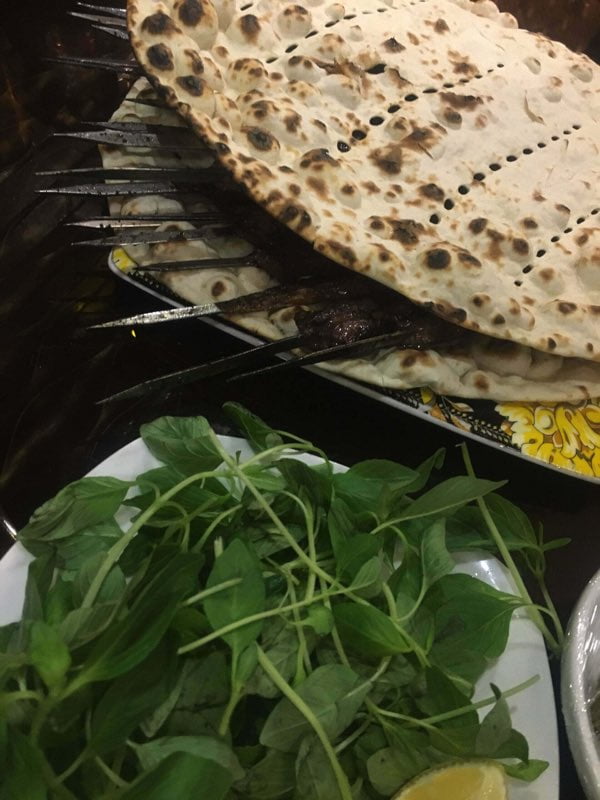 If you want to enjoy a delicious liver in a modern restaurant, the "Dadman" restaurant is a great option.
Kebab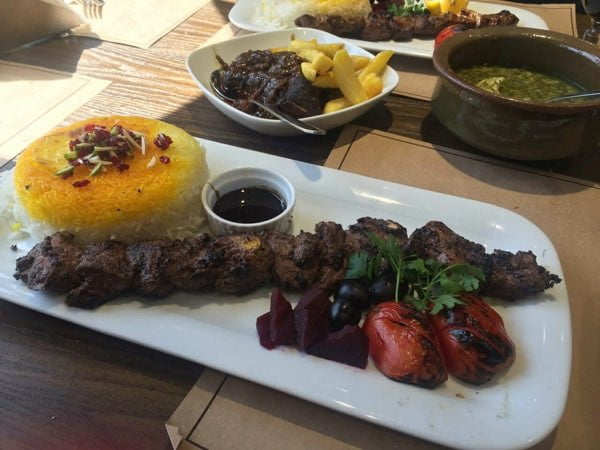 Kebab is one of the most popular dishes in the Middle East; In the making of this dish most often used red lamb or veal, as well as onions and spices.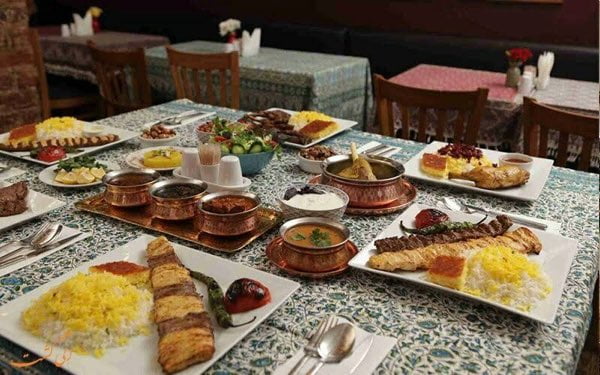 The most famous kebab types are Kebab chie, Kebab torch, Kebab Kobide, Kebab Barg, Kebab Soltani, cuce Kebab, Kebab bloating, Kebab Bakhtiari, etc.
One of the best kebab restaurants you can eat in Tehran is the "Rihoon Restaurant" on Jordan Street.
Gileki
The north of Iran has its own culture and cuisine. You can find the dishes of the northern region in Gileki restaurants. These restaurants serve a variety of fish, kebabs and juicy dishes. The dishes you should definitely try are bademcun, bakalı katuk, kebab torsh, nardun, mirza kasemi. You can taste these dishes in the restaurant "Behzad".
Gorme Sebzi-Geyme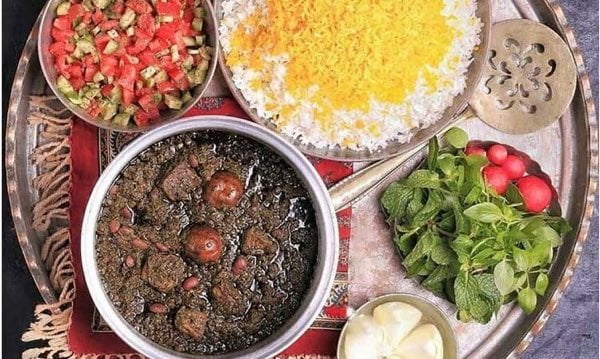 "sebz", which means green in Persian, means various herbs. This dish is perhaps one of the most famous dishes of Iran, which is made from various herbs in Iran and served with rice, of course. Garlic is a must in this dish, in which black or red beans are used. Of course, like most Iranian dishes, Ghorme Sebzi is also served with rice.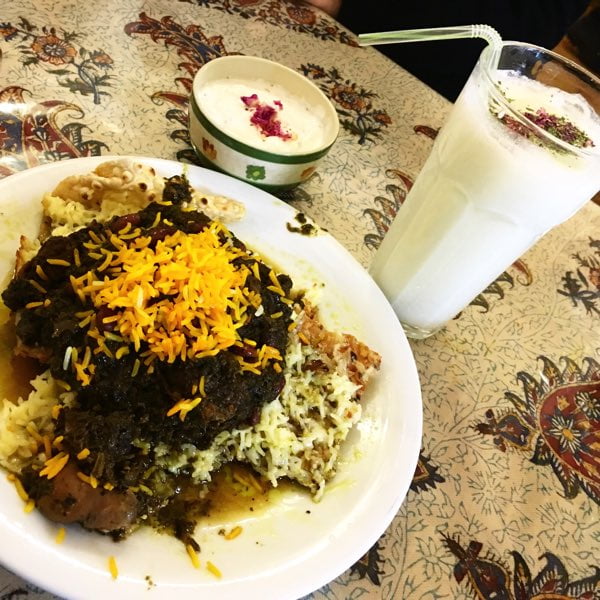 The most famous dishes of Iranian cuisine are gorme sebzi, geyme bademcun and fesencun. In addition, there is definitely rice next to these dishes. If you want to try these dishes, you can taste all the home-cooked dishes in the "Tehdig" restaurant.
Bagali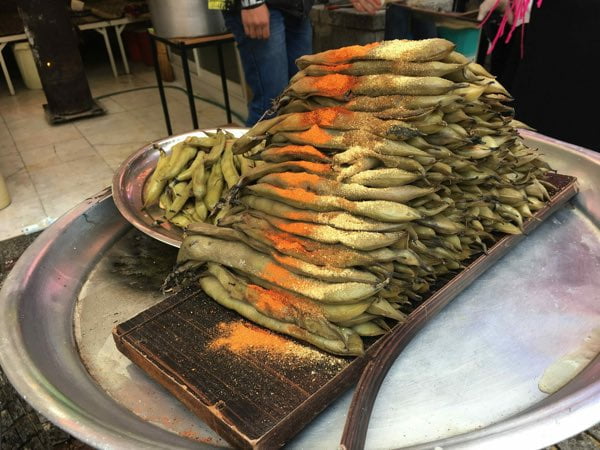 It is the name given to Iranian beans. Famous on the streets of Iran, this steamed pod is called 'Bugali' and is extra delicious, especially when served with red pepper, vinegar and marjoram.
Fesencun- Fesanjan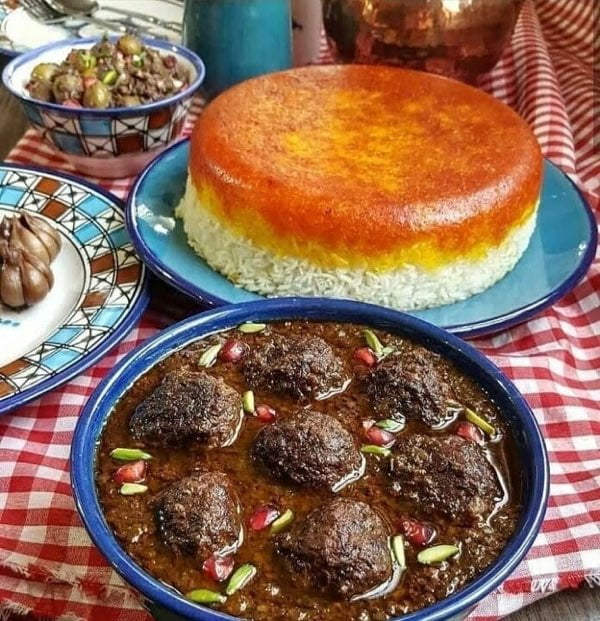 Fesanjan, perhaps one of Iran's most popular dishes, is also Iran's oldest dish. So much so that even in the period before BC, it is possible to come across traces of this dish. This dish leaves a big place in the memories with the taste of Fesanjan made from pomegranate, duck meat or lamb meat. In addition, when it comes to pomegranate, Iran comes to mind and it is very suitable for Fesanjan food.
Kashk bademcan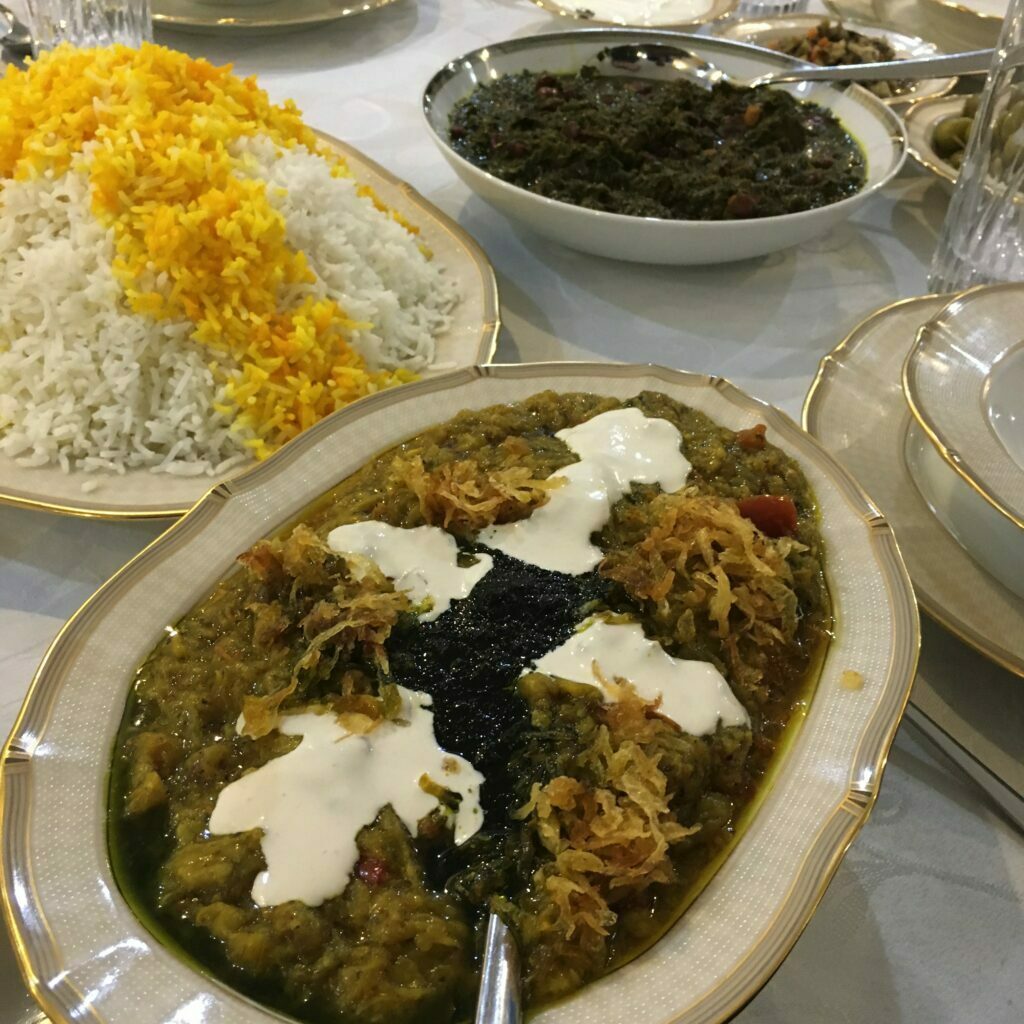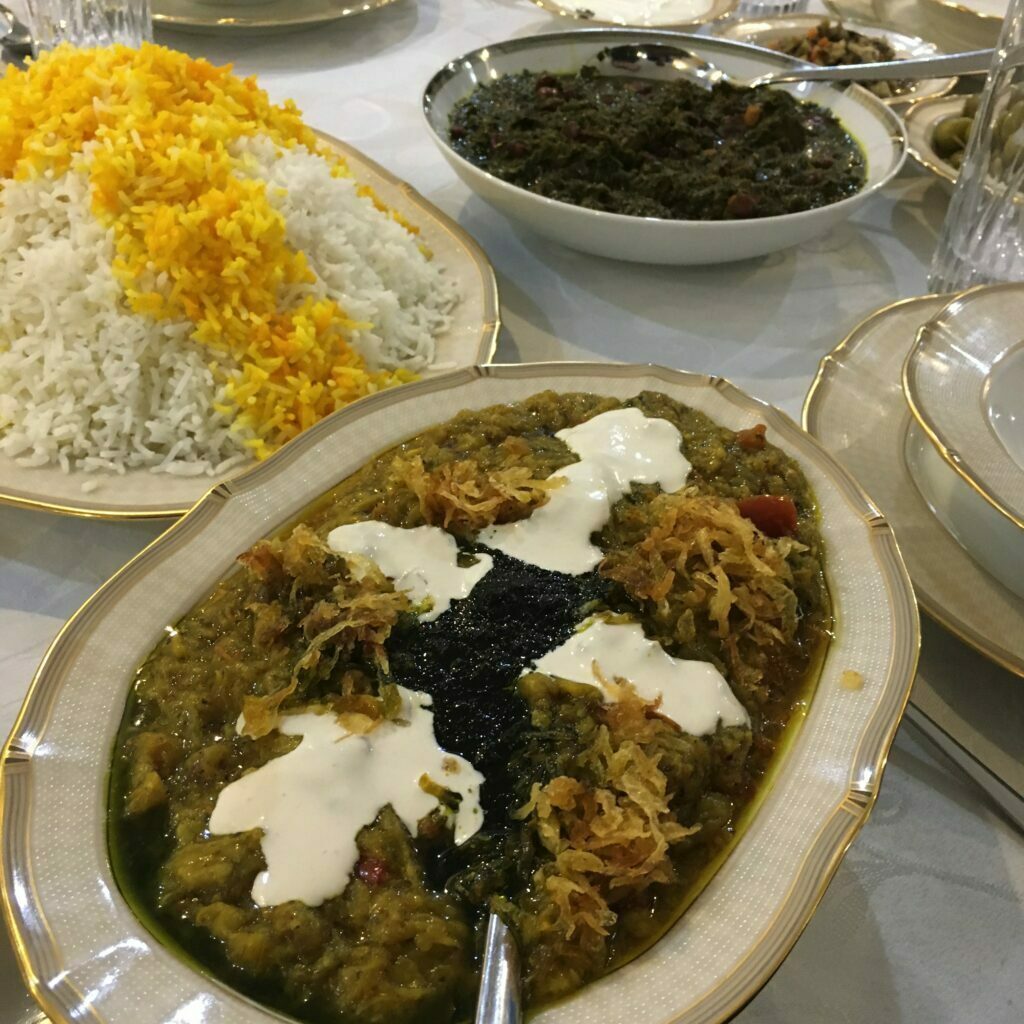 You can see bademcan, which means eggplant in our language, as both an appetizer and a main dish.
One of the most beloved dishes in Iran, Kashk is almonds. Kashk bademcan gets this name by combining with cooked, chopped eggplant and whey (kashk). Also Kashk bademcan is made using caramelized onions, various herbs, spices, roasted nuts and mint. It should be noted that it is a delicious Iranian dish that Iranians love very much.
Gheymeh (gayme)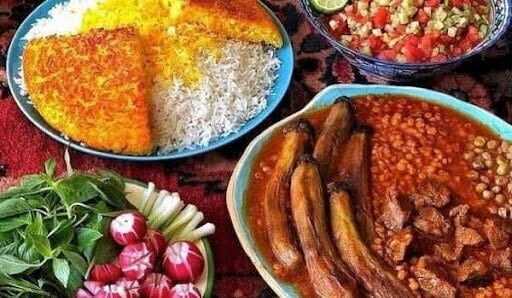 'Gheymeh' takes its name from the meat cut into cubes. Yellow peas are a kind of Iranian stew cooked with tomatoes and onions. The yellow peas used in this dish are more durable, tastier and do not disperse when cooking. Just like its appearance, its taste will satisfy you very much.
Torchi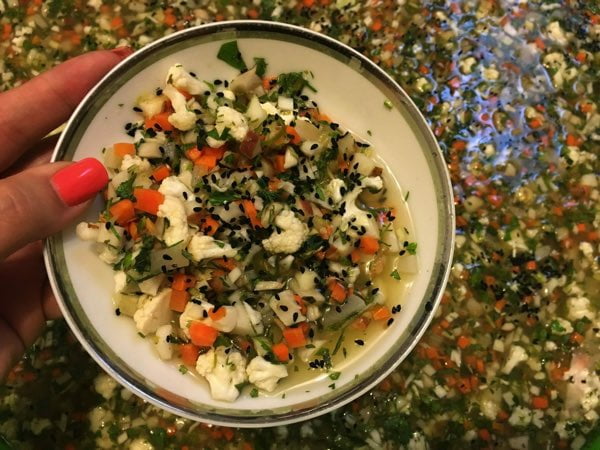 Torchi is a kind of pickle made with cauliflower, carrots, garlic, various vegetables and black cumin. You can see this pickle, which you can eat with great Iranian dishes, at home or you can find it in restaurants.
Omelette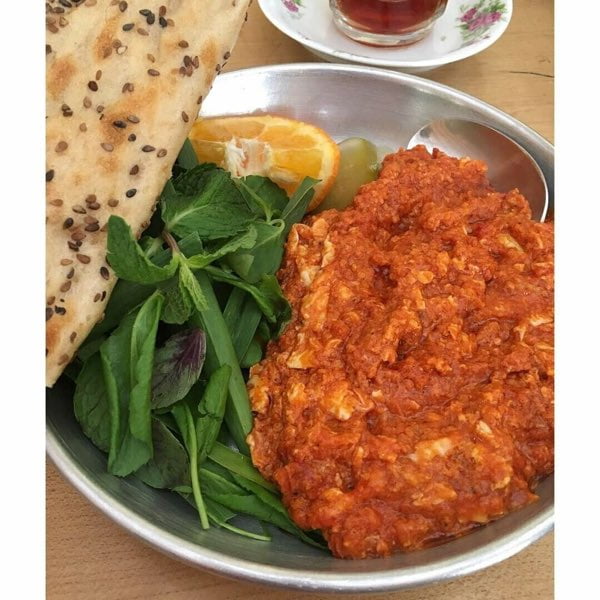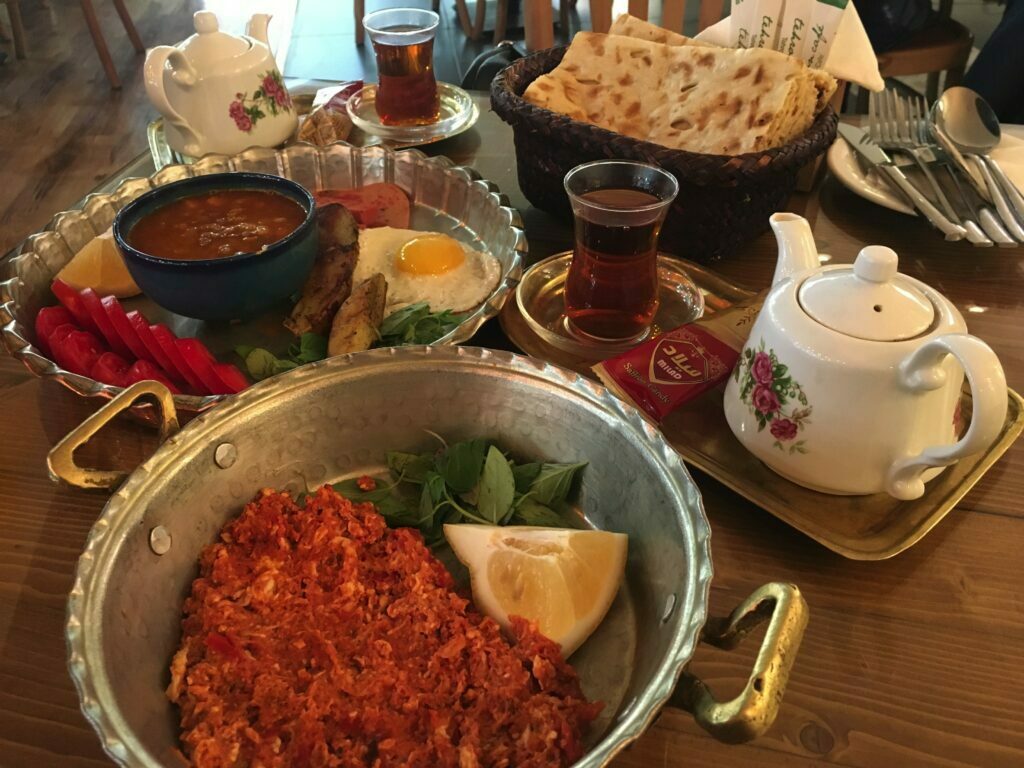 You can find beautiful and varied omelettes at breakfast tables in Iran. The most important of these is that they call their dishes that are similar to Menemen in our country as omelets and they can often consume them for breakfast. In addition, some street vendors put eggs, tomatoes, potatoes among the lavash bread and offer you the most satisfying and delicious version of the egg.
Tea and Nebat
Tea is an important culture in Iran. However, the tea culture in Iran is not like that of the Turks, and instead of drinking the tea extremely hot, they wait a little and drink it warm.
While drinking tea at my aunt's house, for a moment I felt that people were looking at me. Then my cousin turned to me and asked, "Why are you making such noises and forcing yourself to drink tea?" At that moment, I looked around and saw that people were waiting for the incoming tea to cool down. Then, when the tea was at a temperature where it could be drunk, they calmly drank their tea. Then, all of a sudden, I watched myself from the outside. Because I was trying to drink that boiling tea without thinking about it and I was patting it with my lips. I realized how even the tea-drinking behavior was an imitation of social habits and how we did what we did without thinking.
Really, why wasn't I waiting for that tea to cool like a human and I was trying to drink it with my mouth to the side? If tea is served in an Iranian house, let it cool down first and don't make strange noises.
If you have a stomach ache during your trip to Iran, consume saffron plants and tea immediately because tea and herbal vegetables are consumed in Iran because it is thought to be very good for abdominal pain. When I had a stomach ache a few times during my trip to Iran, they especially made me drink tea and herbs.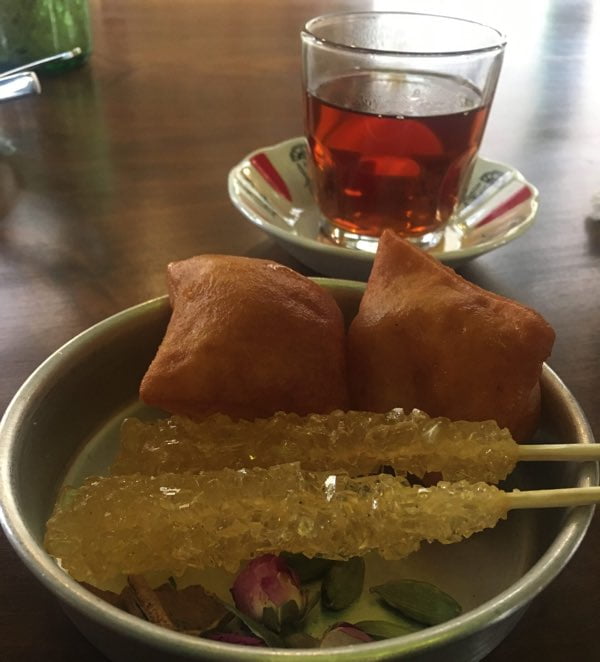 It should also be said that tea is not brewed on the food as we have. Tea is ready when meals are finished and tea is usually served immediately after meals.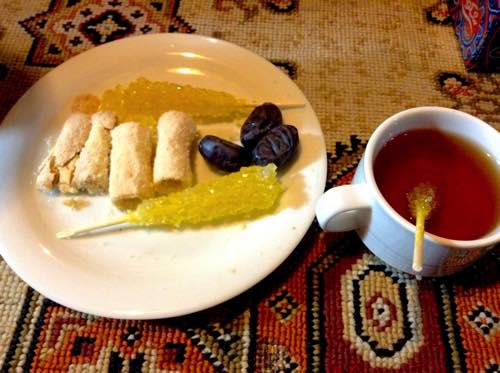 Just like in our country, tea comes to the fore in Iran. But Iranians drink tea darker than people in our country. Perhaps the reason may be the various flavored sugary products they eat alongside tea. For example, Nebat. Nebat is an unprocessed sugar made from Iran's indispensable saffron, with various flavors added. When it comes to sugary products in Iran, nebat immediately comes to mind. Because Nebat is a delicious flavor that will always be preferred next to tea, leaving both a healing and aromatic taste in the mouth. That's why you can have a nice conversation with your friends with your nebat next to your tea in Iran or enjoy these two.
Tajrish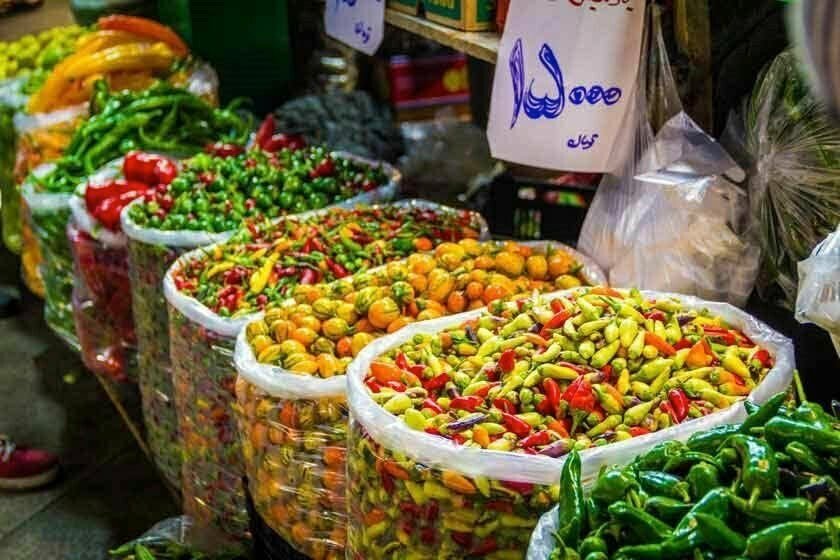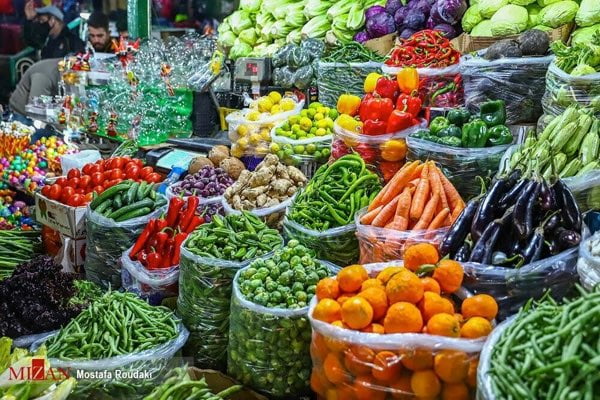 One of my favorite markets in Iran is 'Tajrish'. Because it is a market where you can find different vegetables and fruits and you can breathe the smell of lush vegetables offered in the meals. So you will have a great pleasure while traveling and buying.
I wanted to mention this place, where you can taste different street delicacies, under the title of Iranian food. Because seeing this place where food is sold will change your perspective on Iranian food.
Tajrish is a place in Tehran that is not as big as the Tehran market. Despite this, Tajrishis a market where Tehran people mostly shop, although it is visited by tourists.
While you are visiting this market, where you will find colorful vegetables, fruits, jams and many products, mix with the crowd because markets are such fun. But, enjoy shopping at the counter where your feet take you.
SEE IRANIAN FOOD GALLERY