Jaipur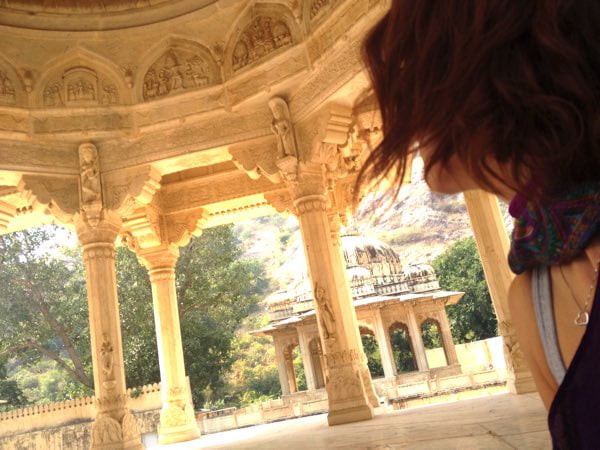 We have special experience about Jaipur and it is great place for us. We were incredibly excited to visit Jaipur because we had chosen Jaipur to celebrate India's famous Diwali festival. Before coming to India, we did research to coincide with a festival while determining the dates.
Returning without seeing a festival in India would not give us enough of the spirit of India. Diwali; the festival of light was a great festival that we could come across for the dates we would choose. During Diwali Festival, the whole city celebrates under the lights, fireworks, firecrackers, explosives, lamps with which they adorn the city…

Everything that glow is being prepared for this evening. From the children who were frantically blowing up in the street, to the fireworks that lit up the sky for hours, a wonderful festival was waiting for us.
If you like my article about the city of Jaipur, be sure to read this article; New Delhi
I had specifically chosen the Guest House where we would be staying in Jaipur. I had decided for the décor and hotel by reading the comments made by the tourists.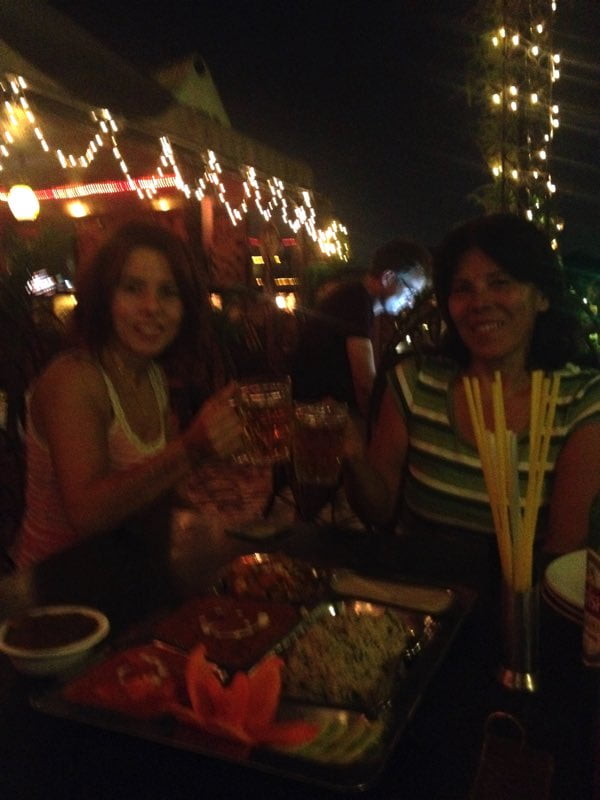 When I heard that there is a great rooftop restaurant with nice delicious food, I said here we can watch the light festival from a terrace by eating nice food and drinking great beers.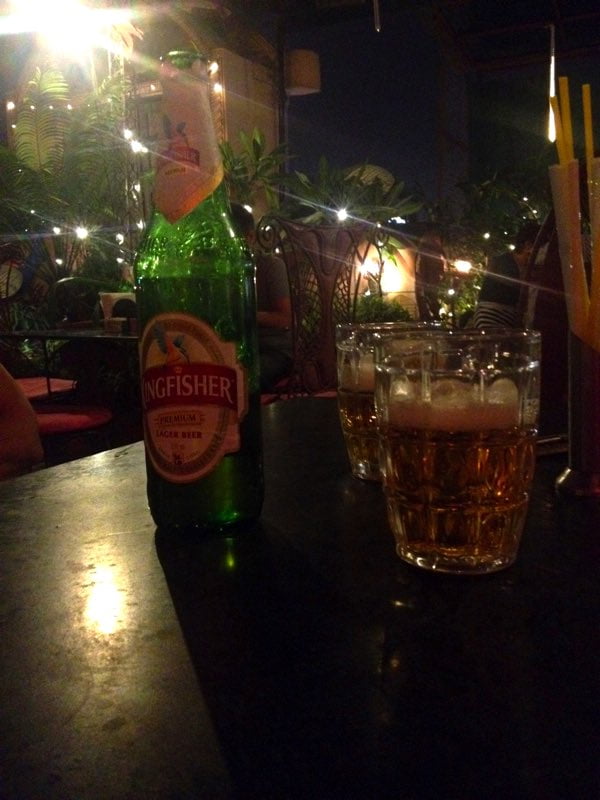 That's why Jaipur gave us pleasure even before we went there. Also, after Varanisi, Jaipur was a lot of fun for us.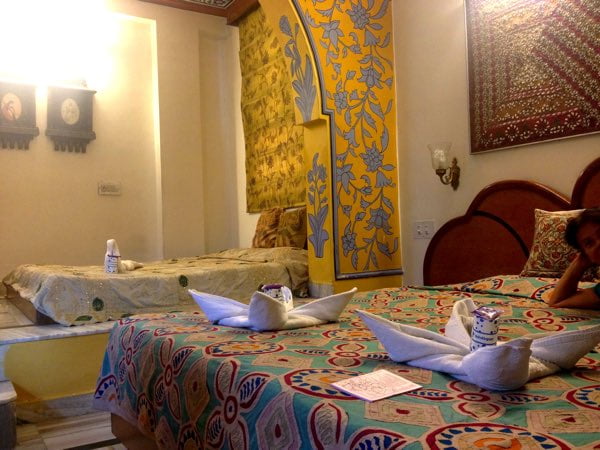 As soon as we arrived in the city, we checked into the hotel. God we felt like we were staying in the sultan's room after that bedless ashram in Agra. I had never slept in such a beautiful bed in my life.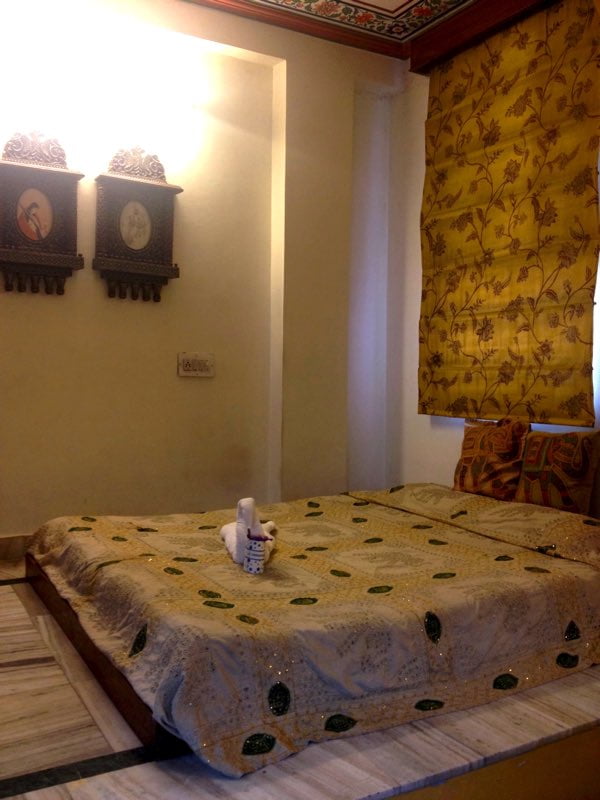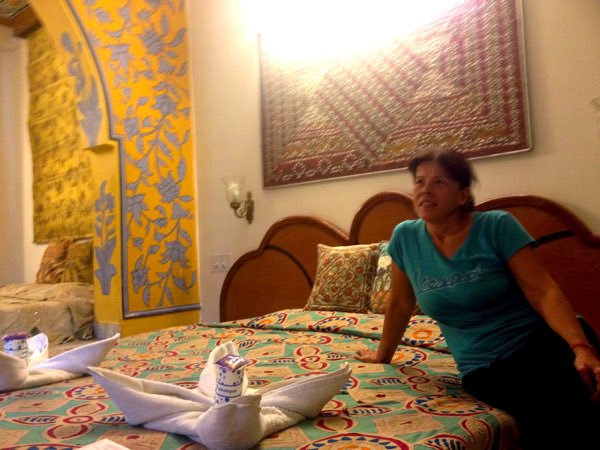 Suddenly, everything seemed so luxurious and so comfortable. We would look at each other and say what we've been through.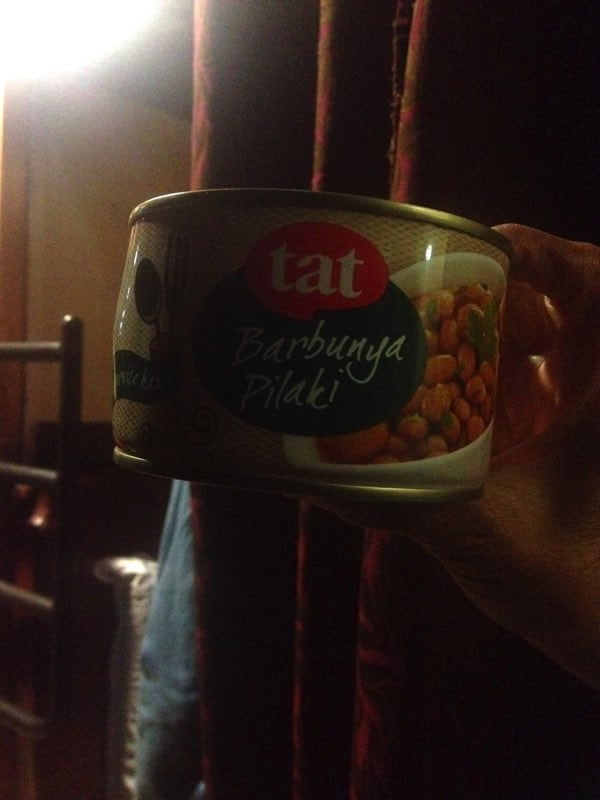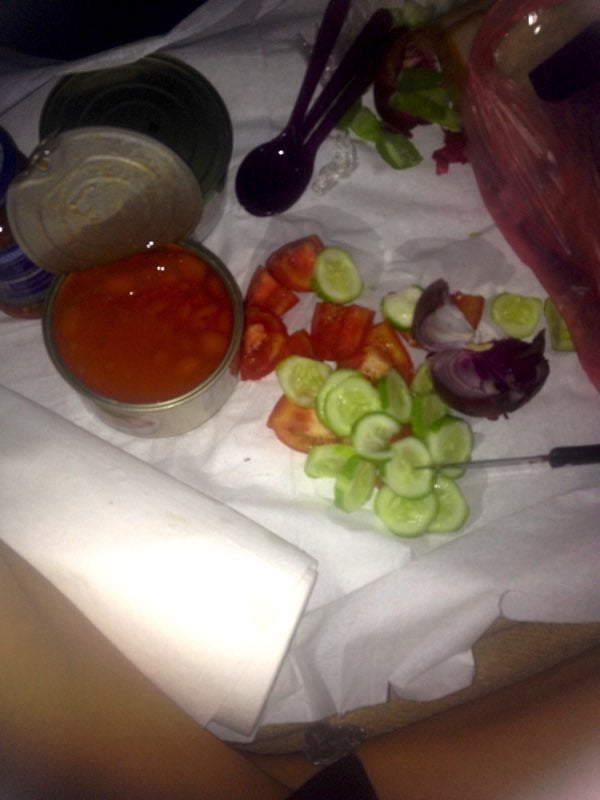 After resting for a while, we were ready to wander around the city immediately.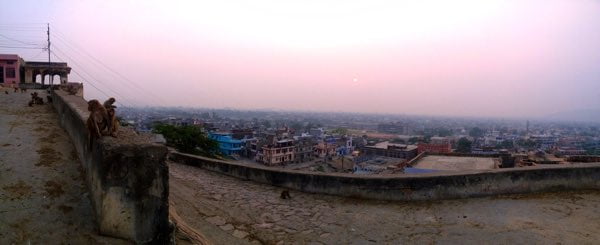 We agreed with the hotel's tuk tuk driver for Jaipur. We hadn't explored Jaipur much so the driver took us to the most familiar spots. Since we are already getting tired after such a full program in India, the idea of the driver taking us around was both very comfortable and very happy.
Places to visit in Jaipur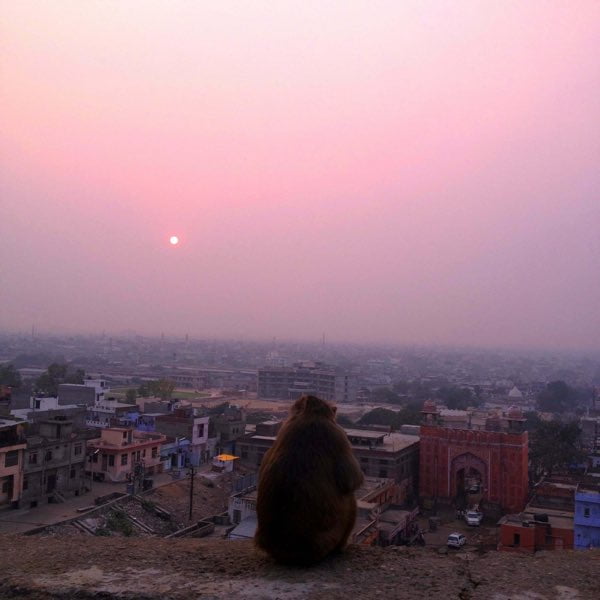 Pink City
Located in the east of India and its name means "City of Victory", Jaipur is the capital of the state of Rajastan. Along with Delhi and Agra, it is one of the stops of the Golden Triangle route. Jaipur, known as the pink city of India, attracts a lot of tourists in this form. In 1853, in honor of Queen Victoria and Prince Albert of Wales, the entire city was painted pink. Afterwards, all the buildings built continued to be painted in accordance with this color.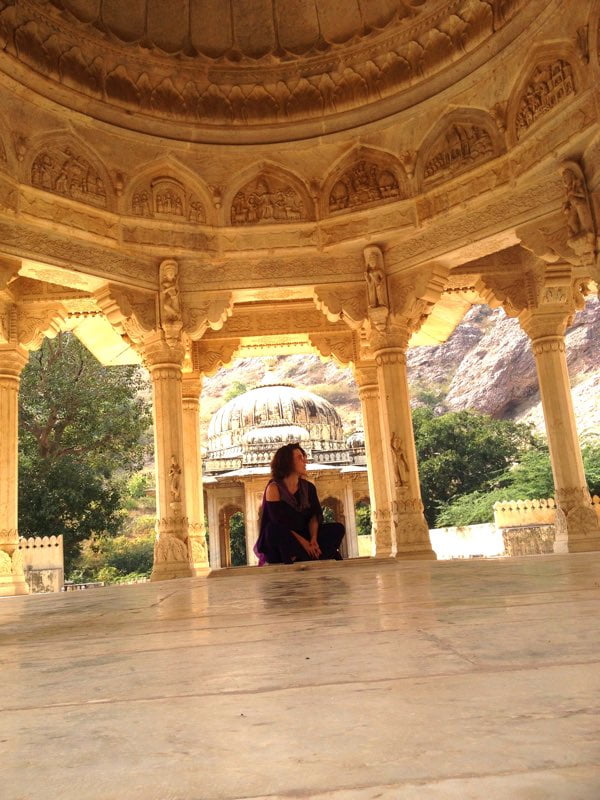 Where are the Places to Visit in Jaipur?
There are many places to visit in Jaipur. It is home to some of the most interesting buildings in India with its characteristic features. Old Jaipur, which opens to the outside with 7 gates, is surrounded by walls similar to the castle walls. Let's take a quick look at the places you should not return without seeing in this sweet city, which will transport you to a colorful world with its people, food and architecture.
Hawa Mahal
Built in 1799, Hawa Mahal means "Palace of the Winds". The Hawa Mahal was designed to cool the interior of the wind from the front. That's why it gets the nickname "Palace of the Winds". The 953 window is specially designed for harem women to watch the outside comfortably. In addition, when looking at the front facade, it is seen that the front facade is in the form of a crown of the Hindu God Vishnu.
City Palace
This 19th century pink palace impresses with its mix of Rajastan and Mughal architecture. Although it still hosts some members of the dynasty, most of it serves as a museum. At the entrance of Mubarak Mahal, a mixture of Rajastan, Islamic and European architecture, you can see the Textile Museum, the Weapons Museum and the guest houses. In the house of Maharacalar, the world's largest silver vessel with 1.6 meters is exhibited. Maharaca, the last king of Jaipur and a very strict Hindu, used these vessels to carry the water of the sacred Ganges River with him.
Jantar Mantar
Jantar Mantar, the astronomical center of the period, was built by King Maharaca, whose greatest passion was astronomy. Instruments that can measure the distance of celestial bodies, calculate latitude and longitude, measure star positions and seasons are exhibited here. You can also test the operating principles of a sundial that can still calculate minute-by-minute.
JANTAR MANTAR DETAILED ARTICLE
Amber Castle
Amber Castle which is dominated by brown tones and has Mughal influence in its architecture, was built on a hill that draws attention from afar. Amber Castle has a Turkish bath, gardens and temples. There are countless rooms in the castle.
The name of the castle comes from the large statue of Shiva made of amber.
You can go up to Amber Castle with 4×4 vehicles. You can also go out with elephants, which are a traditional method and are used for touristic purposes today.
ACTIVITIES YOU SHOULD DO IN JAIPUR
Jaipur is one of the places to visit on foot. It has such a colorful atmosphere that a novelty comes out of every corner that will surprise you. That's why I'd like to share some activities that will double the enjoyment of your trip.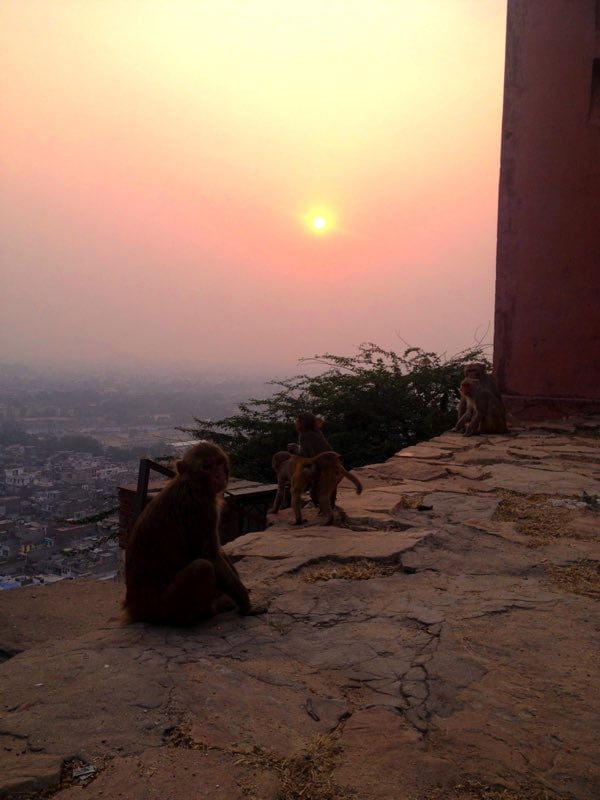 Visit the Galtaji Monkey Temple, where hundreds of monkeys live, and feed them with peanuts.
Ask a house to climb onto its roof and watch the kite show of people climbing the roofs at sunset.
Witness the coloring of the sky at the kite festival, which is held every year in January to celebrate the harvest time that coincides with the arrival of summer.
Enjoy the unique view from the Nahargarh Fort, which will lay the whole city under your feet.
Watch traditional rituals at the Gangaur Festival, which is held in March-April and is based on marital happiness.
Immerse yourself in cultural activities such as reading, book discussions, music, exhibitions, dance performances and cinema at the world's largest literary festival.
Get lost among the market stands in theOld Town area.
WHAT TO EAT IN JAIPUR?
When it comesto eating and drinking in Jaipur , the tastes that are very popular in India come to mind. As you know, only chicken and seafood are consumed in India because cow meat is considered sacred. Products such as fruits, vegetables, dried legumes are very popular. It is also famous for its spicy dishes. Hundreds of kinds of spices are used in food and dessert recipes, especially cinnamon and curry.
When asked what to eat in Jaipur, Samosa and Kachori , come to mind. Samosa and Kachori are a kind of pastry and are prepared by frying them in oil.
Dal Baati Churma , the most famous dish of Jaipur Rajastan, is the result of 3 different food types complementing each other. Nihari, hydebaradi biryani, chakna and ghewar , a famous dessert, are some of the delicacies you should try at Jaipur Rajastan.
Jaipur's Respect for Nature and Animals
Another issue that caught my attention in the city of Jaipur is people's respect for nature and animals. It is already possible to see such a picture in India in general, but in Jaipur, the animals were calmer and freer, and nature was greener.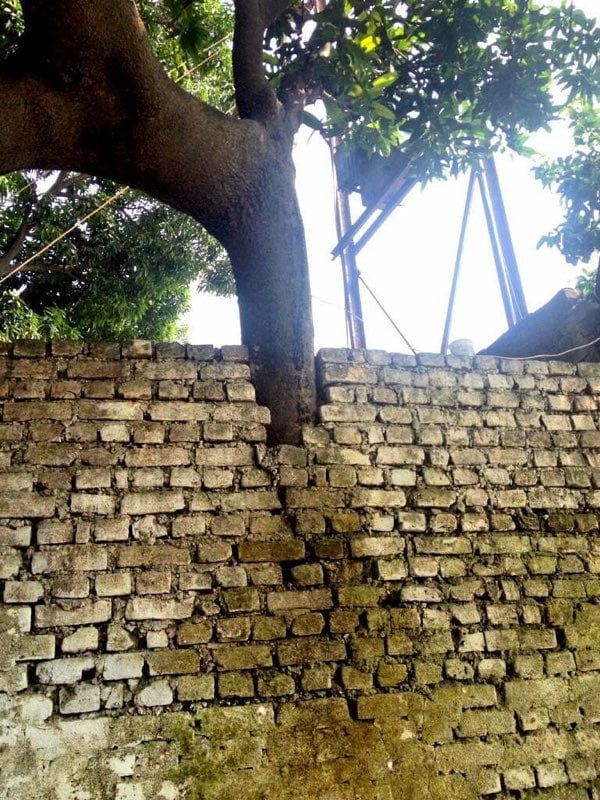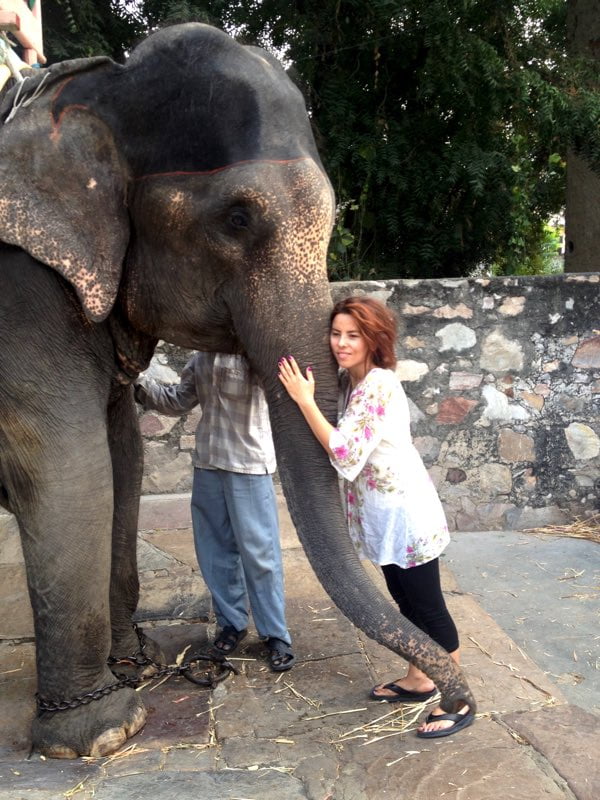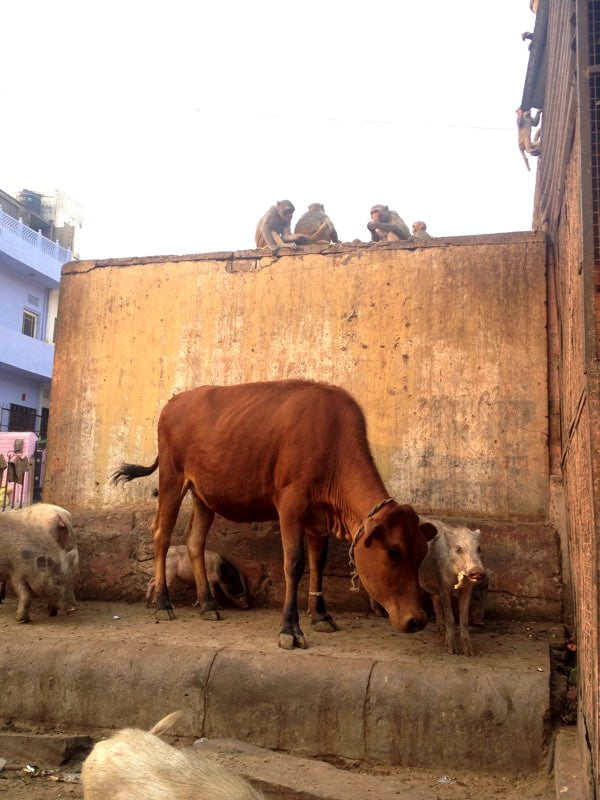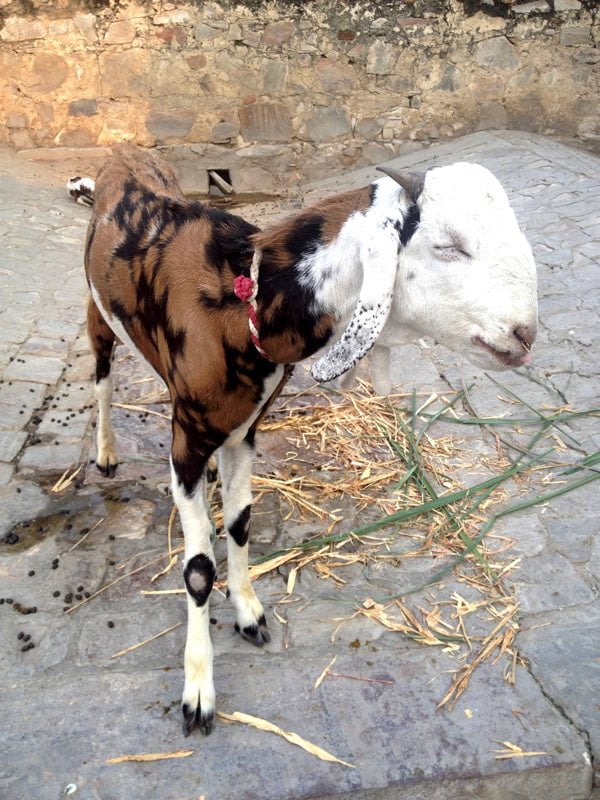 Why Do Shoes Hang From Under Cars in India?
The shoes hanging from under the cars didn't catch my attention much when I first came to India. Later I realized that there were shoes swinging under a lot of cars. Why do shoes hang from under cars in India? Here's a very simple answer; it is believed that it protects from accident and trouble and brings luck. In our country, you can think of it like baby booties tied in front of the mirror.
Strange Animals in India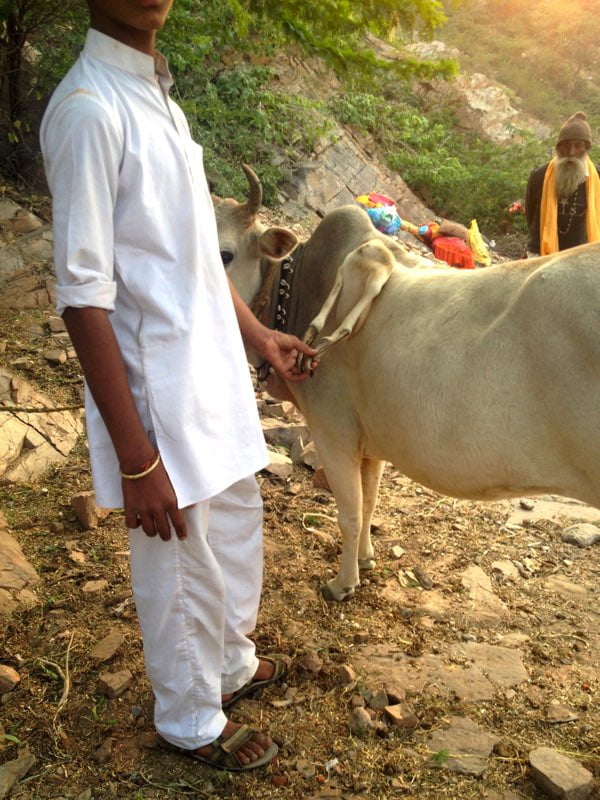 Return to New Delhi again;
After the wonderful Diwali festival in Jaipur, we were relieved of our burdens. We were relieved and ready to return to New Delhi. We were now slowly approaching the end of our journey.
When we returned to New Delhi, we had not yet chosen a hotel. We did not know where to stay. Despite this, none of us had any worries about the hotel anymore. After staying even in rooms without beds, all the hotels in New Delhi were now a luxury for us. We felt so comfortable that we were like part of India.
When we got back to New Delhi, we left the suitcases at a restaurant we knew and went to look for a few accommodation alternatives. We decided on one by seeing the hotels and negotiating the price. There was an indescribable comfort, happiness, and joy upon us. We found a more central location in New Delhi for the price of a third of the hotel we first stayed at.
Now we had adopted people, skin colors and behaviors so much that we had no difficulty in finding a safe place. We just immediately went out. We visited a lot of markets, spice shops, souvenir shops. We attached the most natural incense and the most ayurvedic products to one side of our bag to take to Turkey.
And now we were ready to return.