INDIA,Where did we visit on the New Delhi Train Journey? You can find the detailsof our New Delhi, Rishikesh, Varanasi, Agra, Jaipur Train Journey in this article. What are the tricks to make India Train Journey ? How many people travel to India by Train with their parents? Which cities of India did we visit by train? What are the challenges of Indian train travel? Our amazing trip to New Delhi, Rishikesh, Varanasi, Agra, Jaipur and again to New Delhi.
INDIA, New Delhi, Rishikesh, Varanasi, Agra, Jaipur Train Trip
How to choose the right suitcase when going to India?
New Delhi
New Delhi Hotel Selection
Rickshaw
Places to Visit in New Delhi;
Red Fort
Jama Masjid
India Gate
Chandni Chowk Market
Roj Ghat Jantar Mantar
Agrasen ki Baoli
Humayun's Tomb
Akshardham
Qutab Minar
Lotus Temple
National Railway Museum
Gurudwara Bangla Sahib
Rashtrapati Bhavan
National Gallery of Modern Art
Lodi Gardens
Hauz Khas Village
Gandhi Smriti
Dargah Nizamuddin Museum
Chhatarpur Temple
Tomb of Safdarjang
What is Ayurveda? How does Ayurvedic massage treat?
Massage in India
Shopping in New Delhi
Rishikesh hotels
Varanasi
Jaipur
Agra
INDIA, New Delhi, Rishikesh, Varanasi, Agra, Jaipur Train Trip
You can also find India's great Indian food article from the link I left below. You can see my article about how you should prepare a bag when you go to India from the link I left below.
You can find our India train journey in general on this page. You can also find the links of the detailed article about the cities of New Delhi, Rishikesh, Varanasi, Jaipur, Agra here.
Before I wrote about our trip to India, I looked at the photos and really wondered how many people would take their parents to travel around India by train without any tour. Then again, that unbearable question came to my mind, 'Why would I find myself involved in the travels that get me into trouble?' We traveled by train in India and did yoga on the Ganges river in Rishikesh. We attended the cremation ceremonies in Varanasi and watched the Ganga Aarti ceremonies in the evenings. As if that wasn't enough, we continued our journey as if nothing had happened after kidnapped in Varanasi. We rekindled love with my family at the Taj Mahal and attended the Diwali festival in Jaipur. At Jantar Mantar, we observed sky science, looked at our horoscopes and tried to predict our future. We tried India's favorite delicacies from street vendors and tried new flavors. We were ripped off and got Indian tattoos on the streets like an Indian. In short, we tried to experience India as much as we could. Let me share with you the details of our India train journey.
India Train Journey
Before I tell you how we decided to take the train journey to India, let me tell you about our short travel history. We have spent most of our lives without traveling anywhere. In fact, after spending most of our lives in the same city, we decided to go to Thailand one day. From that day on, our lives changed and every year we promised ourselves to go somewhere.
Please click here to read about the trip to Thailand.
When I was a kid, someone called me an adrenaline junkie, I didn't understand what they meant, but now I understand what they mean when I stop and write down my past travels after it's all over. If you are addicted to adrenaline, your choices, the places you go, the travels affect all of them in one way. But what is my parents' fault?
Going with a tour on the travel route where there is a challenging track like India gives you great comfort. On the other hand, going without a tour agency allows you to get to know that country in a real sense. We preferred the latter. Before that, I had gone to the Far East with my family, done an elephant safari, and visited the islands of Thailand on speed boats. We had passed to European countries and enjoyed walking around freely. Now we were ready to set off for a more challenging course.
One day I turned to my mother and asked, 'Where would you most like to see it?' and she said, "India." So do I; Instead of asking why not, I asked myself my favorite question in life, 'How can we get to India?'
How can we get to India?
Then we had a heated conversation. That indescribable fire had fallen into us. Once a travel fire starts to burn, you can't stop it, and it's getting bigger every day. Our excitement was as lively as if we were going to leave tomorrow. Eventually, we found ourselves looking at plane tickets. When should we go to India? When wereflights to India getting cheaper? What cities could we see when we were in India? Which cities were close to each other? I was surfing the internet to research them.
Plane tickets seemed expensive for the next few months, and there were also monsoon rains. We should never have coincided with the monsoon rains of India, which would be both dangerous and very troublesome for us. We also shouldn't have been there in the scorching heat of India, because the intense heat could have interrupted our trip in half, and mosquitoes would have increased due to the filth around.
When should we go to India?
We could get sick because of mosquitoes. It could only be a matter of time before we get food poisoning because of the heat. We could also have intestinal problems because of the animals laying eggs in the water. It was also not pleasant to think that the smells, the sweating of people with the heat, and the smells of garbage. That's why I thought the best period was between September and October.
Yes, I should definitely have made this trip on my birthday because I made a promise to myself during my trip to Nepal. I was going to give myself a dream every year. I was either going to buy a ticket or be there for a country I wanted to go to. Here is now a new birthday and a new adventure. 'I can't think of a more beautiful gift than this,' I thought.
We were going to India. We decided to buy the tickets for a year from now. We immediately shared this idea with my father. His first reaction was 'no, it's impossible, I definitely can't come to India. Are you crazy? Two women, they can kidnap you, there can be snakes everywhere." My father was definitely not coming. We understood from his reaction that he couldn't even imagine coming aside. We would walk around with low energy for a week, meeting my mom around the kitchen table every night and talking whispery.
My mother and I were going to India.
In the end, we made a decision. My mom and I were going to go to India. We told my father our opinion. My father didn't even believe we were going to do that. We sat down in the evening and bought a plane ticket for October 22, a year later, the day before my birthday date. My mother put on a cup of tea and we were looking at each other. We had a mischievous smile on our faces. We would grab the slim waist cup and drink a sip of tea and then laugh sneakily. We had the tickets.
Months passed, and my father's opinion certainly did not change. Even though we had the tickets, he never thought we were really going to go. After 6 months, we were slowly looking for luggage. Then a few more months passed, and our excitement started to increase. Here we were in August. We had a plane ticket to India two months later. We were determining the routes. We were going to start our trip with New Delhi. We decided to travel around North India. We were identifying routes that were near New Delhi and that we would not have difficulty to travel around and that we would cross by train.
My father decided to come with us.
The weather was hot, we turned on the computer in the kitchen and were talking about possible places to go after New Delhi. Quietly, my father came in standing and stood at the doorway. For a moment we felt someone watching us, and at the same time as my mother and I raised our heads and looked at my father's face. It was as if he was going to want a glass of water or a plate of sweets. Calmly saying, "Two women can't go to India. Buy me a plane ticket, I'm coming with you, I can't leave you alone." My mom and I looked at each other, shocked. My father said his word and went back to the hall to quietly watch his TV.
We bought my father three times as much of an Indian flight ticket. My father didn't really want to come, but he didn't want to leave us alone. Since my father was coming, we could have planned the journey accordingly.
What changed his decision? A friend told him that they kidnapped people in India, God who could kidnap us?
Yes, you'll see this in the following sections, but my father was right. They kidnapped my mother and me in Varanassi, India. God, how many people can be kidnapped with their mother and then beat the man and get away? I don't even know how to tell you about this part.
The Last Month We Went to India
We had decided which cities we were going to. We were going to meet a yogi from India. We would take the bus north from New Delhi to Rishikesh and stay there in an ashram. You may be asking, what is ashram? Ashram is a Sanskrit name given to places in ancient India where sages lived in peace, away from the hustle and bustle of the world, in the forest or on the mountain. We were going to do some work with the yogi we met there and then we would go down to the lower of India by train.
Here is exactly the route I was going to take as in the picture.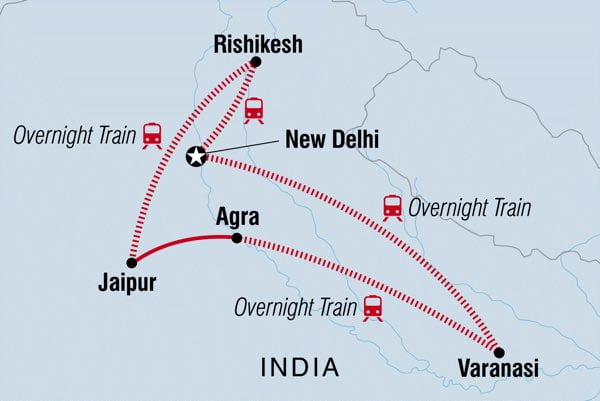 We were going to take the bus from New Delhi to Rishikesh because we decided it was more convenient for us in terms of hours and time, and then we would continue our way by trains. Also, if our calculations were correct, we would go the Diwali festival when we arrived in Jaipur. When I went to India, I definitely wanted to come across one of the festivals. If you are organizing a trip to India, try to choose a right time with a festival because the Indians were really doing it well and celebrating properly.
The day had come to travel to India…
We prepared my suitcase with it in mind because we would not have a tour guide or bus to carry us from place to place during the journey. So the suitcases would be with us. There had to be bags that we could both carry and move around comfortably. That's why, there had to be a bag that would not attract attention and would not cause it to be thought of as having a lot of money or expensive things in it. I have organized an article that can answer your questions such as what should be in your bag and how to choose a bag when you go to India. You can also read this article. Thus, what you will pay attention to in choosing the right bag, what you put can be meaningful for you can read them in this article.
Be sure to read this article; How to choose the right suitcase when going to India?
After walking around the bazaar all day, we had determined the most suitable bags for ourselves. We had carefully chosen what to put in our bag beforehand because we wanted it to be a bag that was both light and functional. We were going to India in a period that could have been slightly cooler in the warm but not overwhelming evenings. So we needed clothes that were both thin and a little thick, but because our space was limited and small, we had to make the right choices. We couldn't put on a lot of clothes, but considering that we were going to a country that was not very clean, it was impossible for us to spend days with two or three pieces of clothes. We made the right choice for our bag over the clothes that dry the fastest after taking a shower. What we took in our bags on our way to India. What should be a must-have in your bag on an India trip? I wrote this as a separate article for you.
"If you wish, you can read my article about what kind of bag should you choose for India by clicking on the link and what should be in your bag?"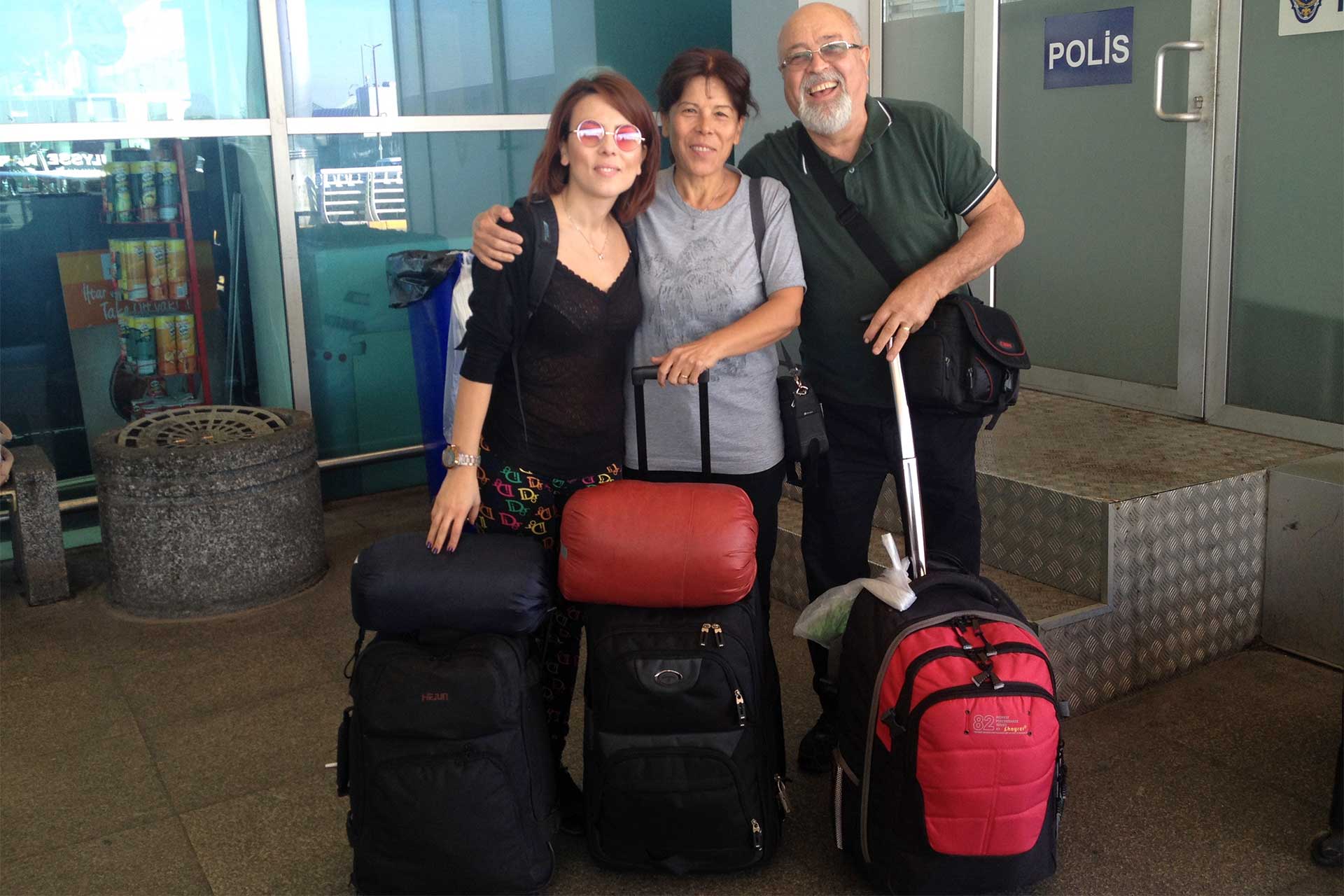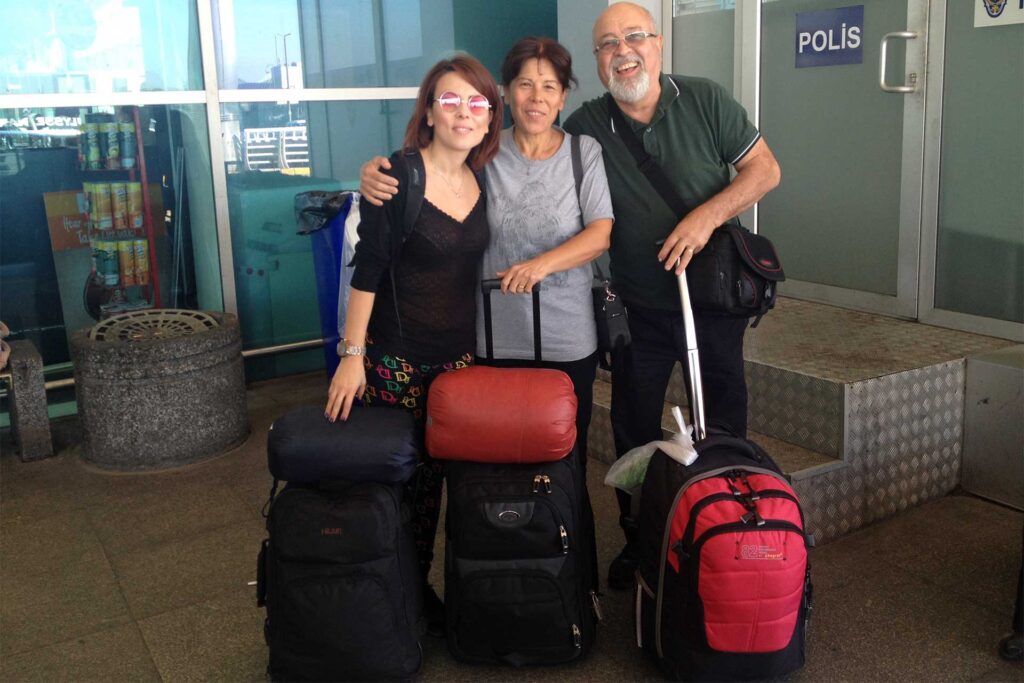 We packed our bag days in advance because we wanted to enjoy the trip instead of dealing with a shortcoming at the last moment. Generally, since the first things that should come to your mind come at the last moment when preparing the bag, we wanted to finish the bag preparation in advance and shop with pleasure by seeing our shortcomings.
We were all so excited the night before we were going to India. The next day, we went to the airport with so much energy that what we felt was reflected in the photo. My father was now mentally traveling to India, and now the excitement of this journey surrounded him.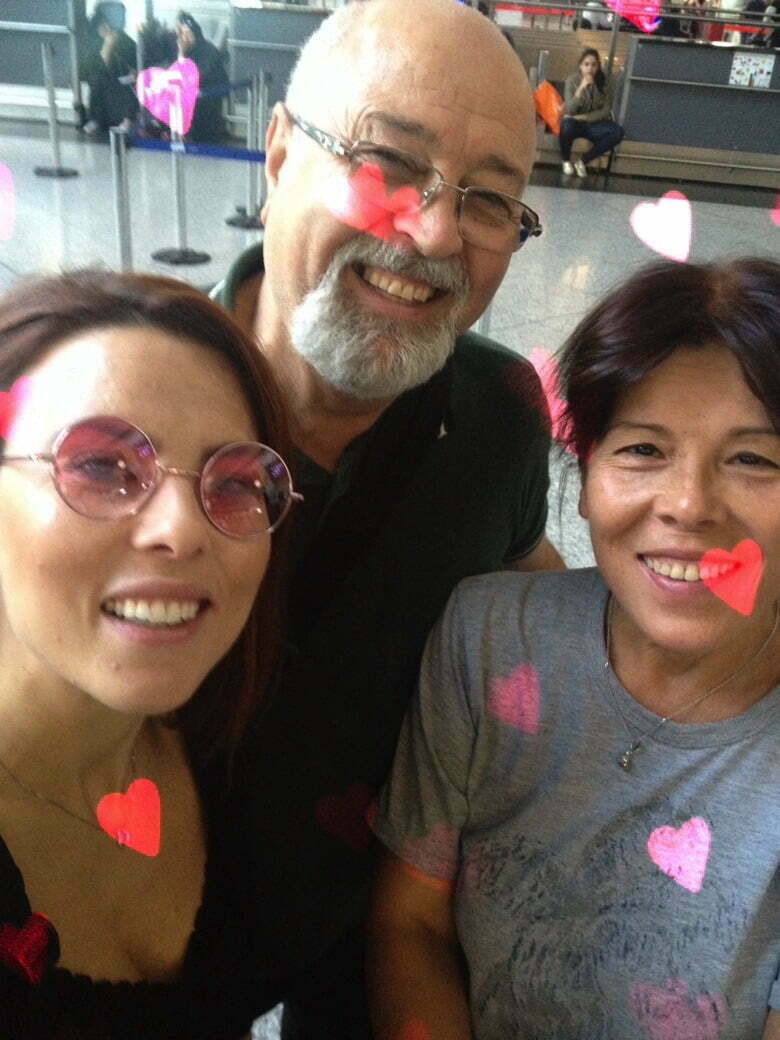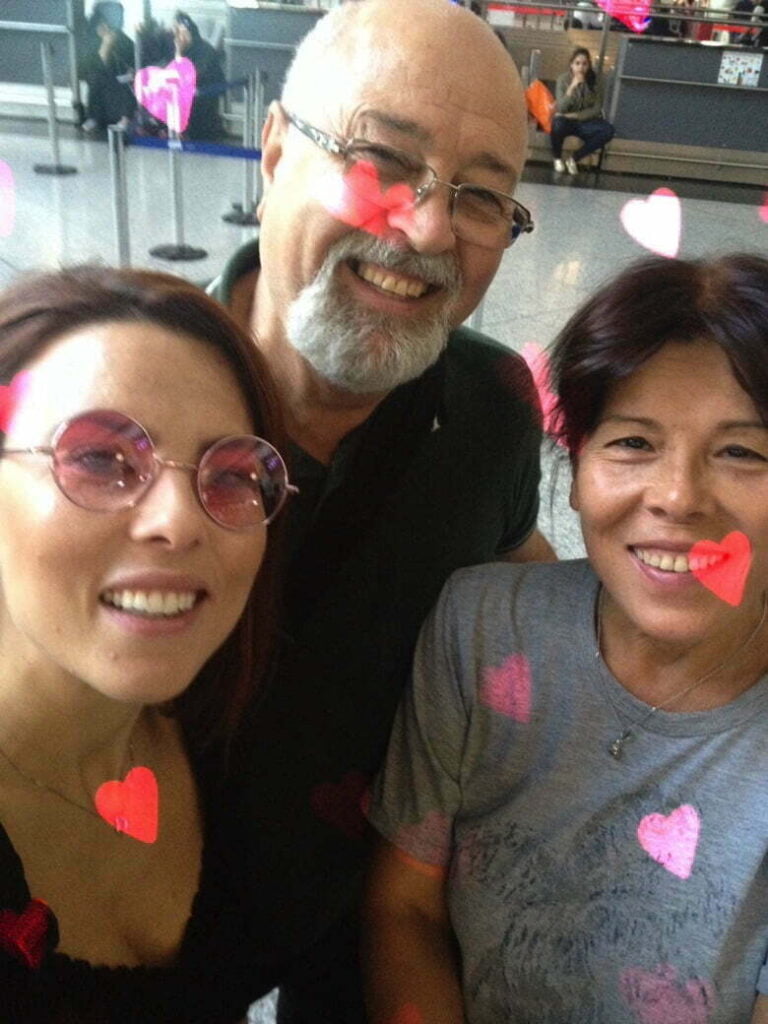 Walking around the airport's international lines, spraying my favorite perfumes before boarding the plane, and navigating tiredly was my favorite activity at the airport. We woke up early in the morning and had a sweet tiredness in our eyelids. With the relief of fragrant scents on us, we left yourself to the seat of the plane for the journey.
New Delhi
After such a luxurious journey, descending the dusty and chaotic streets of India was a slap in the face to us. We had come to New Delhi, our first destination. The weather was good but as we moved towards the center where our hotel was, what we saw and the view changed.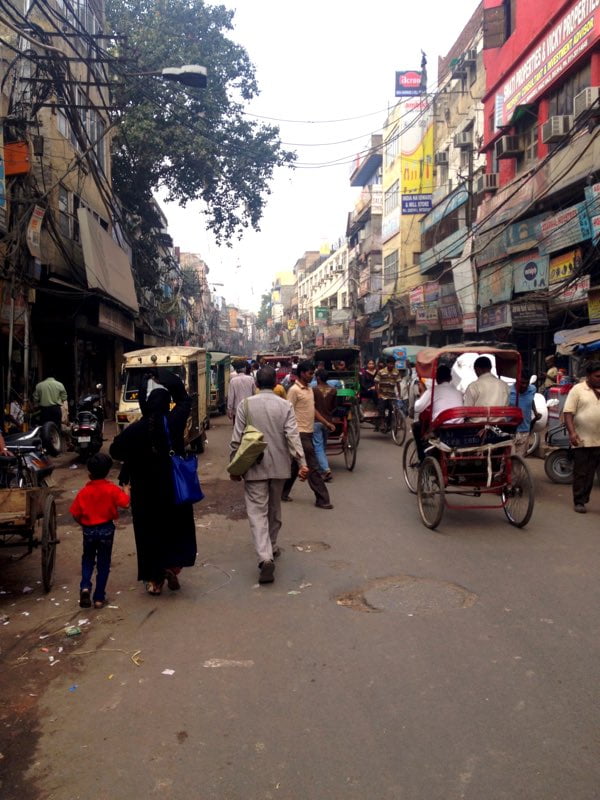 Suddenly, when wheelbarrows and animals were added to the chaos of the big city as if we were living in the village, we were confused where to look. The streets smelled of spice and piss. Of course, not all of New Delhi smelled like that. Region by region, street by street, neighborhood by neighborhood, the atmosphere of the city was constantly changing.

It was a sudden shift from streets where people in modern clothes were walking to half-naked people peeing on street walls.
New Delhi looked chaotic even without people.
There was so much cable traffic around that it was creating turmoil in a way I didn't understand. The cables, which were in disrepair and old, were lying in the middle, away from security measures. It seemed only a matter of time before an electric wire broke off and fell on a person. The cables between these streets in New Delhi added more turmoil to the chaotic and crowded atmosphere of the city.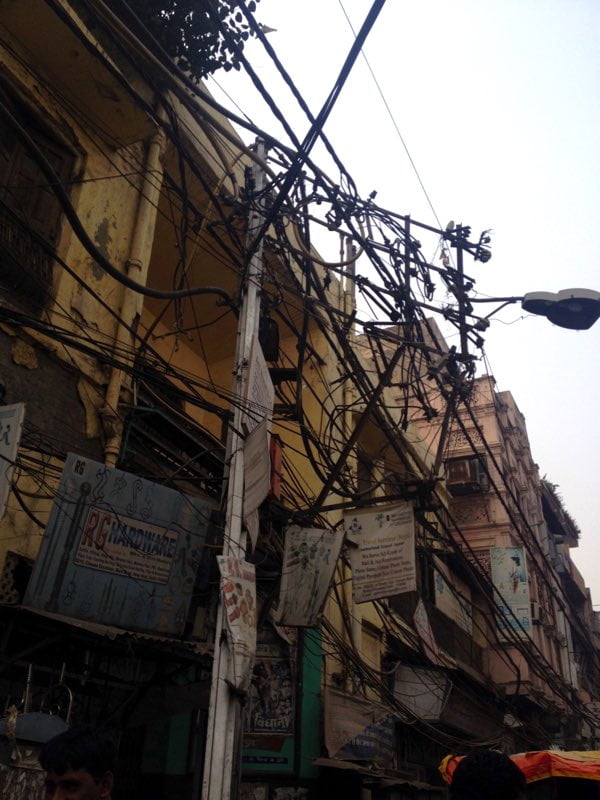 After landing at New Delhi's airport, we were stunned by an intense voice, noise and air pollution. After these confusing scenes, we prayed that our hotel would be nice. For a moment, we thought, why didn't we come to an agreement with a tour company. Being alone made us feel very insecure. I had found the hotel online and made a reservation, but in the end, a big surprise could have been waiting for us when we went there. We headed to our hotel in New Delhi like little kids.
The streets are so noisy and chaotic that it's no wonder that this dog fits into that basket and sleeps like in a mother's womb.
How did we choose a hotel in New Delhi?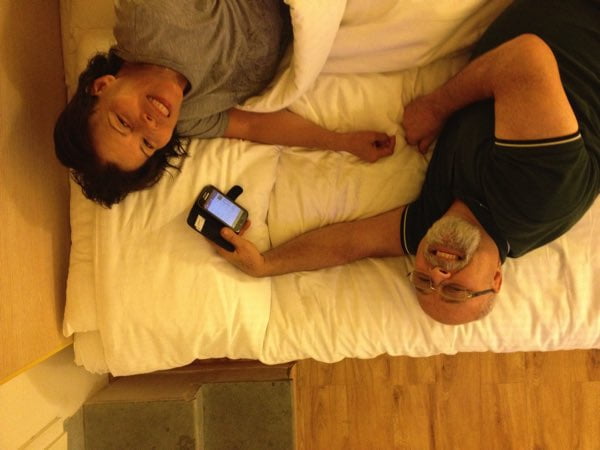 The beds of the hotel where we stayed in New Delhi are of good quality. You can choose pillows and beds without getting into the hotel. This provides a beautiful comfort to the person. Also not like ordinary bunk beds. Two people can sleep very easily in the lower bunk bed. You can understand how satisfied my parents were with the hotel in New Delhi from their enjoyment.
I chose a hotel where the beds are comfortable, the design is simple, and the chosen colors will create calmness for our first day in New Delhi. I really made the right decision. I can't say that you have to make comfortable choices for your entire trip in India but I would definitely recommend choosing a hotel that will make you feel good the first few days. I think it's important to have a place where you can feel safe and comfortable, at least for the first few days of discharging the chaos and consternation of India. Especially if it is your first trip to India and you are organizing this trip, I recommend you to choose a simple, easy to find, clean and well-located place. You may want to experience the comfort of your home for a moment, but you can now try to make more local elections for the following days.
The top bunk bed of the hotel we stayed in New Delhi. The room was simple and clean. Only yellow and white colors were preferred in the hotel.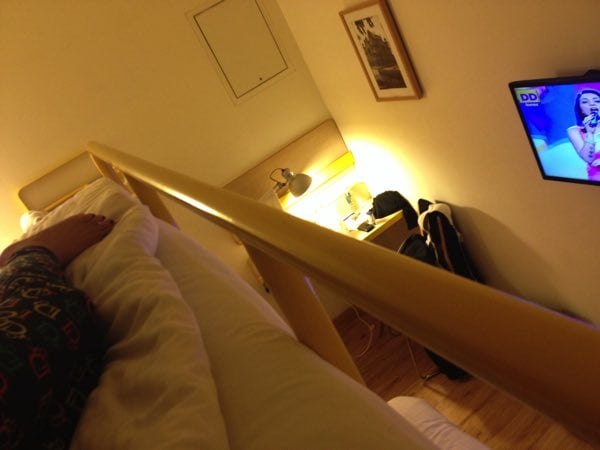 When we arrived at the hotel, my father took a deep breath. It was as if he was in shock. We all were like, 'what was it, where have we come from, what are we going to do in India for days?' We had chosen a room with bunk beds with huge beds.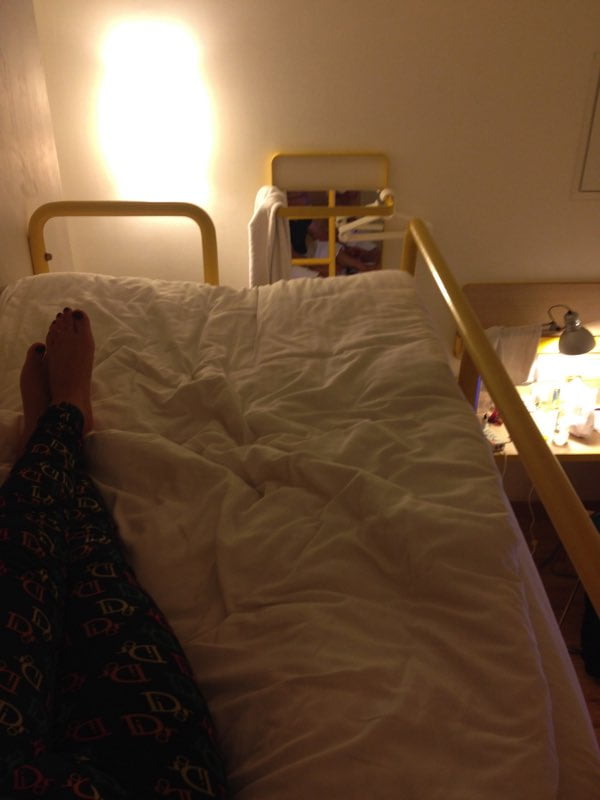 We relax in a quiet room away from the noise of the city in the hotel. The bunk beds are satisfactorily large. The beds are very clean and comfortable
As soon as We Land in India, the Suitcases are Missing!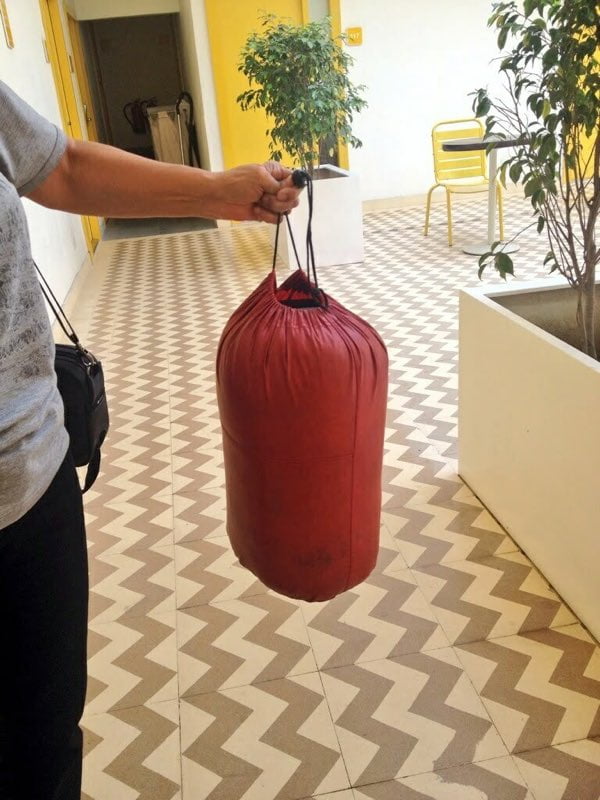 In fact, the most important reason why we felt this chaotic feeling was that the suitcases were not there when we landed at the airport. We had already learned that those bags that we had prepared with few items and minimum requirements had gone to another country and were no longer with us. It was our first trip to India and we had lost our luggage from day one. When we came to our room, we were in such a mood that we didn't know whether we should laugh or cry. A day later they said our luggage would be delivered to the hotel but no one had a clear answer as to whether it would actually be delivered or not. When we arrived at the hotel from the airport, we only had one sleeping bag. We went to the room and looked at the sleeping bag in our hands and laughed.
An hour or two later, we left the hotel and walked around the hotel, trying to find something to eat. In the evening we went back to our hotel in New Delhi and were about to go to bed and we didn't have a single clean outfit. We spent that night in our underwear under the duvet.
23rd October in India, My Birthday!
The next day I woke up under the duvet in my underwear with a ridiculous smile on my face, thinking 'Today is my birthday.' No matter what, I was in the most different and beautiful adventure a person can have on his birthday. I was making a moment with my loved ones.
The Best Gift for My Birthday in India!
We got up excited, got dressed and opened the door. The hotel attendant was standing there with our lost luggage. We were so happy that we all went and hugged the man. Even if the man didn't understand exactly what he was going through, he smiled at us and said 'Namaste'. Namaste is the word you'll hear the most in India, so memorize it now. Namaste; means 'My soul sees and greets your soul' .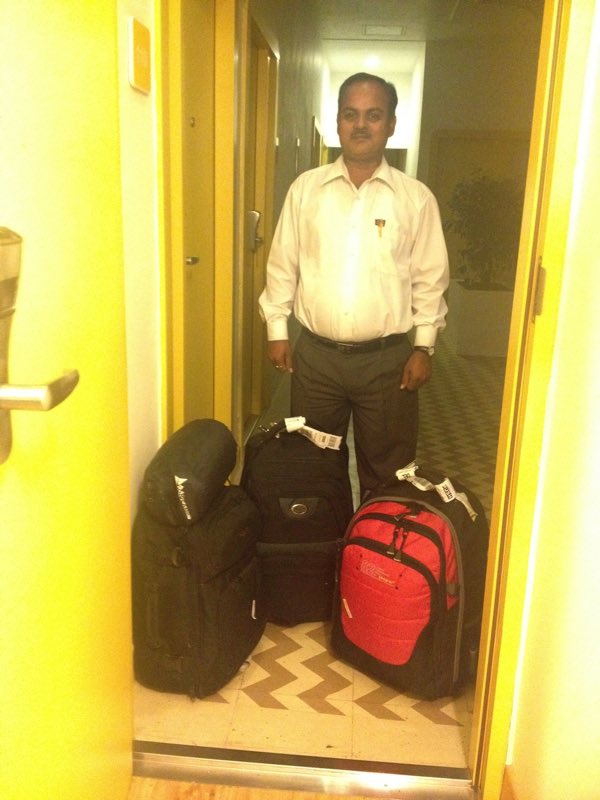 The suitcases were there in one piece and complete. In addition, our Indian friend who helped find the suitcases had bought a cake for me. I couldn't believe I was celebrating a birthday in India. Finding the suitcases seemed like a huge gift, and they brought this beautiful cake to the hotel. This increased our motivation for India and we couldn't wait to see India now.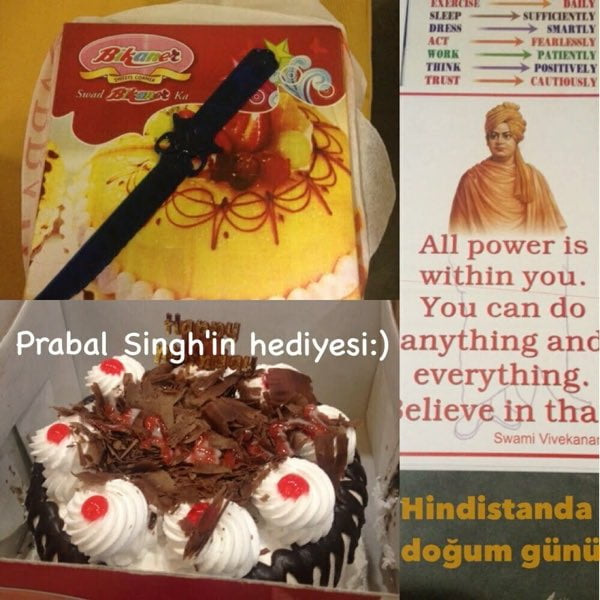 My birthday cake in New Delhi. The plastic knife comes out of the cake.
We quickly got dressed and left the hotel to explore New Delhi. According to my research, we were going to rent a tuk tuk and visit the places we should to travel in New Delhi. I have prepared this list for you as well.
First of all we wanted to do a quick tour of New Delhi, so we were going to ride motor small vehicles Riksha 'tuk tuk'. Afterwards, we would travel with the bikes to see the streets and life here.
Rickshaw

Rickshaw I want to talk a little bit about rickshaws in India. In fact, it is a means of transportation that you feel safe in this chaos. It is very uncomfortable and unsafe, but being in a vehicle in the dense chaos of the city makes you feel more controlled. On the other hand, there were those with bicycles that made you say how much trouble the man took to pull us, and it made you make a judgment of conscience. I mean, you shouldn't think it's just a rickshaw. A tool that turns your emotions upside down.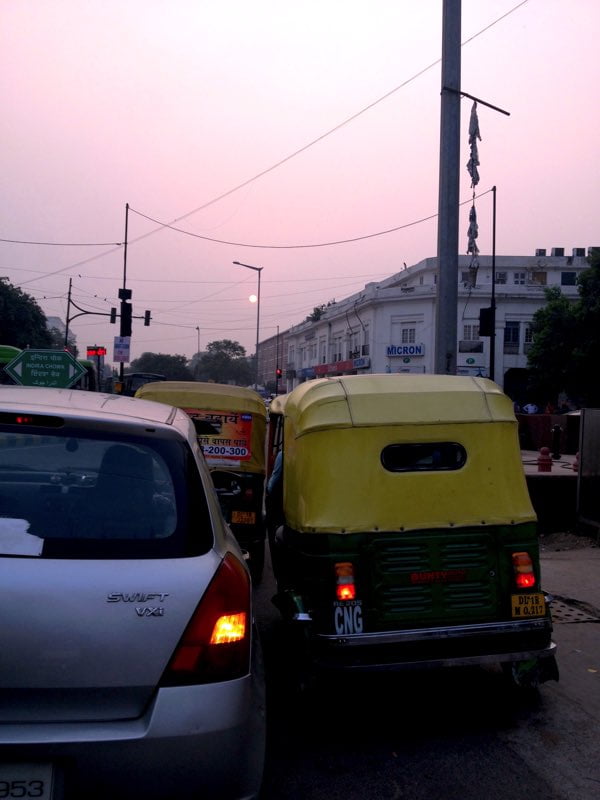 If you don't get on the ones with wheels, this time you question whether you are doing good or harm to the people who are trying to make money from this job. Are we having fun in the riksha? Absolutely yes. It is as if you are watching a three-dimensional movie in the traffic of the city. Everything is happening around you. Despite all the turmoil, people are calm on the one hand. The Riksha driver is tired but very friendly. I said, you should come to India and get on the riksha. When you get on it, an exciting atmosphere will be waiting for you where you will feel all these emotions together.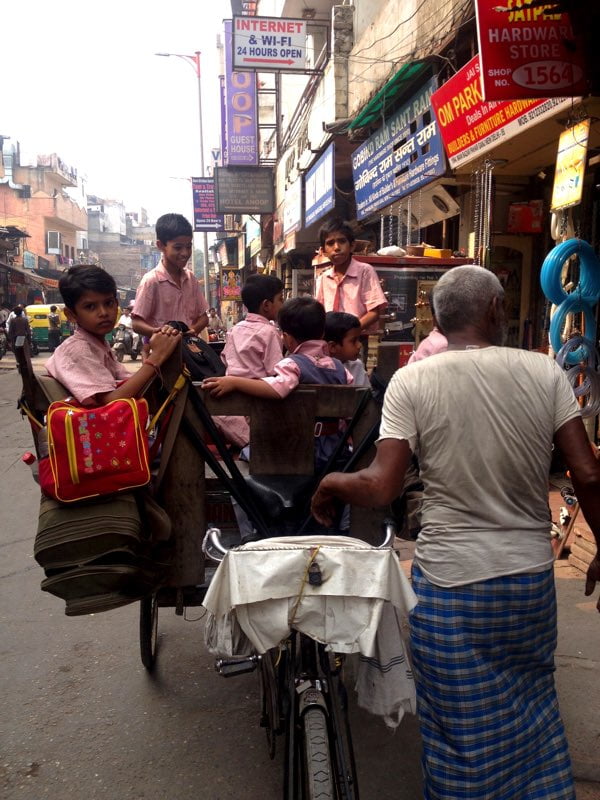 I would also like to put videos of our Rickshaw tours and share them.
There is a very important detail you need to know before you go on a New Delhi city tour. Unfortunately, when I was researching 'places to visit in New Delhi' on websites, no one told me about this detail. That's why I want to warn you about something and then give you detailed details about the city.
Do not answer 'YES' to the first question you will be asked in New Delhi.
The next morning we rented a tuk tuk and started traveling around. They told us we had to bargain when we left the hotel. We found out in advance how much the distances could cost for the bargain we were used to from Thailand, because when he told you the cost three times more than where he was going, your bargain made no sense. That's why it's important to be informed in advance about the distances we will travel in New Delhi and the fees to be charged to the vehicle. If you trust the hotel where you are staying, you can also ask the reception for price information. Immediately afterwards, enter a shop on the street and confirm again whether the information is correct. That way, you can at least figure out who's telling the truth. We also spoke to the reception as we trust our hotel so when the tuk tuk driver realizes that we know the price, he will negotiate accordingly.
We thought we were experienced because we had been to many countries, but we learned at the end of the trip to India that a traveler would not be experienced without traveling to India.
If this is your first time in India, don't tell the locals!
When we came to India, the first question everyone asked was was was it your first time in India? Next question is, how many days ago did you come here? We were thinking about how friendly people are and how interested they are. We were excitedly saying yes, it was our first time and we came only yesterday. I think about it now, what a big mistake that was. Don't answer 'yes' when they ask if this is your first time in India.
Actually, saying yes is another way of telling them, 'I haven't met India's tricks yet and I don't know anything.' When that person figures out this, he starts to deceive you according to the degree of difficulty. Even if it is your first visit in another country, you should say "no, it is not my first visit, I come often" to the questions of "How long has it been, is it your first time to visit here?". Then they will think that you are not an easy bite and will act accordingly.
Don't forget this trick!
Of course, since no travel website wrote this information, we made the mistake of saying 'yes, it is our first time' with a smile. When the tuk-tuk driver realized that we had fare information about the distance, he said, 'OK, then I'll show you everywhere at this price, don't look for another tuk-tuk.' And we loved the idea. Supposedly, knowing the prices, we made sure that we wouldn't rip ourselves off. Tuk-tuk driver really took us everywhere we wanted without ripping us off and told us everywhere.
How much can you trust the Riksha driver?
Afterwards, after spending a pleasant trip with him all day, on the way back to the hotel, he told us that our way could take us to a very affordable shopping place. In fact, it is such an affordable place that you do not need to pay for a trip to come here again. What he said made a lot of sense, and we gladly agreed. We shopped at the shop which we thought was too cheap and thought we would never find it again and went back to the Hotel because we trusted the tuk-tuk driver When he drove us around the city at an affordable price without ripping us off, everything he said felt right.
The road to the hotel was a bit confusing, but we didn't dwell on it too much because everything looks same here. The next day, when we left the hotel and went to the back street, we shocked when we realized that the shop we had shopped for yesterday was just in the back street of the hotel. Also, when we realized that we were buying products expensively, even in their discounted price, we looked at each other meaninglessly. Why did I tell you this, this was not fraud, this was the most innocent thing that happened to us. Every day we kept our eyes open more, but we were still being ripping off for no reason. In fact, when they kidnapped me and my mother in Varanasi, we were able to prevent this before it was too late. It is not possible for me to tell you in a few sentences about what we have experienced. How many times in a lifetime can one be kidnapped! That's why I'm going to write these memories, which I set free by writing down as a separate article. 'They kidnapped us inVaranasi'All I will say for that day is that we were just so lucky. I will share this with you as a separate article.
After seeing and visiting the places to visit quickly in India, we were ready to set off for the city of Rishikesh, which was in our plan. We were going to take a bus to Rishikesh city.
Places to Visit in New Delhi;
What are the places you shouldn't leave without seeing in New Delhi ?
New Delhi, the capital of India, is one of the most populous and fastest-growing cities in the world. New Delhi is divided into old Delhi and New Delhi. New Delhi is more modern in that bureaucrats live and were once under British rule. Old Delhi, on the other hand, is called the place where Muslims once ruled and where they lived.
If you start your trip from old Delhi, you can find and visit Red Fort, Jama Masjid, India Gate, Chandni Chowk Market, Roj Ghat. Then there are other places to visit near New Delhi; Jantar Mantar, Agrasen ki Baoli, Humayun Tomb, Akshardham, Qutb Minar, Lotus Temple, National Railway Museum, Gurudwara Bangla Sahib, Rashtrapati Bhavan, National Gallery of Modern Art, National Gallery of Modern Art, Lodi Gardens, Hauz Khas Village, Gandhi Smriti, Dargah Nizamüddin Museum, Chhatarpur Temple, Tomb of Safdarjang .
The first thing you will notice when you arrive in New Delhi is probably that there is excessive traffic and the city is quite filthy. The traffic is so heavy that even pedestrians hardly pass through the cars.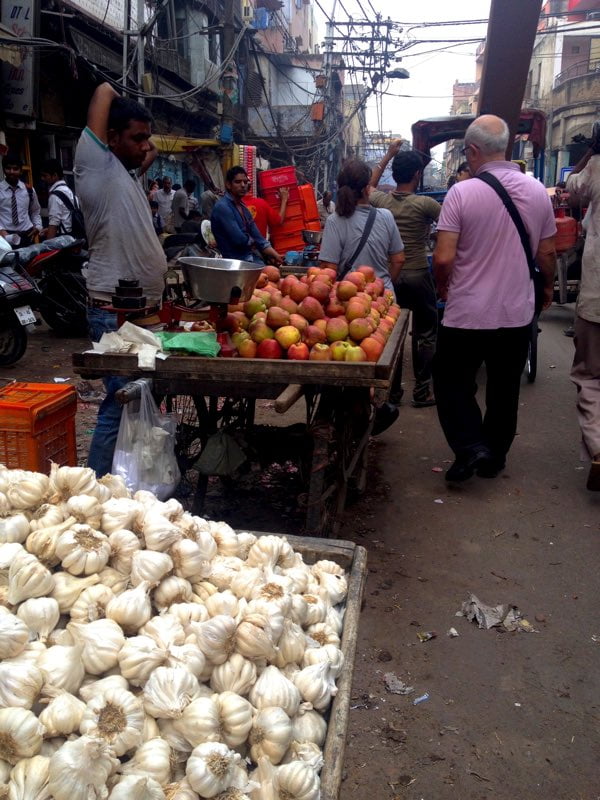 If you want to spend less time walking among all this traffic, I recommend you to get on the Rikshas as I recommended you above. Depending on the distance you will go, you can choose bicycle or motor transportation. Also keep in mind that air pollution in the city can give you a headache for a while because Delhi is one of the cities with the most air pollution. In the Far East, you will witness most people wearing masks in traffic, but in India it was not a common behavior before the coronavirus. We have never used such things, but if you need them and you have sensitive lungs, it is useful to put a mask in the suitcase.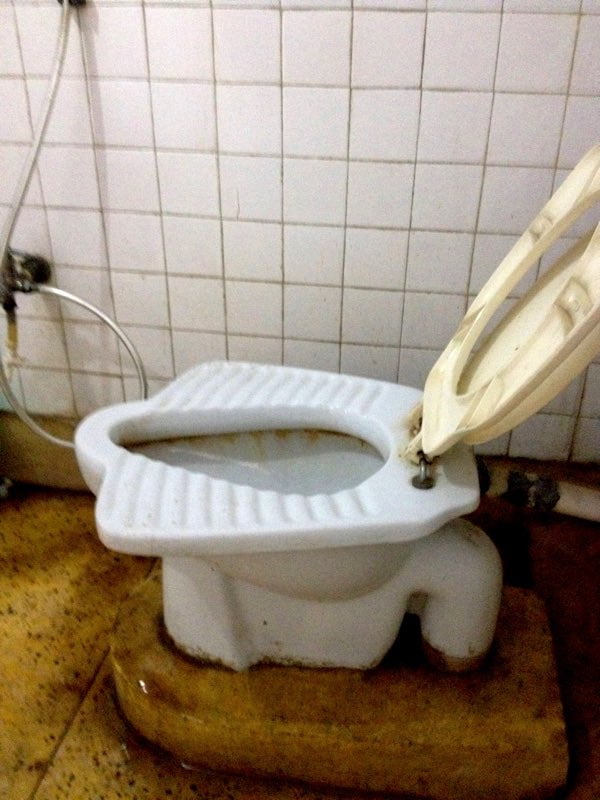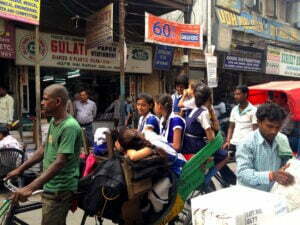 Red Fort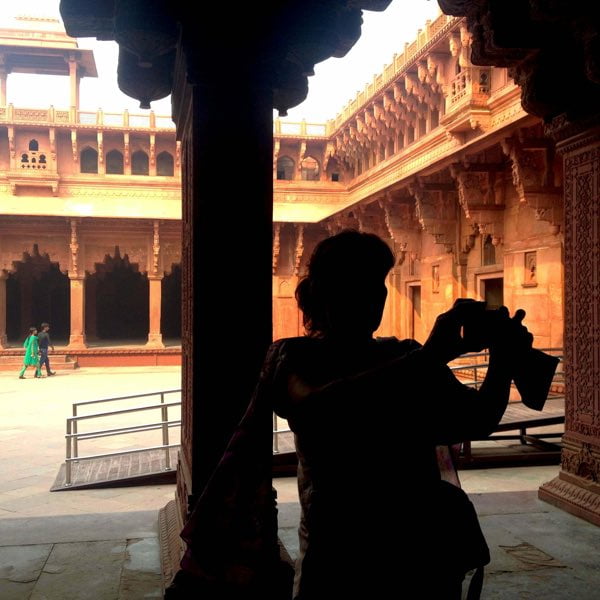 The Red Fort has been on the UNESCO World Heritage List since 2007. The Red Fort is one of the most important and touristic historical sites of New Delhi with its 18-meter-high walls. It was built between 1638 and 1648 by the Mughal Emperor Shah Jahan, who also built the Taj Mahal. They call it a red fort because the bricks used in the construction of the castle are all red.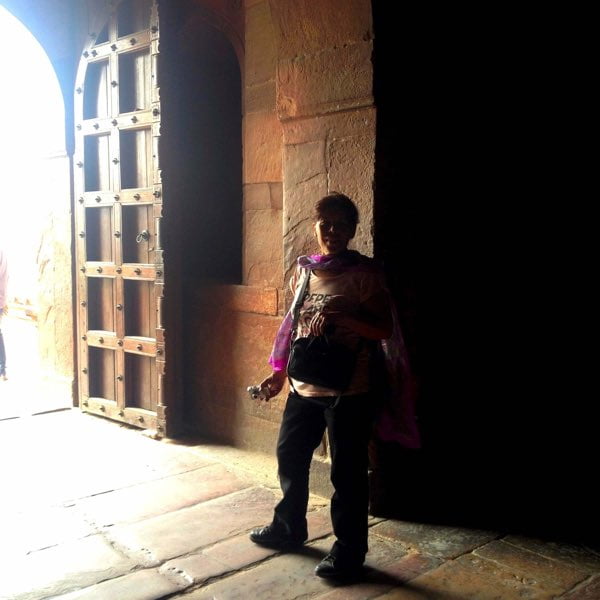 We begin our excursion from the Red Fort in Old Delhi. Built by the Mughal Emperor Shah Jahan in 1648, this fortress was formed as the residence of the Mughal Empire. Also known as Red Ford, these walls are 18 meters high.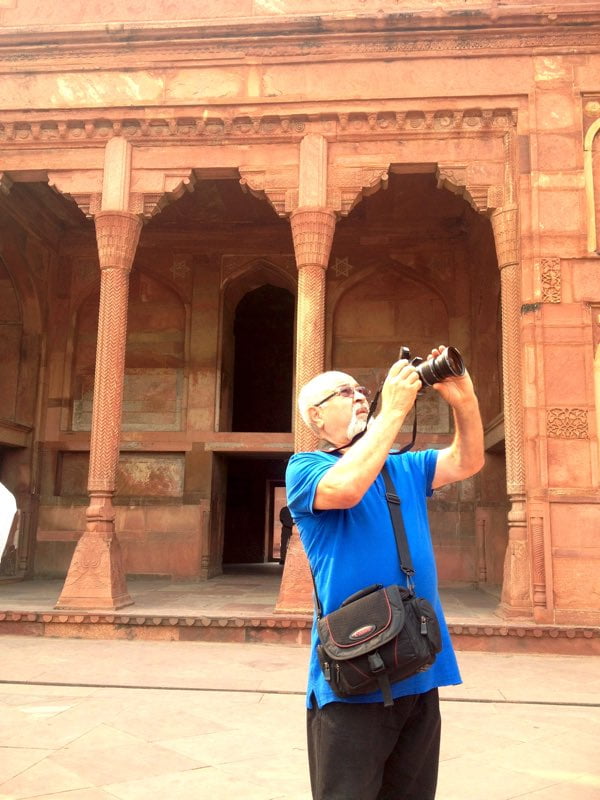 The walls of the castle were built with red sandstone and were named the red castle because they were seen in this color. The Red Castle, which attracts attention with its pavilions and garden design, was occupied by the British for a period of time and most of the marble structures were destroyed. In the palace, Islamic elements and Persian elements were combined and a different style was revealed.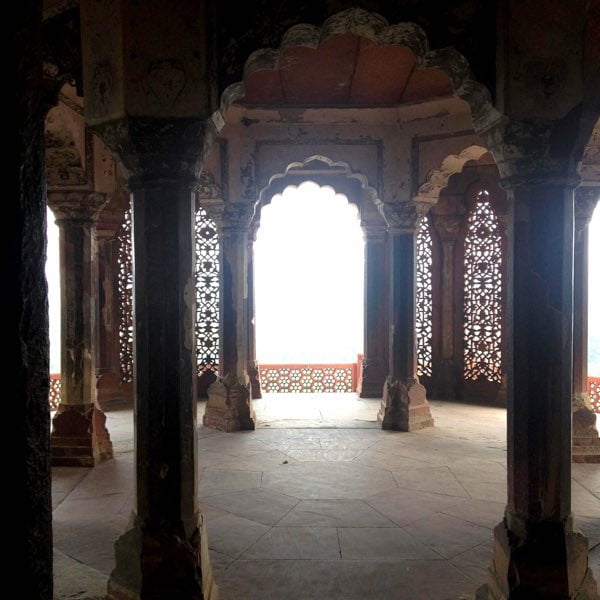 You can see prime ministers giving speeches to this castle, popularly known as Hal Qila, every year on August 15. Today, this castle, which is a UNESCO World Heritage Site, can be your first stop when you come to New Delhi.
℘Jame Masjid

The Jame Masjid, which is the largest mosque in India, was built between 1644 and 1658. Jame Masjid is located near the Chawri Bazar. It is large enough to provice worship to 25,000 people at once. Entering here nis free but they can ask you for money at any time.
Jama Masjid, located near the Red Fort, was built by Shah Jahan between 1644 and 1658 and known as the Jama Masjid, and this mosque is the largest mosque in the country with a capacity of 25 thousand people. On the day you visit the Red Fort, you can also visit the Jama Mesjid.
℘India Gate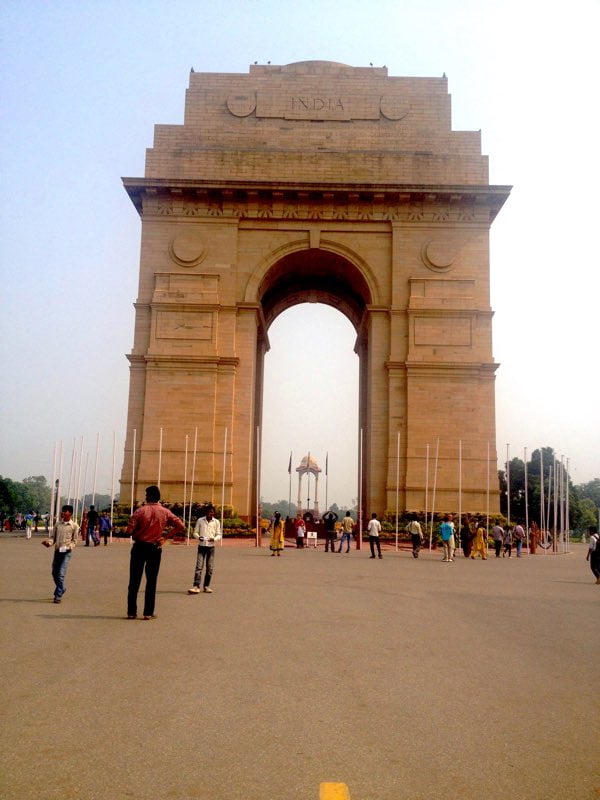 India Gate:
This monument, which is 42 meters high and was built by Edwin Lutyens in New Delhi, is located in the 1st century. It was built in memory of the soldiers who died during World War II and also the victory won. We can say that it is similar to the "Arc de Triomphe" in Paris both in terms of its construction and appearance. This monument, which rises towards the sky, is quite impressive and is visited by many tourists.
It is a 42-piece building designed by British architect Edwin Lutyens in 1931. When you go to the Indiaa Gate, don't be surprised to learn that the names of around 13,300 soldiers, including British commanders and soldiers, have been written on it.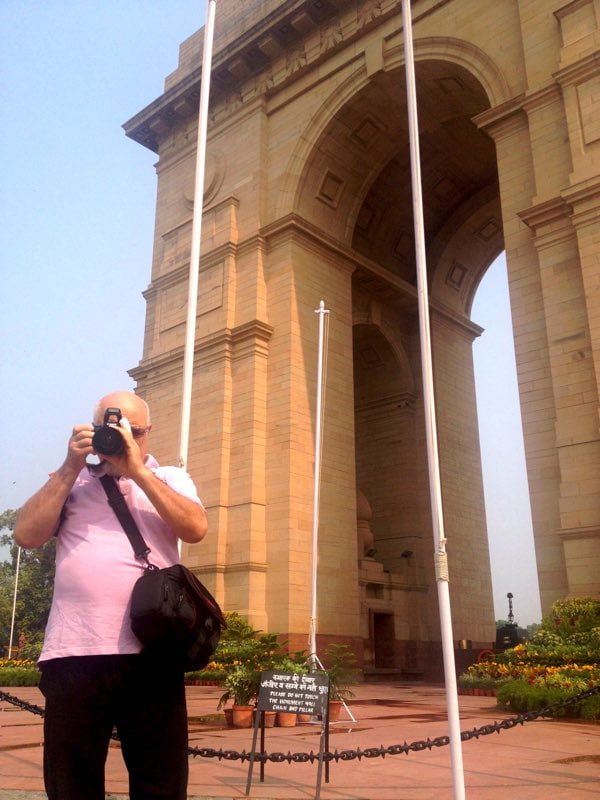 It was dedicated to the 82 thousand soldiers who died in the First World War. The side where the Indian gate is located has a clean, modern and tidy area.
Raj Ghat
Located in ancient Delhi, Raj Ghat is the site of the tomb and monument of Ghandi, perhaps one of India's most important people. Gandhi was the leading figure in India's quest to gain independence. There is also a museum here with his belongings. I recommend you not to return from New Delhi without visiting this tomb and monument of Gandhi, who has become the symbol of India.
Chandi Chowk Market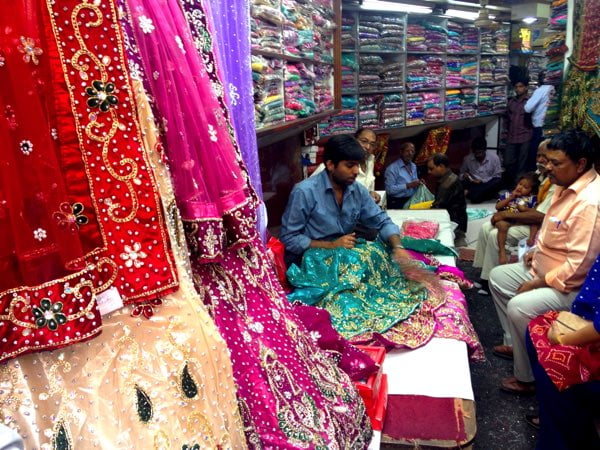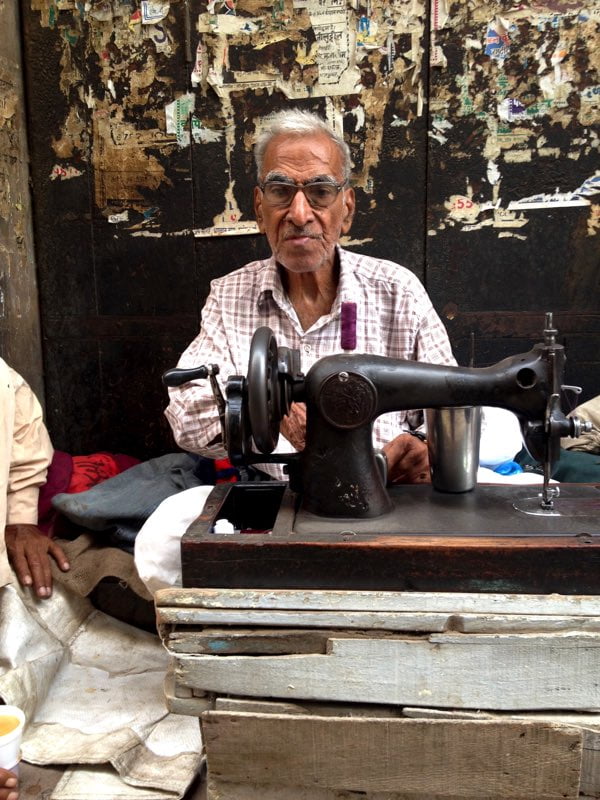 Imagine a great market in the Old Delhi area that is crowded ,full of street tastes all around you! You can find many of India's famous street delicacies here, you can experience each one. Here you can find the famous sweet jalebi, a kind of famous fried pie unique to India, lavash breads with fillings. In this market, where you can see a pot in every corner, there are many products that you can also buy. I can say that it is a market that fully reflects India, from the famous spices of India to its dishes.
Jantar Mantar
Jantar Mantar , which was used as an observatory, was constructed by Sawai Tai Singh in 1734. This structure, which literally means "magical device" in our language, emerged as a result of curiosity about celestial bodies and their movements. Separate rooms were set up to observe the movements of the planets, moon and signs of the zodiac. Located in Delhi, this observatory is one of five observatories in India.
I took a lot of pictures aboutJantar Mushroom . Also if you want to see all the photos of the horoscopes I recommend you to look at my Jantar Mantararticle.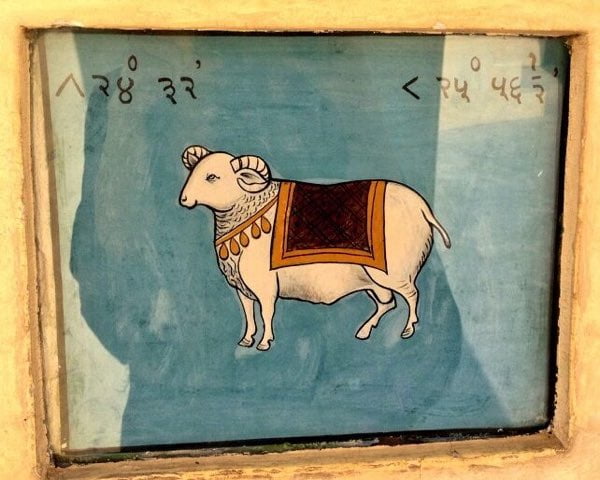 Jantar Mantarhas a sundial, the largest in the world. It was built to show the most accurate time of the day by examining the movements of the sun. This observatory, where you can find a lot of information and tools about the history and development of astronomy, is included in the UNESCO World Cultural Heritage List.
Be sure to read this article; INDIA, Jantar Mantar
Agrasen ki Baoli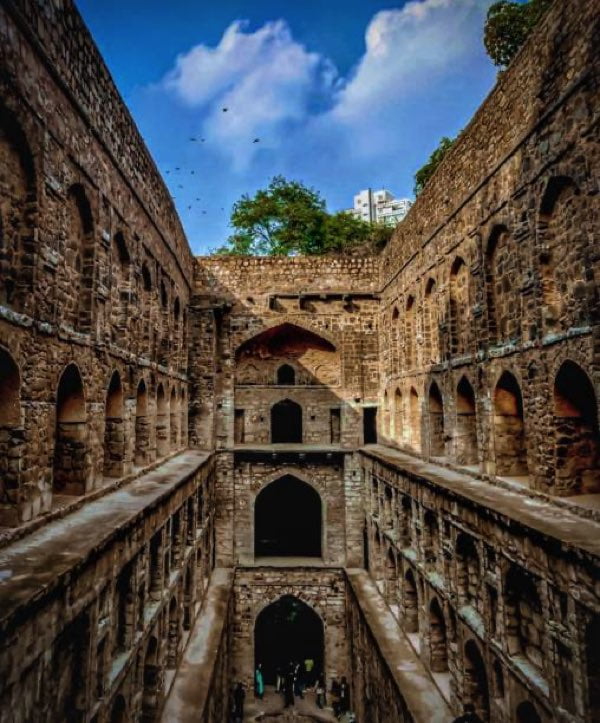 Boali is a Hindi word meaning "well". This place was formerly built both as a water tank and as a monument. The well, which is located deep in Agrasen ki Baoli, is descended using about 108 steps. The monument part was built in the name of Emperor Agrasen. Part of India's famous actor Amir Khan's film PK was shot here. Agrasen ki Baoli is located close to both the India Gate and the Jantar Mantar.
Humayun's Tomb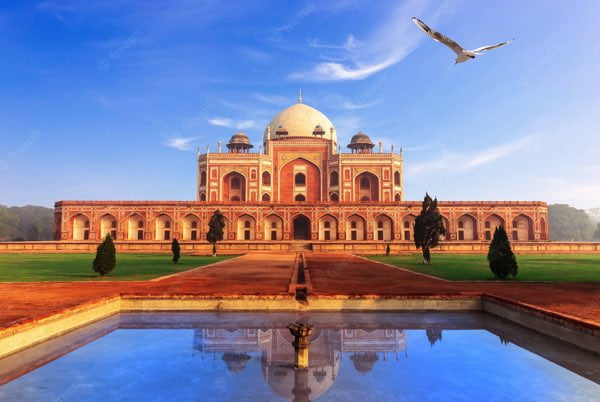 When we say mosque and tomb in India, we come across quite magnificent buildings. The Humayun's Tomb, whose construction was completed in 1572, is one of these magnificent structures. The architect of Humayun's Tomb is Iranian Mirek Mirza Giyas. White marble and red sandstone, which we will see in many important buildings of India, were used in its construction. When the Mughal Emperor Humayun Shah passed away, it was started to be built by his wife Bega Begüm in 1565. Inside, there are not only the tomb of Humayun Shah, but also other structures that you can visit. Hümayun Tomb was included in the Unesco World Heritage List in 1993.
Akshardham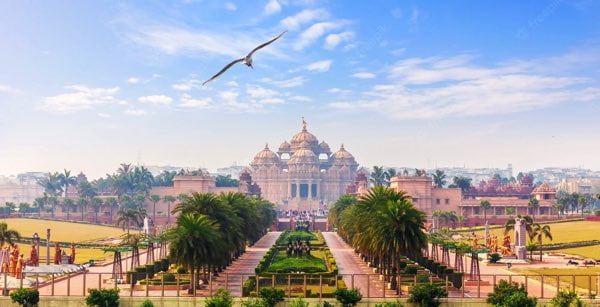 Located by the Yamuna River, the walls of theAkshardham Temple 20,000 statues and exciting architecture. This temple, which is definitely visited by those who come to New Delhi, is a Hindu temple.
Akshardham Temple: Akshardham, known as the "house of God" in our language, is the largest Hindu Temple in the country. Akshardham Temple was completed in 2005 with the material and spiritual help of many. This building, which attracts attention architecturally, offers a visual feast especially when the evening lights are on. In the temple, which consists of domes on the upper side and has a huge garden, the elephant sculptures in the garden also attract attention.
Qutab Minar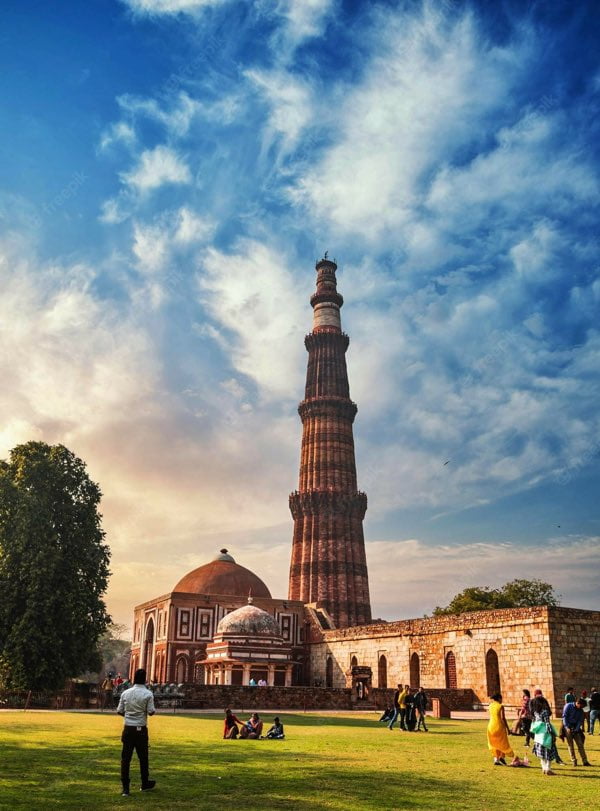 The Qutub Minar, built by Kutbiddin Aybek in the 13th century, stands out with its height and mixture of Hindu-Islamic architecture. Qutb Minar, which has a madrasah and a tomb around it, has also been included in the World Heritage List by Unesco. This structure, which has a height of 72 meters, is said to be the tallest building or tower until the Taj Mahal was built. India is one of the places you should definitely see when you go to New Delhi. Qutub festival is held every year in Qutb Minar. You can watch Indian music and dances with great pleasure in this festival.
Lotus Temple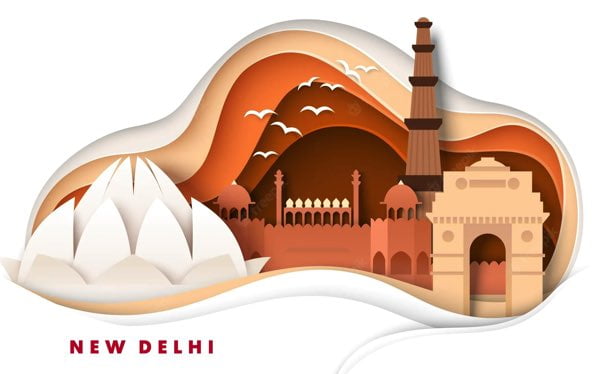 The Lotus Temple is named after the lotus, the famous flower of India. The lotus flower is a symbol of purity and immortality.. The shape of the temple is also made by dividing a white marble in the shape of a Lotus Flower into many leaves. The temple was built by Iranian architect Faribaz Sahba and opened for worship in 1986 and reflects the Bahá'í faith. According to the Baha'i faith, all people can come and worship at this place, regardless of religion or sect, because those who hold the Baha'i faith believe in the unity of people. The Lotus Temple, built in modern style, consists of 27 marble leaves. The nine doors in this temple, which was built in a very modern style and received many architectural awards, represent nine religions. Each of these doors leads to the large hall, which has a capacity of about 2,500 people. There are 9 pools around the temple. We should also mention that the temple was the first temple to be powered by solar energy. This shows that the builders of the temple were as beneficial to nature as they were to people and religions.
National Railway Museum
In this museum, which is located on a 10-acre land where all the items that come to mind when we say railway museum, there are many different items such as wagons, railways and trains belonging to the past. This museum, where you can take your children in particular, provides them with information about railway transportation, offers us very useful information about the past.
Gurudwara Bangla Sahib
Gurudwara, one of the most important symbols of the religion of Sikhism, means temple in our language. The dome in this temple, which resembles the famous golden temple of Sikhism, evokes the Islamic element. It should come as no surprise that Sikhism has similar aspects to Islam as a religion. There is a water in the temple that is believed to be sacred and heal diseases, just like the zamzam water. It is believed that the deceased guru left here this water to heal the next generation. Guru is the name given to the clergyman of the Sikhs. When visiting this different temple in New Delhi, I recommend visiting during ritual.
Rashtrapati Bhavan
This enchanting palace, the seat of the British in New Delhi, once under British Protection, was built using 700 million bricks. There are huge and very impressive gardens at the back. There are 340 rooms in this building, where you can easily see the traces of Indian culture.
National Gallery of Modern Art
The Museum of Modern Art, which is located in almost many countries, also reveals its presence in New Delhi. It is possible to find many works in this museum where the works of important artists are located.
Lodi Gardens
Lodi gardens are one of the most ideal places to relax and green together for both breathing and walking in the middle of the city. In these gardens are the tombs of the Lodi rulers who once lived. You can see these monumental tombs in the structure located in the form of a dome in the middle of the garden. It is also possible to see people doing yoga in Lodi Gardens, where you will find a wide variety of different plants together.
Hauz Khas Village
In fact, Hauz Khas Village is not the name of a single place, but the name of the closed region where many different activities and eating and drinking come together. There are quite luxurious restaurants, shops, and many world cuisine delicacies here. There is also a wonderful lake in this area where you can also take a walk.
Gandhi Smriti
It is a memorial museum named after Gandhi, India's number one pioneer on the road to gaining independence. This house used to be the home of the wealthy friend Birla family, whom Gandhi often visited. Gandhi spent the last 5 months in this house until 1948, when he was assassinated. Gandhi was killed by opposing forces while praying here, and a monument was built in Gandhi's name at the place where he was killed. Inside the house, you can also find Gandhi's famous glasses and clothes. Those who want to get to know Gandhi better can visit the National Gandhi Museum and Library, where his many speeches are recorded and his personal belongings.
Hazrat Nizamuddin Aulia Dargah Museum
This sanctuary is the dergah of the famous Sufi Khwaja Nizamuddin Auliya in India. Many people come here every year and even almost every day. In this museum, which is especially crowded on Thursday evenings, the anniversary of the birth and death of Nizamuddin Auliya is celebrated with a special ceremony. There is also the tomb of Nizamuddin Auliya here.
Chhatarpur Temple
This building, whose construction was completed in 1974, stands out with its architecture that is really worth seeing. Chattarpur Temple, made entirely of marble, is India's most important temple. A very high triangular architecture stands out in the middle of the temple. This temple, which reflects Indian architecture in the most beautiful way, is also very popular among the people.
Tomb of Safdarjang
The Tomb of Safdarjang was built in 1754 for Nowab Safdarjung. Again, as in many parts of India, sandstone and marble were used in the construction of these tombs. It is a magnificent monument with a large dome, architecture and tiny pond in front of it. The monument, which has a mausoleum in the center, also has a podium with hidden stairs.
Enjoying Massage in India
Keep in mind that getting a massage in India is different from Thai massage. We enjoyed getting a massage on our trip to Thailand so much that we were looking forward to our massage in India. We were going to have an Ayurvedic massage in a very good Ayurvedic center that we found as a result of research. Of course, since no one had told us before that Ayurvadic massage has a different procedure than normal massage, we had not researched much when we left. I mean, how different a different massage could have been waiting for us?
What is Ayurvedic Message? How does Ayurvedic Message treat?
It is a respected form of alternative medicine in India, which aims to prevent getting sick rather than solving the disease by changing the way of life with plants. The origin of this form of treatment, which is common in Nepal, Sri Lanka, India, dates back to ancient times. "Ayur" means life. The "Veda" is knowledge. Ayurveda, which means "knowledge of life", is a holistic healing method with a spiritual perspective.
When we got into the Ayurvedic center, we learned that men and women would be in separate sections and everyone would be having a massage in separate rooms. Normally, in Thai massage, we would all line up side by side and get the massage. This never felt like a good idea because my father and mother couldn't speak English. When I ask if we can't be together, I get the answer "impossible." We definitely wouldn't accept it if it wasn't a reliable center, but since we went with another reference, I said okay and explained from the beginning that my family couldn't speak English.
Massage in India
In fact, having a massage together gave us a different pleasure and both chatting and laughing made us more relaxed, and now we passed through a slightly dim corridor and were taken to separate rooms.
I said okay, everyone had a short period of sleep and rested. With the bathrobes we wore at the beginning of the corridor, two people were divided into rooms next to each of us. I saw that three people entered the room. I couldn't understand beforehand what three people were going to do in the massage room? Then there was a wooden bed in the middle that looked like a coffin. It's not in bed, it's a coffin-looking thing that you can get into, with the sides facing upwards.
They wanted me to take off all my underwear. I ask them "all of them?", they said "yes, all of them". Well, I have never taken off my underwear in any massage I have done before, I couldn't understand what kind of application this is and I said that my underwear can remain not a problem. No, if it gets dirty and you can't wear it again, they say we'll give you something else, I say "okay". Oh God, when I imagined that my parents went through the same procedure, I got a meaningless smile on my face. I took off all my laundries and put it under a tight-looking underwears Oh my god, I hope they won't give this to my father, too, in case he can't tell his feelings, I can't keep a laugh that comes out of my mouth.
How is this massage?
Just as I was about to lie down on the bed, they made me sit down and start praying. Accompanied by burning incense and prayers in the room, three people walk around me and chant loud mantras. I just couldn't focus. I kept thinking that my father and mother were in the same situation , and I found it hard not to laugh.
They were groping my head, shaking its smoke, I couldn't stand what they are doing and I asked. They said they would bless me first and then they would start the massage. I was wearing nothing but a stringy white rag and they wanted me to lie down in the wood. I looked at the board and then I looked at the women's faces. There was nothing on the board, not a cushion, not a cover, not a pillow. I couldn't figure out how this was a relaxation massage. Of course, I was waiting because I didn't want to ask questions all the time.
So that was what Ayurvedic massage looked like.
They made me lie down on the wooden board like a box and the three women started pouring hot oil. They couldn't be serious, they poured hot oil all over my body with a lot of cover. I felt like an anchovy fish in a pan. Three women massaged me in the oil at the same time and fed all the oil to my whole body. I walked back and forth in a three-finger-high oil. God I was trying so hard not to burst out laughing I couldn't really focus on the massage. My dad hates oil like that, God I couldn't control tears of laughter as I imagined three men holding him in this oil and shaking him and wearing that stringy underwear. They poured that hot oil on me for hours.
Maybe if I had gone knowing what would happen to me, I would have felt very different at that moment, but I could not focus on the massage because I was constantly thinking about what my family, who did not speak English, was thinking in the room and laughing. At the end of the massage they took us to a steam room. On the way, I met my father and mother, and they were looking at my face in such a way that I couldn't control my laughter anymore. In my brain, my father's words echoed 'whatever happens to us is because of you' I would definitely hear it when we got out of here, but I would say what I always told them. 'When else are we going to have such an experience, we have come to collect memories.' At the end of an hour and a half, we stopped fighting, laughing and being surprised, and we met in another room with the feeling of being like cotton created by the massage. They gave us a relaxing cold tea and we were ready to talk.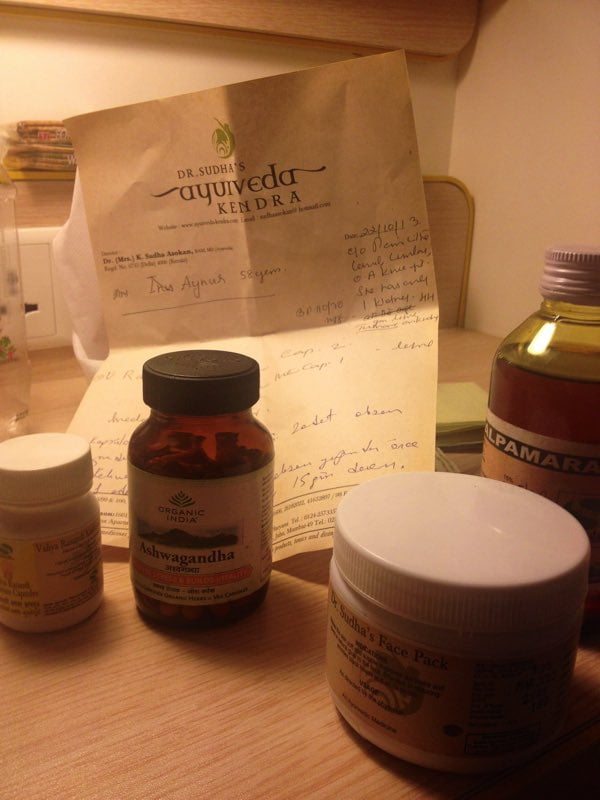 We bought ourselves a lot of oils, care products and healing creams from there. We resisted at first, but then we were very relieved. Needless to say, we talked about this massage for hours and days and laughed.
Shopping in New Delhi
Indian Fabrics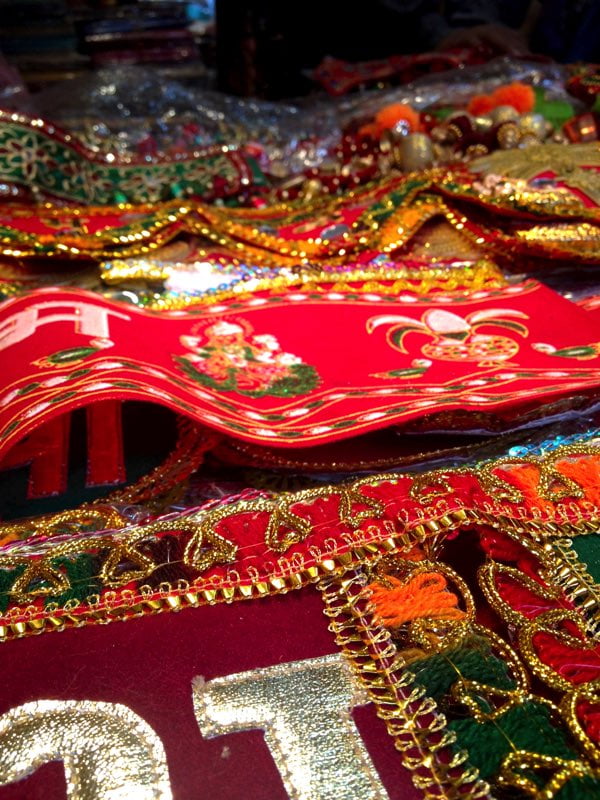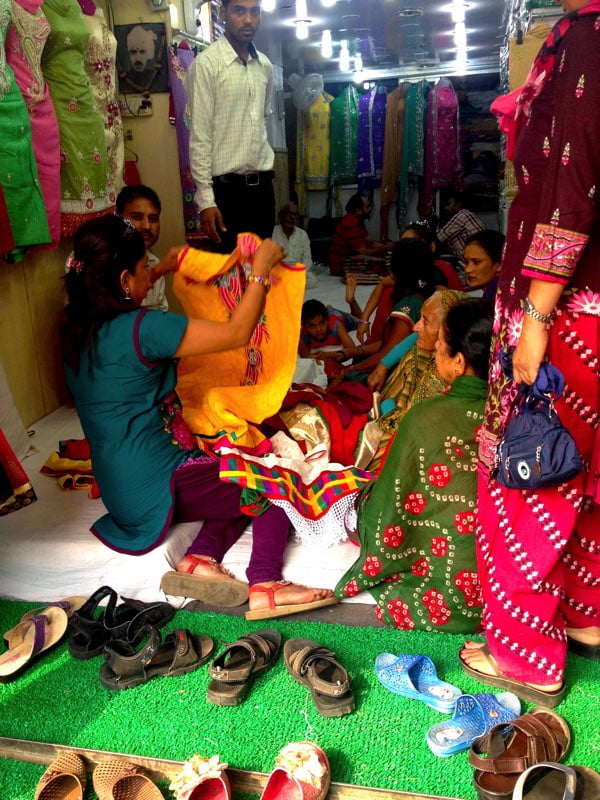 Indian Tattoo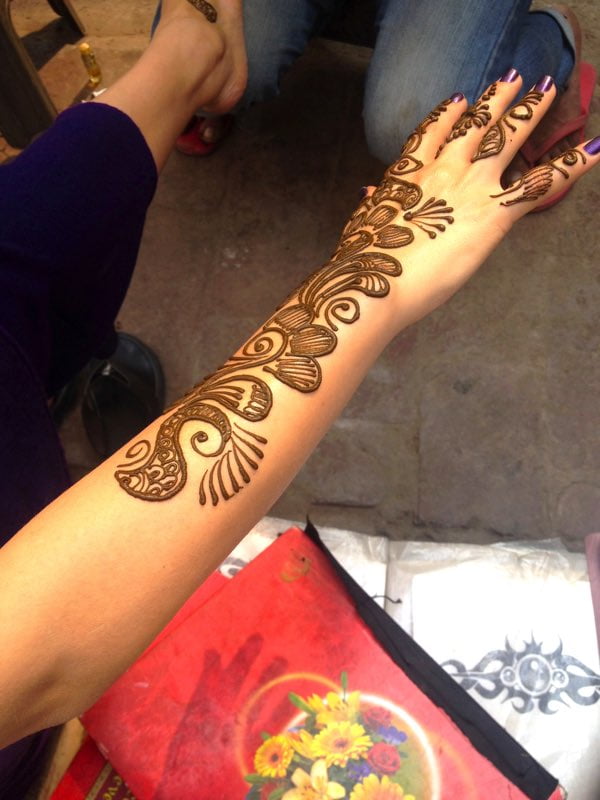 We would come back to New Delhi again. After completing our trip in New Delhi we were ready to go to Rishikesh. Guru, an Indian yoga master who lives in the city of Rishikesh, would meet us and show us around. We couldn't wait to hear India and Rishikesh from his mouth.
We decided to use the bus to go to the city of Rishikesh. We would travel at night on a bus from New Delhi to Rishikesh. We were going to use trains for the cities of Varanasi, Agra, Jaipur. I have prepared a detailed Rishikesh article for you.
Rishikesh
One of the first countries that comes to mind when it comes to yoga and meditation is India. In India, which has very interesting cities, Rishikesh is the first city that comes to mind with yoga, temples, enormously rich forests and historical past.
When we landed in Rishikesh, we felt a very different peace after the chaotic atmosphere of New Delhi. It is truly a city where you will find peace with its extreme sports, yoga, vegetarianism and ashrams. I have prepared for you a long, detailed article about Rishikesh.
Where to see in Rishikesh, where to visit?
What Can You Do in Risihikesh?
YOGA in Rishikesh
Be sure to read this article; Rishikesh
I also talked about the ashram we stayed in Rishikesh, the food we ate, the temples above the clouds with a view of the Himalayas. I have put a lot of photos for you.
After Rishikesh, where we enjoyed the peace, nature and fresh air, we excitedly went to Varanasi. Now real train journeys were waiting for us. Is it possible to travel by train in India? You may have questions about whether it is safe to travel by train in India. In fact, you are quite right to ask these questions, because before I set out on the trip, I had not thought to ask such questions. That's why they kidnapped my mother and me in Varanasi. Yes, I will tell you all about it. Now before I start talking about the city of Varanasi, let me talk about train journeys in India.
Train Journey from Rishikesh to Varanasi
Are Trains Safe in India?
Can we travel by train in India?
Yes, you can travel safely by train in India. India is a country rich in train connections and diverse in terms of train services. There are some things you should know if you are going to travel by train in India.
Know that you will not be able to find tickets easily during festival times in India, and even if you do, know that the inside of the train will be much more crowded than you can imagine, and be ready for it. Also keep in mind that they can sell a ticket to more than one person. How could this possible? You may be wondering if they can really sell the same seat to a few people. My answer is yes, we had bought tickets to a wagon lit and the Diwali festival was about to start. We were nicely laid out in bed two stations and then one of the passengers who was on the train came and said this is my place.
I looked at the man's face, was I, as a woman, going to share my bed with you? I said it can't be impossible, our ticket is here, then he pulled out a ticket for the same seat and we called the officer on the train. We learned that if the sofa or bed couchette we bought is not a special VIP, then it could be sold to two or even three people, especially during festival times. Finally, the man added, "The indian system, the indian system." God, what kind of system was that. You, as a woman, buy a bunk ticket and they can sell it to a man during the festival. Two or three stations later, another man came along and we learned that they had sold him the same seat. My father gave me his place and traveled with two men the whole journey, sitting down instead of lying down. When you buy a train ticket in India, buy your ticket knowing that such things can happen, especially during the festival. I especially recommend that you research this topic.
Packing meals in India…
We didn't have time to eat. We didn't want to stress for nothing and told the guru that we wanted to have a takeaway from the restaurant that had some great vegetarian food we'd been to and had eaten before.
The guru immediately took us to the restaurant and asked them to pack the same food we ate that day. We waited in front of the restaurant for about twenty minutes and said goodbye to the guru. I turned to look at the waiter as he handed me the restaurant bag. Then I turned to the guru and showed him the bags.
They actually bagged all the food and packaged it. It felt so strange that I have never seen anything like this in my life. I involuntarily asked the Guru, "Is this how they pack the food here?" We were surprised by the bags as if everything was normal in India. The guru said yes, that's how food was packaged here.
The food was a bit nauseating in bags like slurry, but when we got hungry on the train, we ate the best meals we've ever eaten. My mother and I still talked about the same thing, how delicious the food that looked disgusting in that bag. We still did not forget their taste. The train set off , each of us moved to our seats, everything was fine and we ate from the most beautiful restaurant of the city of Rishikesh for our hungry bellies as we set off for a wonderful adventure.
Here was one of the moments that made us to fall in love with travel. Do not approach with prejudice, let the innovations change you. That's when you'll understand once again why you're going on these journeys. Be open to other countries' cultures and ways of eating for change.
VARANASI
After a pleasant and comfortable train journey between Rishikesh and Varanasi, we come to the city of Varanasi. Varanasi is known as the city of life and death. We had extraordinary experiences here. I have prepared a detailed article for you. I put up a lot of photos. We participated in the Ganga Aarti demonstrations in the city of Varanasi. We also saw the cremation ceremony and a different side of the Ganges river. It was already a very unusual experience for us when we were kidnapped near the train station on our way out of the city. Since I have written all of them in detail, please read the long version of the article by clicking on the article titles below.
Be sure to read this article; VARANASI
Click here for detailed article GANGA AARTI CEREMONIES IN VARANASI
What you should definitely do when you come to Varanasi
They KIDNAPPED ME AND MY MOTHER in the Indian state of VARANASI!
Human trafficking is very common in India. Something that can happen to you for a variety of reasons, whether you are a child or an adult. How many times in one's life can one be kidnapped? Every time I remember and talk to my mother, I get different emotions. Sometimes we just say what if we couldn't get rid of it and look at each other without saying a word about it. We remember what happened at that moment, how my mother hit the man on the head with a bag, how we ran like crazy in the street, and we laugh for minutes. We remember my father desperately waiting at that train station and we are eternally grateful that we were able to come back. So this experience allowed us to see, albeit very briefly, what life looked like from the edge of life.
Click here for the rest of the article HUMAN TRAFFICKING IN INDIA
AGRA
Our departure from Varanasi was really episodic. We still remember what we experienced on the train and our fears as if it were yesterday. In addition, the festival of Diwali was approaching and the density of trains had also increased. We arrived in Agra after the wagon lit we bought was sold to someone else and we had a tight ride. Here, another atmosphere greeted us. As a matter of fact, we were leaving all our work and social circle and going to live with someone who had settled in India and lived there in an ashram. We were going to meet him there. We had no idea where to stay and what awaited us. We were thinking how bad it could be because we were in an ashram in Risikes and everything was in the dosages we could handle.
Be sure to read this article; AGRA
What are the places you shouldn't leave without seeing?
What are the places you shouldn't leave without seeing?
Journey to India by Train; Agra Castle and its unknown aspect
Be sure to read this article; Jaipur
Journey to India by Train; We were incredibly excited to come to this city because Jaipur had a different story for us. We chose the city of Jaipur to celebrate India's famous Diwali festival. Before coming to India, we had done research to coincide with a festival in particular when we were determining the dates. Returning without seeing a festival in India would not give us enough of the spirit of India. Diwali; The festival of light was a great festival that we could come across for the dates we would choose. At the festival of Diwali, the whole city is under the lights. fireworks, firecrackers, explosives, lamps with which they adorn the city. Everything that gives light is being prepared for this evening. From the children who were frantically banging on the street to the fireworks that lit up the sky for hours, a wonderful festival was waiting for us.
Our Accommodation in Jaipur
Where Should You Visit in Jaipur?
Where are the places you should see in Jaipur?
Detailed Article about Jantar Mantar
Activities to Do in Jaipur
Food & Drink in Jaipur
Return to New Delhi again;
We were now slowly approaching the end of our journey. After the wonderful Diwali festival that my parents, and I celebrated in Jaipur, we felt as if we had been relieved and relieved of the burdens on us. We were ready to return to New Delhi.
We hadn't determined where we would be staying in New Delhi. We felt so comfortable and like a part of India that none of us had any worries about the hotel. After staying even in rooms without beds, all the hotels in New Delhi were now a luxury for us.
When we returned to the center of New Delhi and the area where the hotel we had stayed before was, we left our luggage for a few hours in a restaurant we knew and started to visit a few Guest Houses and hostels, hotels. We both negotiated the price and saw the hotels and decided one of them.
There was an indescribable comfort, happiness and joy upon us. When we first arrived in New Delhi, a third of the hotel we stayed in was more central, with a place for the price. Now we had adopted the people, skin colors and behaviors of the city so much that we had no difficulty in finding a safe place. Then we left ourselves on the streets. We visited a lot of markets, spice shops, souvenir shops. We attached the most natural incense and the most ayurvedic products to one side of our bag to take to Turkey and we were ready for our return.
Homecoming
Journey to India by Train; When we came back to New Delhi, that city was very different in our eyes. We definitely felt like we had come to another city. When my dad says, 'Oh, we're finally back home,' that's something we still talk about. During our stay in India, we had experienced and seen such things that coming back to New Delhi made us feel at home. Now we were like changed souls in the same city. it's like we became one of them. We were no longer unfamiliar to their skin color, their speech, and their sense of sanitary. In addition, we could now understand at a glance who was clean and who was doing their job well.
We were walking so freely on the street that I wasn't sure we were the same people. We were walking freely through the streets with flip-flops on our feet, as if they belonged there. When we first arrived in New Delhi we looked for a clean place to eat. My father was trying to find flavors that were close to his own taste in food. We were clinging to our habits. Now the three of us were standing on the street to taste a new flavor everywhere that made us clean and quality food. It was as if we had grown up after this journey. Now we were ready to return to our country.
We didn't know when the next trip would be. This journey had satiated our souls.