Things to do in Florence, Italy
You will find information about Italy, Florence Attractions and the Tuscany Region.
A list of places to visit in Florence, which is start with Signoria, Duomo Square, Florence Cathedral, St. Giovanni's Baptistery, Uffizi Palace and Gallery. It is followed by the Vecchio Bridge, the Academy Gallery, Vecchio Palace, Pitti Palace and Boboli Gardens. Of course, Florence is not a city to visit in a short time. Santa Croce Basilica, Medici Chapel, San Lorenzo, Santa Maria Novella are other places to visit.
The Tuscany Region is one of the autonomous regions of Italy, one of the most attractive places in Europe in terms of tourism, in 1934. The capital of the region is Florence, which is attracted by local and foreign tourists throughout the year. That's why, when it comes to places to visit in Tuscany, the focus is largely Florence.
Things to do in Florence
It is said that Italy's Renaissance period began in Tuscany itself. For this reason, in addition to being famous for its landscapes and wines, it can also stand out with its artistic heritage carried from past to present. Seven parts of the Tuscany region are under UNESCO protection. Even this knowledge is considered a very strong reference to this unique geography.
Geographically, a large part of the region consists of hills and mountains. The part by the Arno River is the plain. The plain area is limited but highly fertile soils. The climate is mild in coastal areas and slightly harsher and rainier in inland areas.
The Tuscany region, which is one of the most visited places in Italy; it attracts more attention from all walks of life with its nature and history, architecture and art. First, let's start the route of places to visit in Florence, which is defined as the heart of Tuscany.
Florence
One evening when I was sitting alone in my house in Istanbul, I was writing my articles. Most people who live alone know that sometimes this can be very boring. I missed my family, and even that last trip we've been on was bugging me. Suddenly, an advertisement for a tour agency popped up on my computer screen. It was only seven quota, and they had an hour-long discount. The trip covered the Italy-Tuscany region and Florence. While I was thinking that the price was really affordable, two people bought it at once. While I was thinking, my God, what should I do, before I had a chance to call my parents, another person bought the Italy-Florence tour.
Some decisions are made suddenly.
At that moment, I realized that I had taken out my credit card without even realizing at what point I had convinced myself. I quickly entered and bought the last remaining places. I remember myself sitting in front of the computer in the middle of the night for five minutes with a meaningless grin on my face. What a moment of joy and delight it was. I started laughing, we were going to Italy and my parents didn't know about it. I called my mother at 11:30 p.m. My mother excitedly picked up the phone, thinking that something happened. Of course, if your daughter calls you because she has important news at eleven o'clock in the night, the last thing that will come to your mind would be that she has bought a ticket to Italy-Florence. She said I was crazy, and she felt the same joy as far as I felt inside of me. If this was crazy thing to do, it was the best feeling in the world.
We were going to Italy and Tuscany for the Easter holidays. For a moment I thought it would be more like an exuberant festival. Now the first thing I will say is that if you want a quiet tour, definitely go for holiday times, but if I were to go again, I would prefer to go at a more enthusiastic, more active, more festive time.
Our first destination was Florence;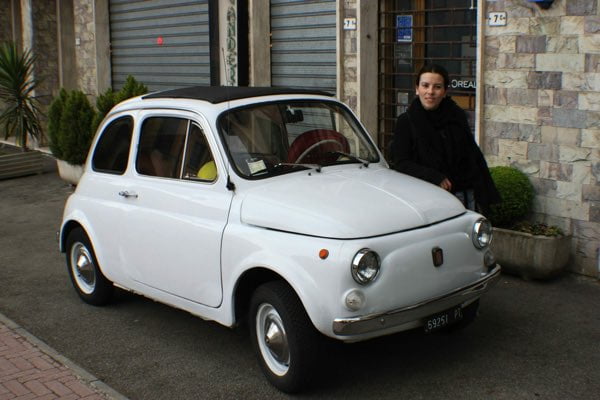 It was the first time we encountered the beautiful spirit of Italy. First of all, it was exciting for me to sit in a square and make pasta and wine, and even to sit at those tables with enthusiastic people with Italian music coming from all around. Florence was completely fantastic. Suddenly, we found ourselves among sculptures, structures and art. Florence, the capital of the Tuscany Region; it had a magical beauty with its lush nature, food, wines and history. It was one of the most interesting tourist cities in Italy and Europe. The city, which had a magnificent art accumulation, showed a very serious development with the domination of the region by the Medici Family. In the meantime, Florence can also be referred to as Firenze in some sources. There were so many details, so many details, so many names, works of art that when I wrote this article, I took care to draw each one of them in bold letters and write a detailed description under each photograph because the Florence writing was like no other travel article.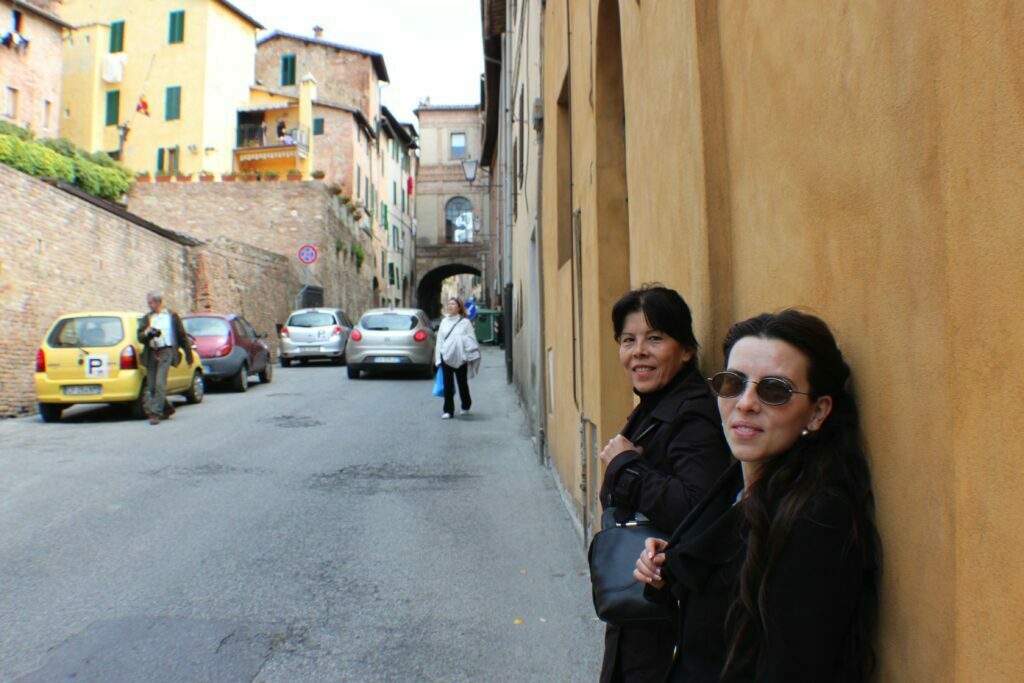 The most important reason why Florence is the center of so much art and architecture is that the Italian Renaissance was born in this region in the 1300s. In the past, it has been the most important city in all of Europe, both economically and politically. The Renaissance movements that started here and the developments in fields such as art and literature have changed the whole history of Europe. Florence is actually such an important city for Italians that many describe it as the "Authentic Italy". The most important thing you can say about Florence is with its history, streets that smell of art and magnificent architecture, it blows people's minds.
When to go to Florence?
In my opinion, there should definitely not be a time when Italians are on vacation and go to other countries. I know maybe you will tell me, the streets will be calmer, there will be fewer queues in the museums, but you will not witness too many enthusiastic people who make that Italy, enjoying life, singing and eating on the streets. If you want to live that country, I think Easter should not be the time you should prefer. When we went, people were usually at home with their families.
The climate in Florence is hot and sunny in summer and rainy and cold in winter. If you want to visit the region comfortably, the most suitable date is May-August. Since there are holidays and holidays in the region in August, most people leave the area and most shops are closed. We may say that you may have trouble when you go on this date and we can recommend that you plan accordingly.
Located in the Tuscany Region of Italy and which will amaze you with its historical streets, Florence is a city that smells of history, culture and art. Built around the Arno River, one of the most important rivers in Northern Italy, this city is in perfect harmony with art and architecture. When you visit the region for those who are looking for a Florence travel guide , I would like to give you detailed information about the places you should have a good time there and definitely visit and see.
Places to Visit in Florence
There are dozens of buildings you can visit in Florence, where you can learn about the whole history of Italy and in fact its character. You can make amazing culture, art and architecture trips. We would like to inform you what are the structures that you should not return without seeing when you visit the country and that actually make you feel that you are really visiting Florence. Places to visit in Florence are as follows: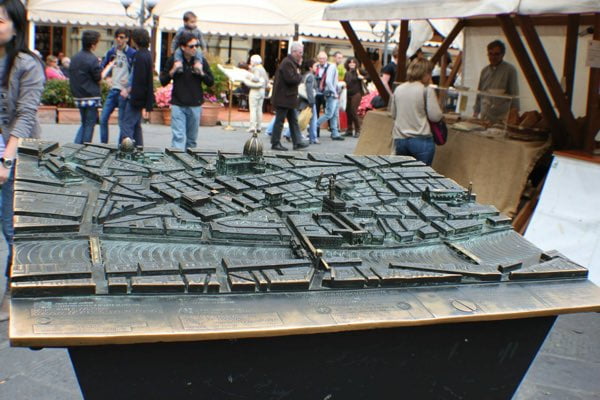 Places to Visit in Florence
Piazza del Duomo
Florence Cathedral
Baptistery of San Giovanni
Uffizi Palace and Gallery
Vecchio Bridge
Academy Gallery
Vecchio Palace
Pitti Palace and Boboli Gardens
Basilica of Santa Croce
Medici Chapel
San Lorenzo
Santa Maria Novella
We can say that there are many unique buildings that you should visit and see in Florence and these are the places that must be seen in Florence trips.
In August, thanks to holidays, most of the people are not in the city and most of the stores are closed during this period. For this reason, you better not plan your trip in August.
Signoria Square
(Also known as Loggia dei Lanzi Square)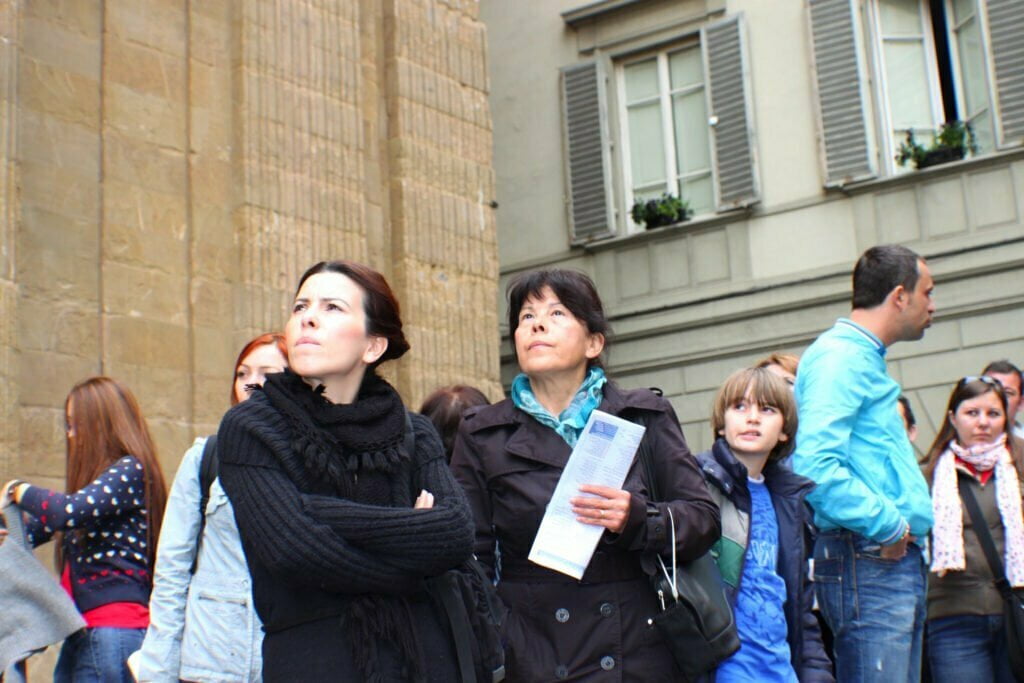 When you visit this square, an expression exactly like in this photo will be waiting for you. We were tired of constantly looking at the artifacts, sculptures and examining them. If we start to explain Signoria Square first, we can say that the region is exactly like an open-air museum. This place is among the first places to visit because it caused the beginning of the Renaissance.
You can also see Michelangelo's famous work David Statue in the square. Of course, what you can see as a work of art in the square will not be limited to the statue of David. You will also see Bandinelli's Cacus and Hercules, Ammannati's Neptune Fountain works . There are so many works and artists that writing them down one by one will only confuse you. That's why I want to share with you the photos of the statues in Signoria Square. I wrote small notes about that statue underneath them so that you can better understand what awaits you in Signoria Square. Also, when you go there, you will not be confused about what that statue was because I could not find information about the individual statues when I left.
Statue of Neptune, the God of the Sea
There are marble horses and around there are mermaids and male sea gods. Florence, Signoria Square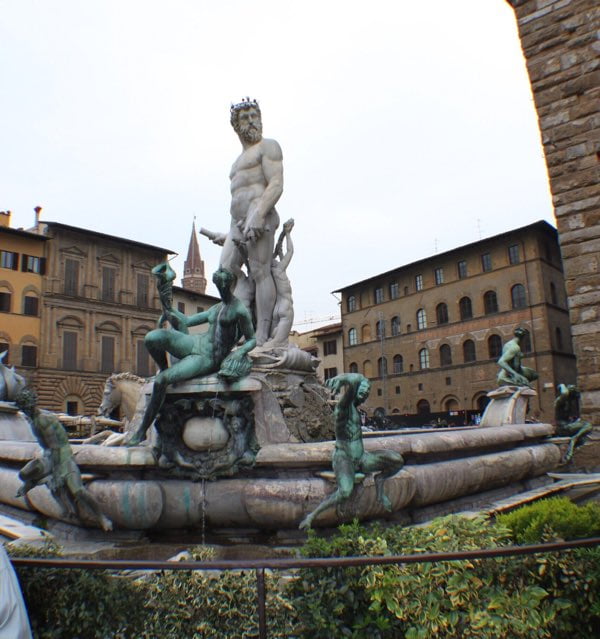 Head of Medusa – Perseus Statue, Signoria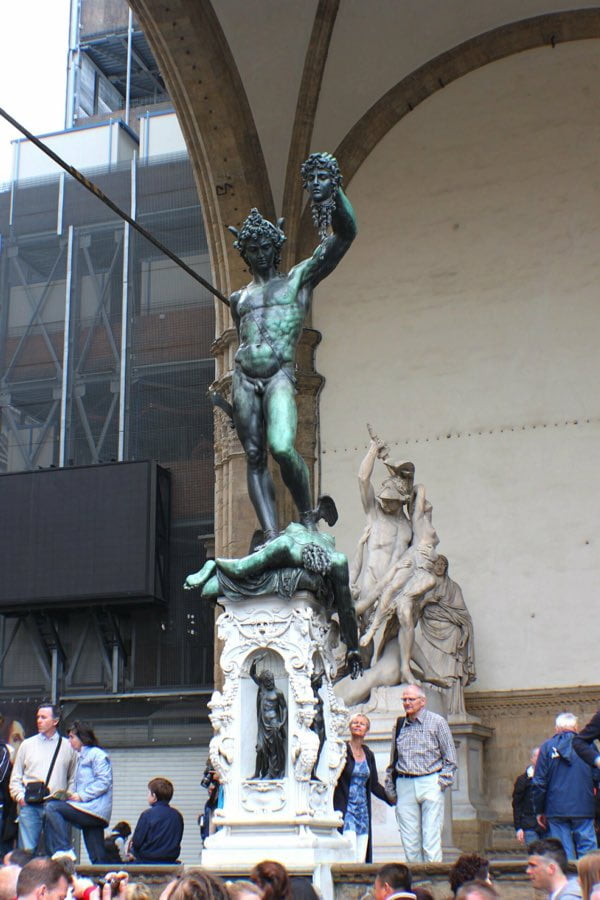 Hercules and Cacus
Statue at the entrance to Palazzo Vecchio in Piazza della Signoria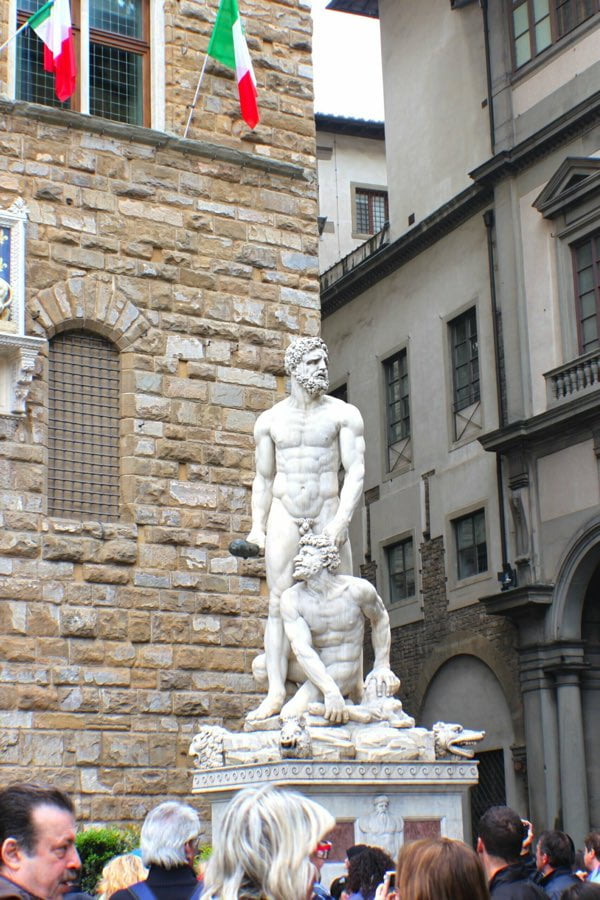 Statue of Menelaus Carrying the Body of Patroclus
Located in the center of the Loggia dei Lanzi (aka Signoria Square)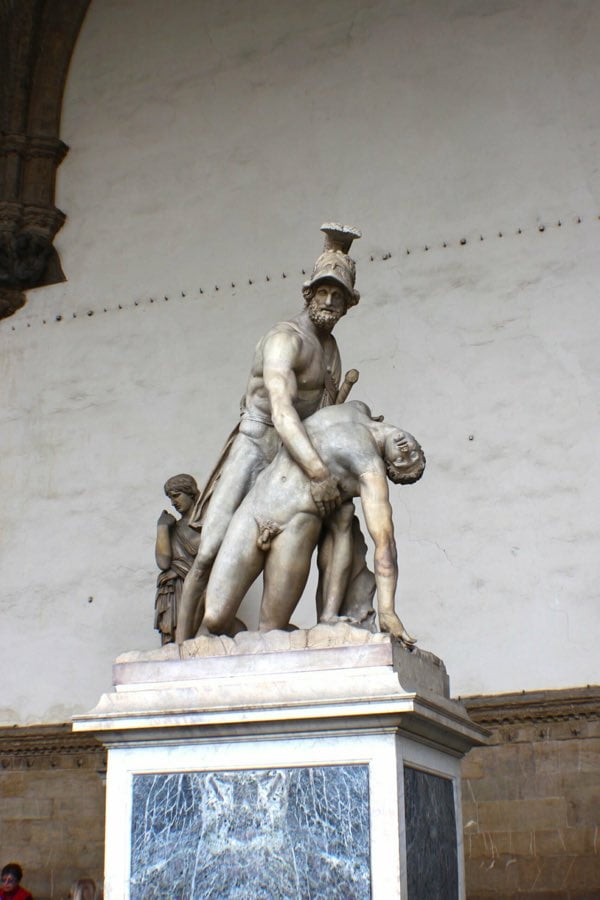 Statue of Hercules and the Centaur Nessus (1599)
Hercules (Heracles in Greek mythology, Hercules in Roman mythology) and Centaur (Centaurs are creatures that look partly human and partly horse-like creatures in Greek mythology.)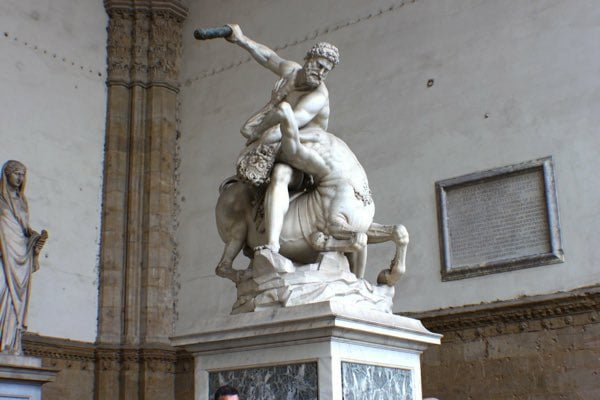 Statue of Hercules and the Centaur Nessus Back View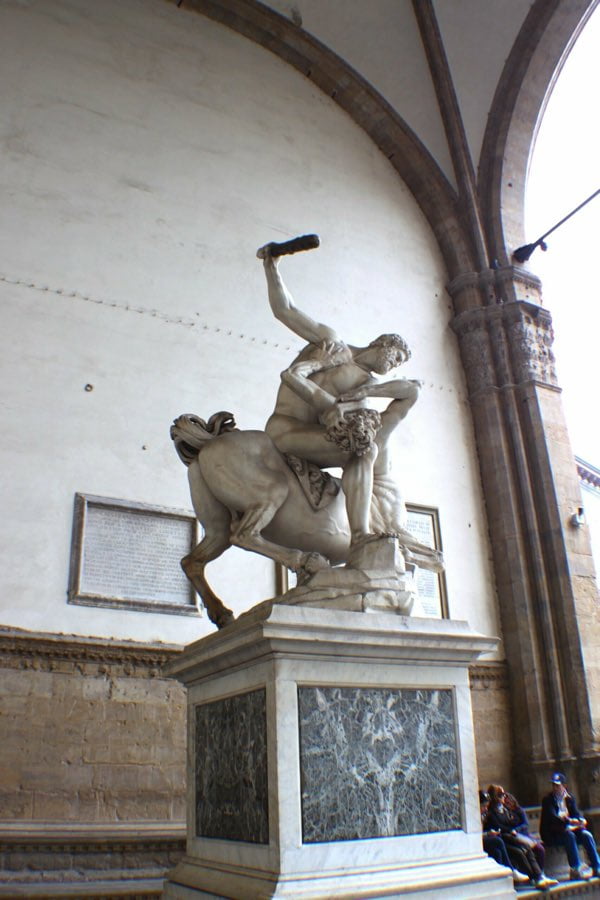 "Abduction of a Sabine Woman" or "Rape of the Sabine Women"
"Abduction of a Sabine Woman" Statue Back View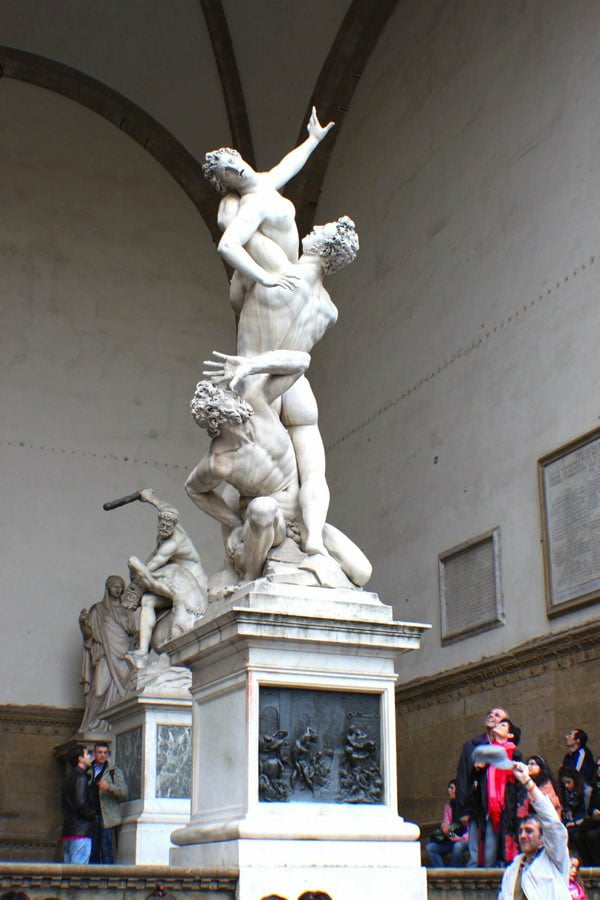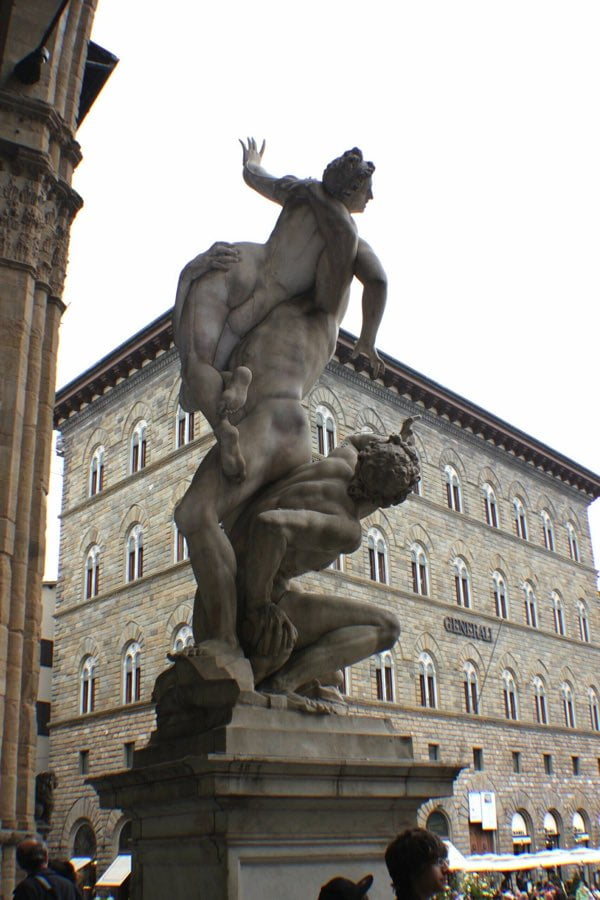 Statue of Judith ve Holofernes.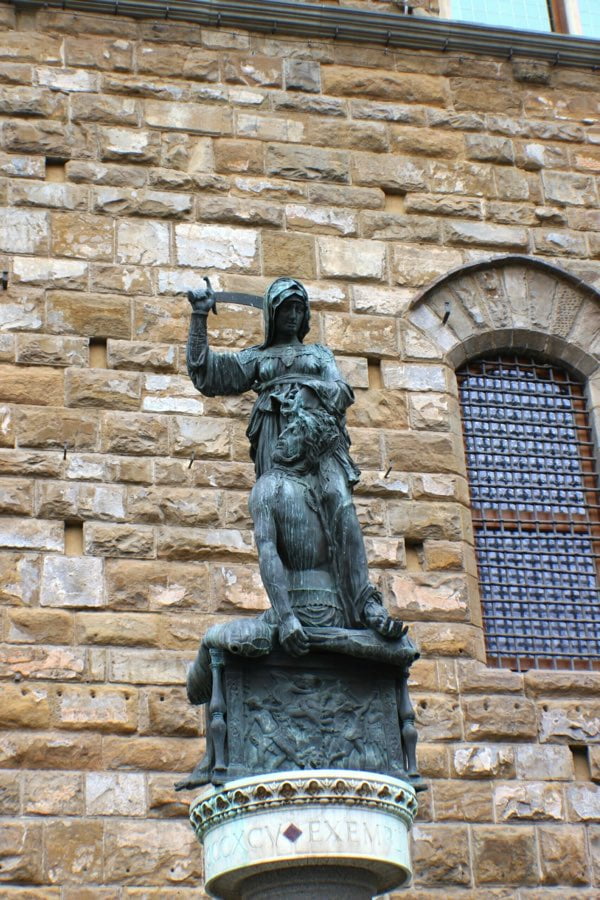 Michelangelo's Statue of David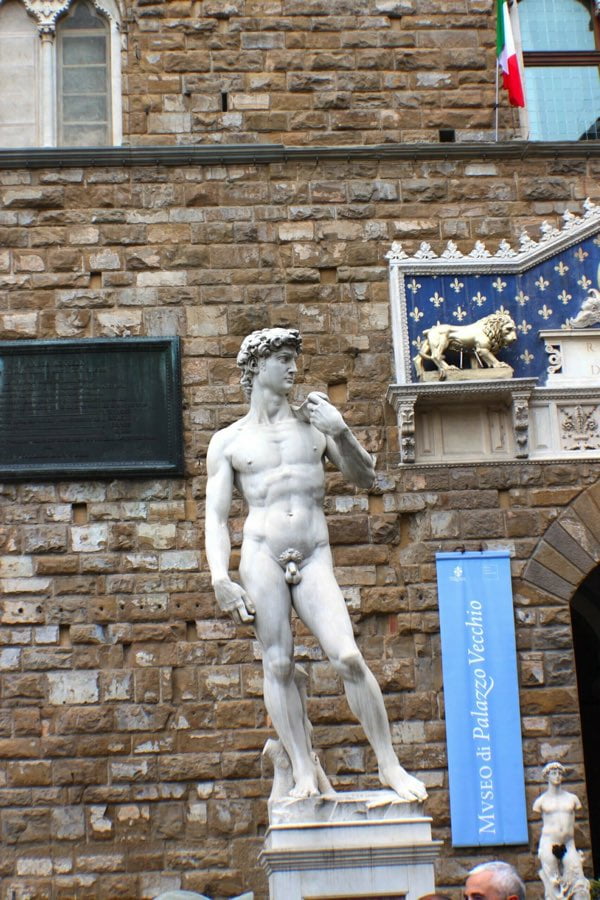 While we are wandering among so many sculptures and trying to figure out, we naturally couldn't notice the human sculpture. So it suddenly makes us startled. In fact, if they were in the heart of Istanbul, Taksim, you would just look and pass, but here statues are everywhere and almost all of them are like real creatures. That's why you fall into a big sense of space when there is suddenly one that moves among these statues. We take pictures with laughter and we understand that we need to leave the square.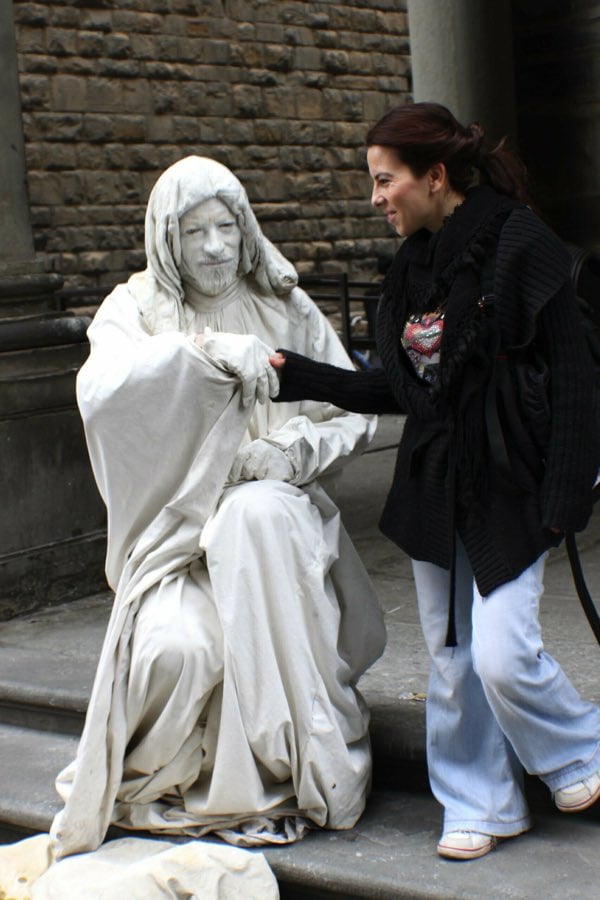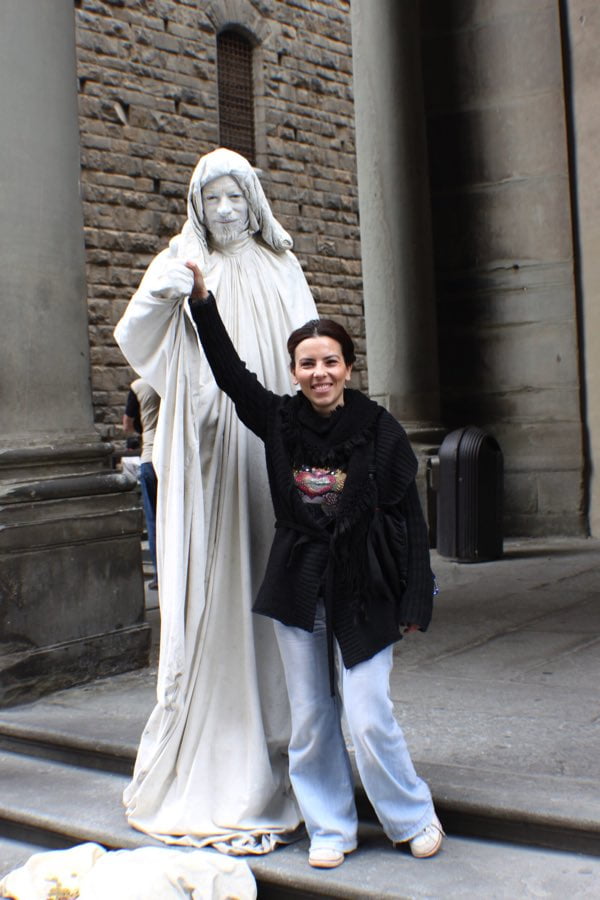 You can have a great time all over the city on foot. We now move to the next must-see destination by eating some food, patting some dogs.
Palazzo Vecchio and the Uffizi Gallery are also located within this district. The Uffizi Gallery is one of the museums in Florence that attracts attention with its large collection. The works of artists such as Leonardo da Vinci and Botticelli are also exhibited here.
Palazzo Vecchio (Old Palace)
When talking about Florence, it would not be possible without mentioning Palazzo Vecchio , the "eski saray" in our language. Built by Arnolfo Di Combio, this palace is located in Signoria Square, one of Florence's most famous squares. At the entrance of the palace there is a replica of the statue of David. I have already put a photograph of the statue of David standing in front of the Palazzo Vecchio palace in the Signoria sculptures part above. You can look at the picture of the statue of David there. I left a note under the photo that it was in front of the Palazzo Vecchio palace.
Palazzo Vecchio
The most remarkable place of this palace is the hall of five hundreds without a doubt. One wall of this hall, named after the council of five hundred members, was painted by Michelangelo and the other wall was painted by Leonardo. Also, you can see many famous works, such as Donetello's "Judith and Holofernes" inside of the place. If you dare to climb a few steps, you can watch a magnificent view of Florence from the tower of the palace.
Piazza del Duomo
When you go to Florence, of course, you should not say "I traveled Florence" without seeing Giotto's Bell Tower, St. John's Baptistery and the unique Duomo Squarewhere Florence Cathedralis located. Featuring Gothic architecture , Giotto's Bell Tower is a part of it that complements Florence Cathedral. There are seven bells in this tower consisting of a large number of marbles. The first place you can visit in this square is undoubtedly the Florence Cathedral, one of the most well-known religious buildings. We suddenly find ourselves in another magical square. Indeed, we always looked up, the elaborate buildings and the feelings we experienced took us to another era. The sound of bells coming to our ears from the churches in between increased the mystical atmosphere of the square even more.
Giotto's Bell Tower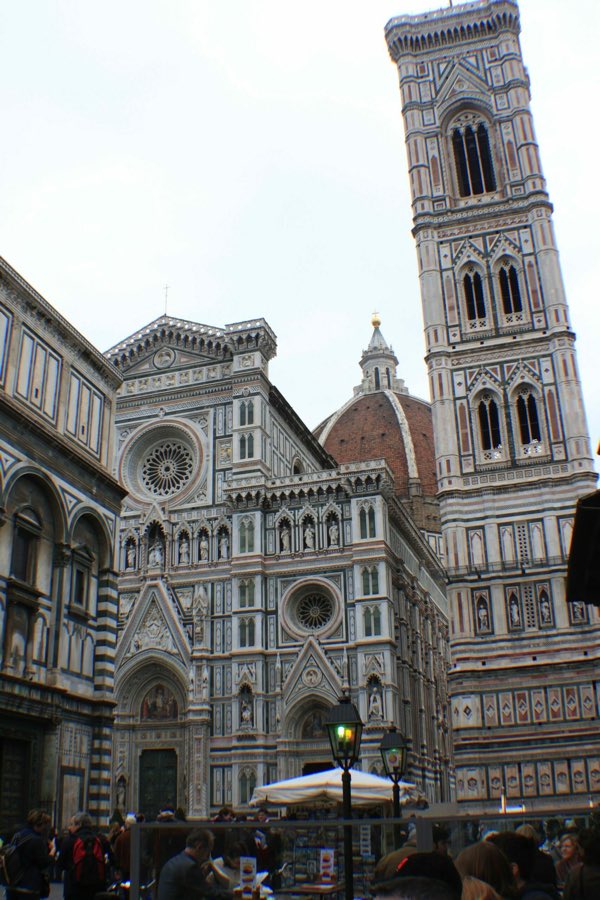 Florence Cathedral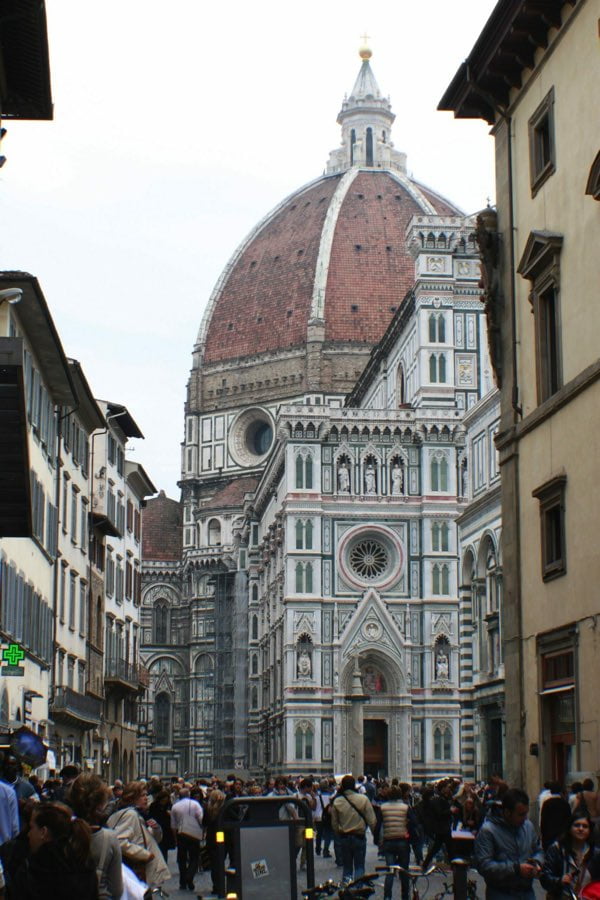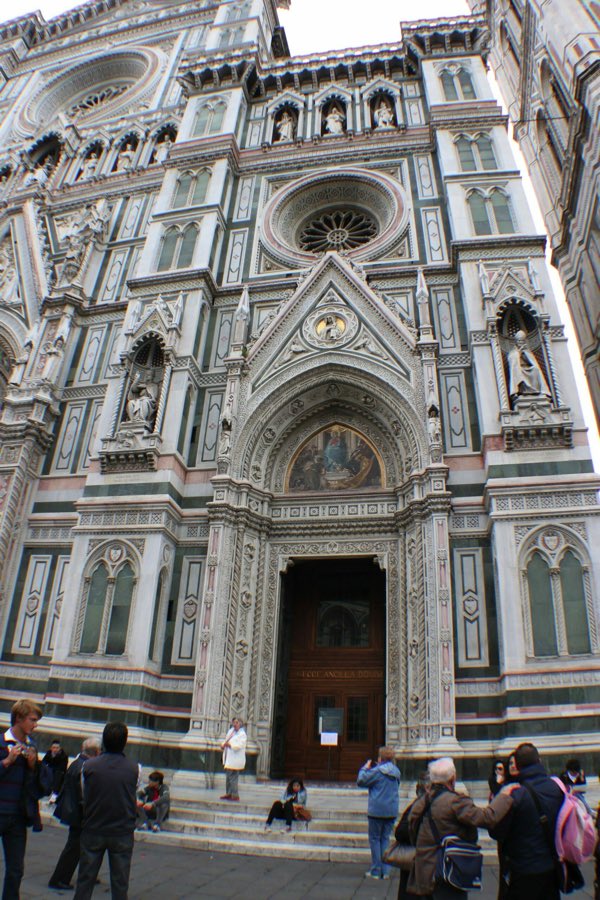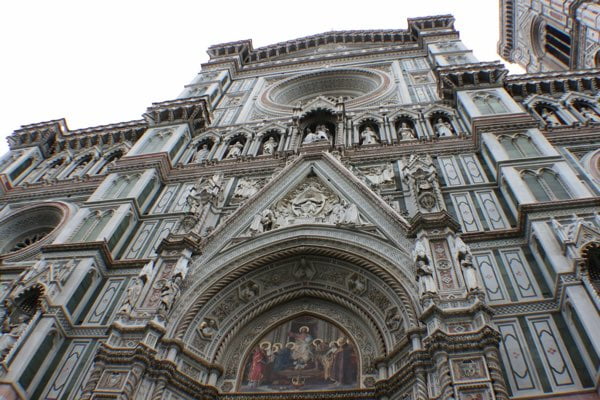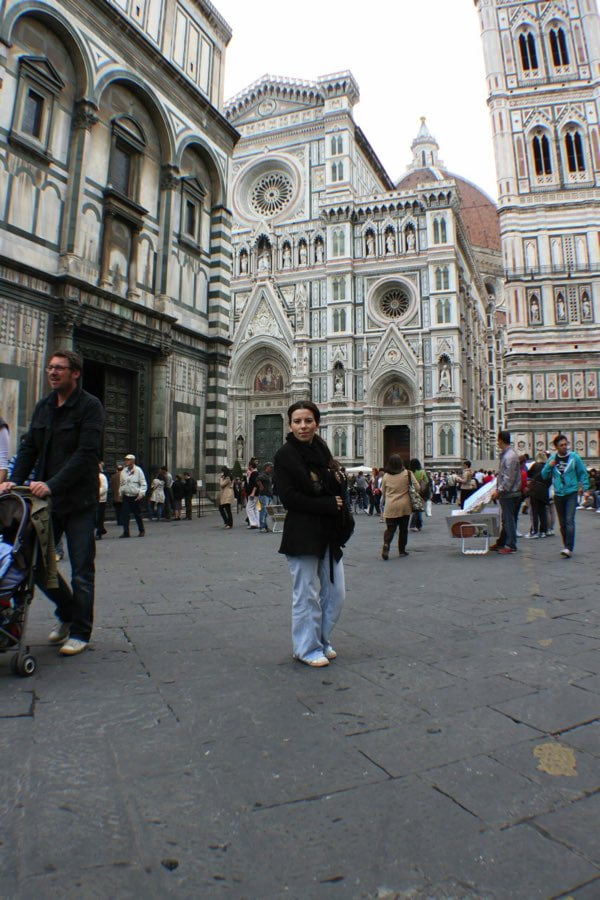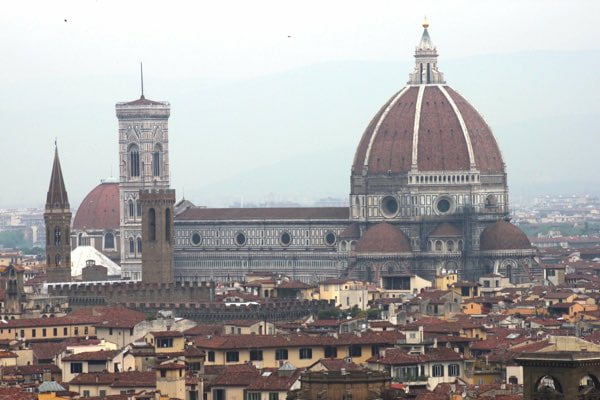 In the cathedral, where the most touristic and intense interest of the city is located, the fresco named Judgment Day attracts attention. The dome of the cathedral is also very interesting in terms of its construction. The construction of the dome was started by Arnolfo di Combia and finished by Brunelleschi. The plan of the cathedral was made in the form of a Latin pilgrimage.
St. John's Baptistery , which is located in Florence and attracts attention with its octagonal structure, is one of the oldest buildings in the city. The Medici family, the notables of the period and the famous Italian poet Dante were baptized here.
Palazzo Pitti
It is located south of the Arno River and north of the Boboli Gardens. It was built in 1458 by the Florentine banker Luca Pitti. The Palazzo Pitti is in the centre of Florence, a short walk from the Duomo and Signoria Squares. We love the energy of the Palazzo Pitti. I don't know if it was coincidence, but there were always young people around us. Our eyes were looing for middle-aged traveling tourists, but this time we felt like we were on a campus surrounded by university students. We were laid at the entrance of the Pitti Palace and relieved the tiredness of the day with the effect of the energy around. It was really enjoyable to sit there carefree on those stones and watched the surroundings.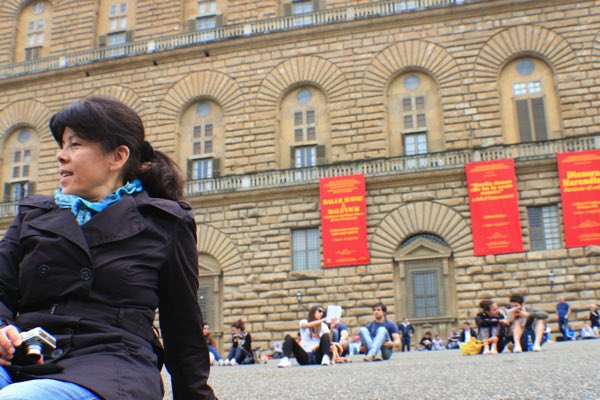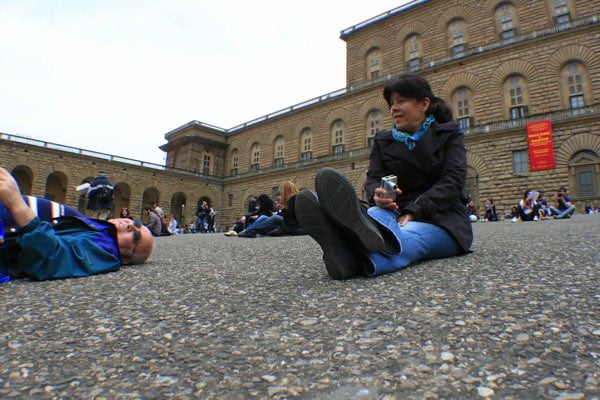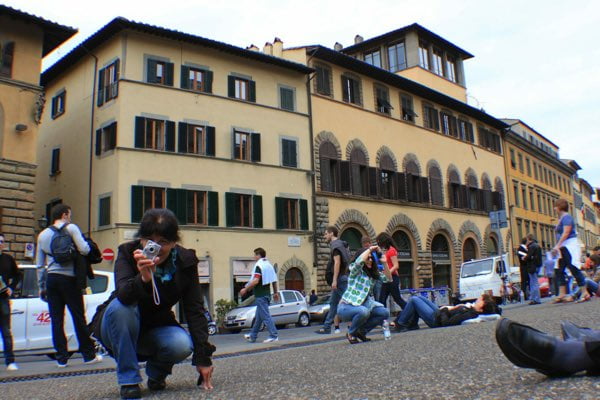 Located south of the river and close to the old bridge, Pitti Palace belonged to Luca Pitti and was purchased by the Medici family. After that, Tuscany became the administrative palace of the Grand Duchy family. The famous Boboli Gardens are located at the back of this 6-section palace.
Located just behind the Pitti Palace, the Boboli Gardens were designed for the Medici family. In this garden, which is one of the most visible places in Florence, there are sculptures, fountains, large green areas and artificial caves from the Ancient and Renaissance periods.
When you come to Florence, you should see the Academy Gallery with its original name "Galleria dell' Accademia. This academy is the first school in Europe to teach painting, sculpture and drawing techniques. One of the other things that makes the academy important is that Michelangelo's statue of David is original and many of his works are here. You should definitely visit this art academy where there are many famous sculptures, including Venus and the God of Love.
Basilica of Santa Croce
The Basilica of Santa Croce , the first major basilica of Florence, is a church of the Dominican denomination. The crucified statue of Jesus and the six chapels built by the Medici are worth seeing. At the Basilica of Santa Croce There are tombs of well-known people such as Machiavelli, Galileo, Dante and Michelangelo. In addition, works from the Renaissance period are also exhibited in this special region.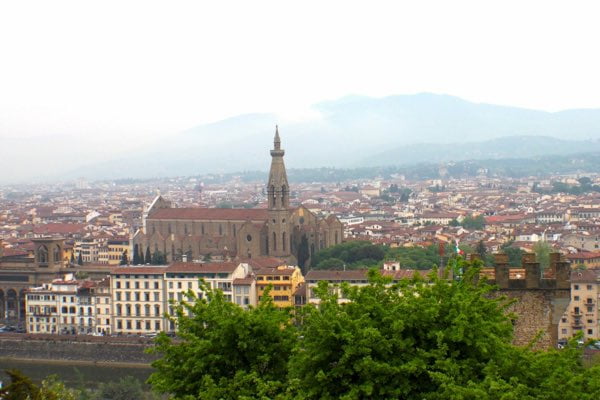 One of the most important churches to see in Florence is undoubtedly the Basilica of San Lorenzo. This basilica, which has an octagonal structure, contains important belongings and graves of some Medici family members. The church also houses Donetallo's tomb.
Ponte Vecchio Bridge
We wanted to walk around the Ponte Vecchio Bridge. It was a touristic area, there were a variety of restaurants and shops. If you want to enjoy good food, we recommend you to search online beforehand. We walked into the most crowded restaurant but couldn't find the Italian pasta taste I was looking for. We were exhausted, but we were enjoying ourselves. I can say that I love this area. Perhaps it was relatively livelier and more crowded than in other regions. This is one of the places worth seeing in Florence. The bridge built by the Medici family actually allowed them to pass without being seen by the public. Nowadays you can take in the view from here using the Ponte Vecchio bridge between Palazzo Pitti and Palazzo Vecchio. The Mannelli Tower, built on the bridge in the medieval period, was built to defend the city. While it was used as an area where tanneries and iron workshops were located during this period, there are jewelers today. Definitely cross the bridge to the other side, you will be very interested in the house-like structures on the Ponte Vecchio bridge.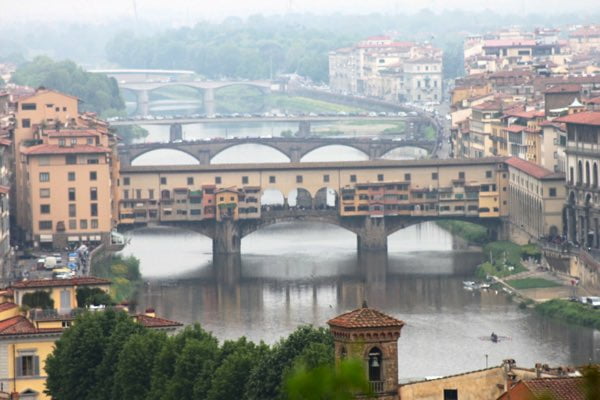 Do not forget that different signs may appear on the streets at any time during your trip to Florence. These signs made me incredibly happy. It was perhaps the best form of prohibition. No matter what, the presentation of something forbidden with a different perception made us smile.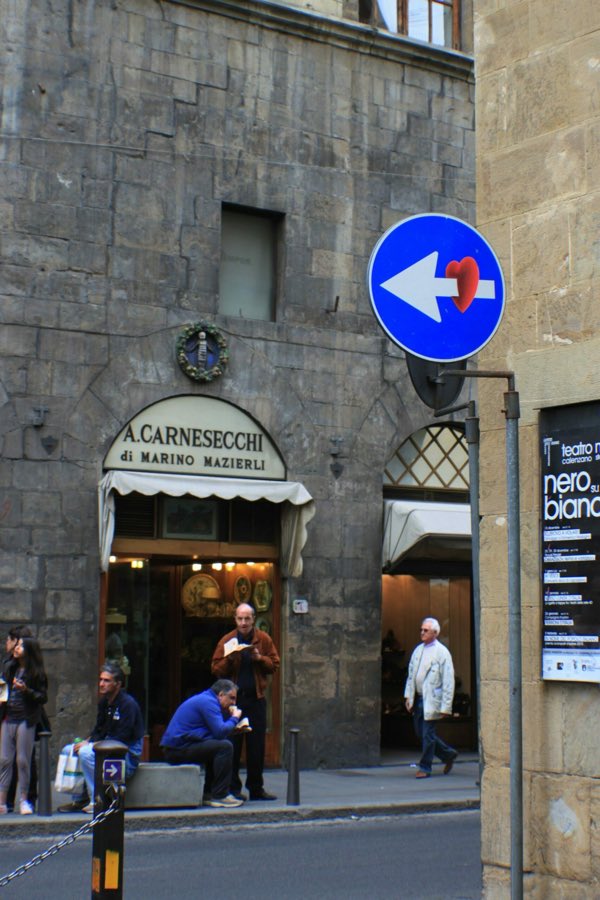 Piazzale Michelangelo Square
We had heard that Piazzale Michelangelo Square is one of the must-see places of the city. It is a square with panoramic views of Florence, located in the Oltrarno area of the city. We wanted to go there and watch all of Florence from above because there were so many details in the city of Florence that sometimes all these details seem too much. We came here thinking that a city view where I can see Florence would be great.
Piazzale Michelangelo got this name because a museum was to be established here, but it remained as a square. Here is a view that looks over Florence.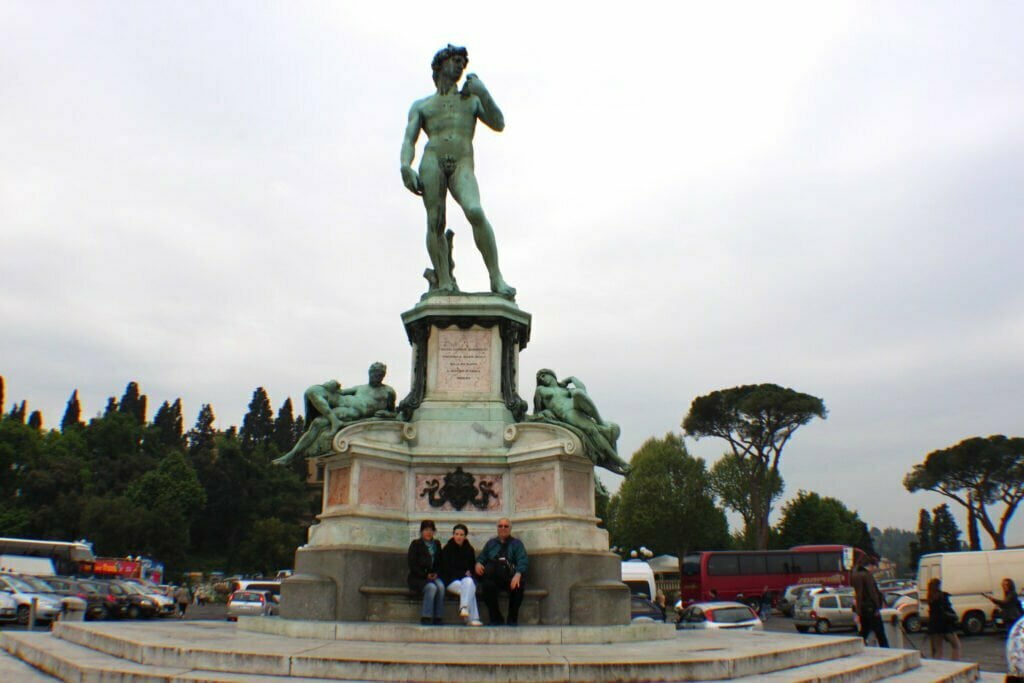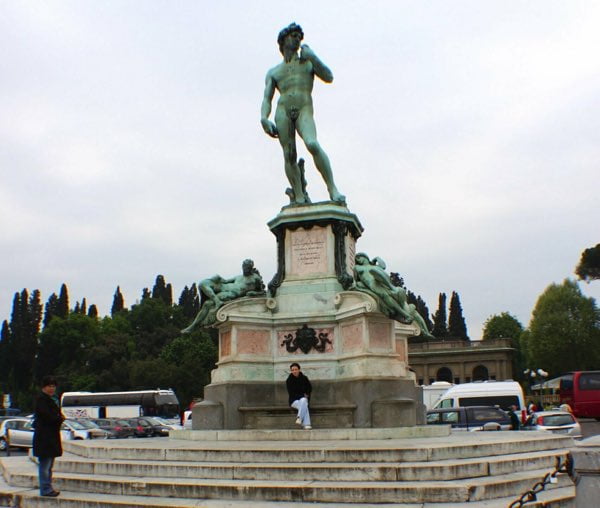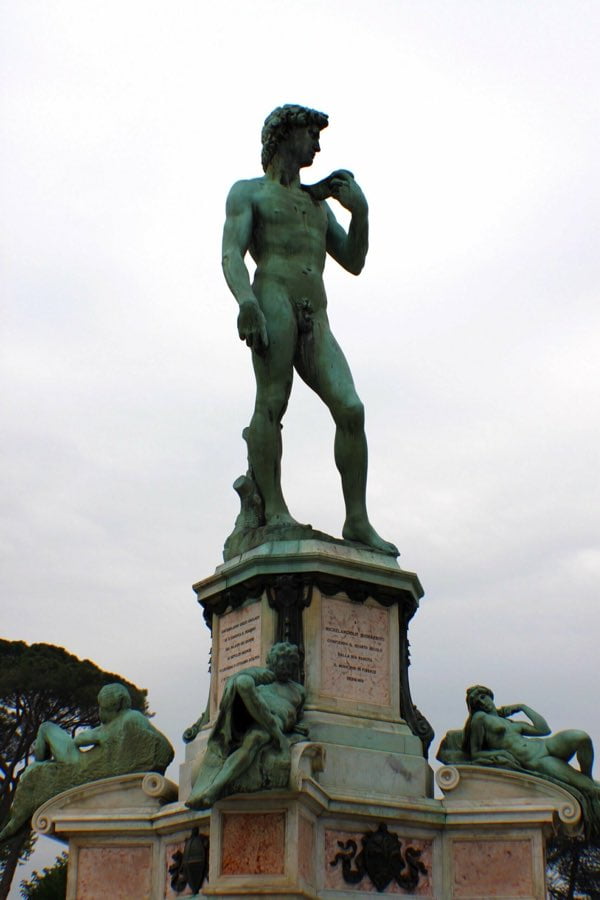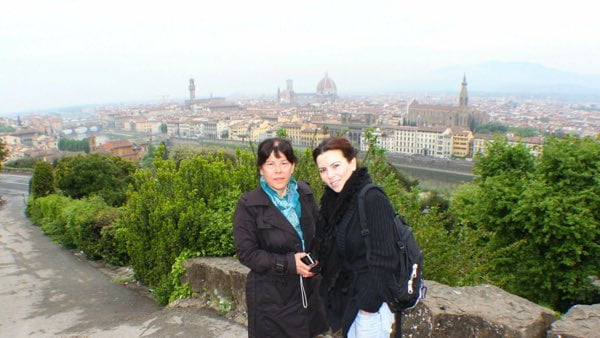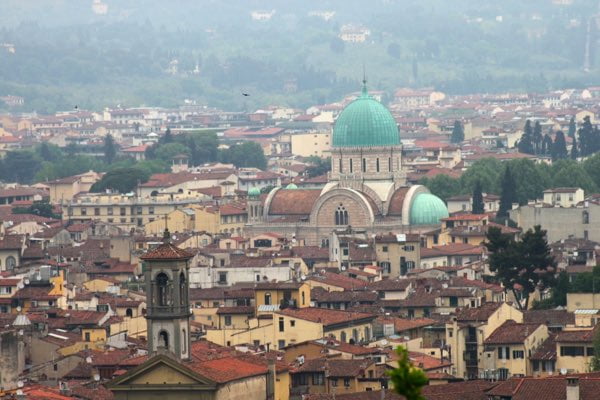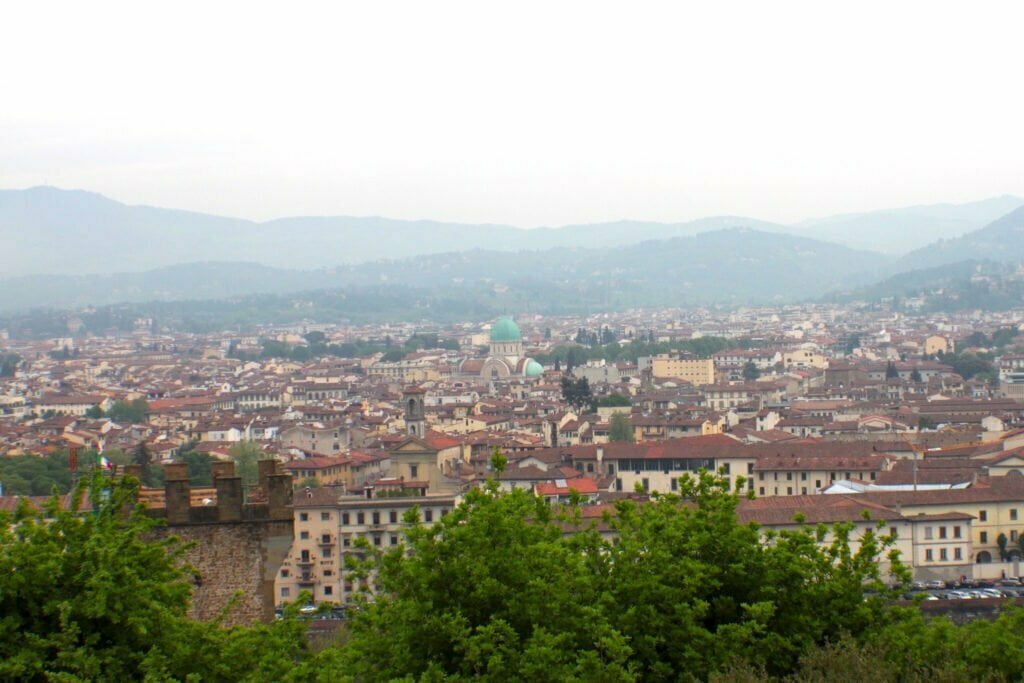 Shopping in Florence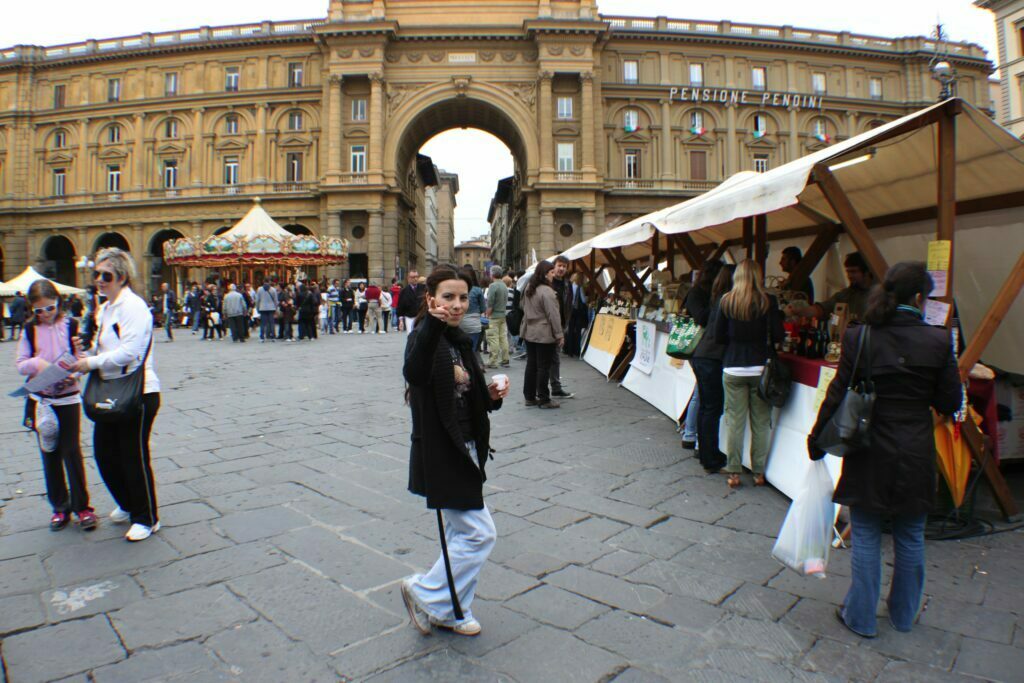 When you come to Italy, of course, we will not return without buying pasta, as all tourists do. We try to find different types of pasta that we cannot find in our country as much as possible. Not to mention the red wines because here we realized that we could find much better quality wines at a much more affordable price. Of course, I recommend you to look at the latest exchange rate of the Euro and decide this when you go to Florence-Italy because most of the information you will find on the internet will always be in the old exchange rate, which will be misleading for you. That's why, it will be better to decide what you need to take when you go there. For us, though, wine and pasta would be in the first place.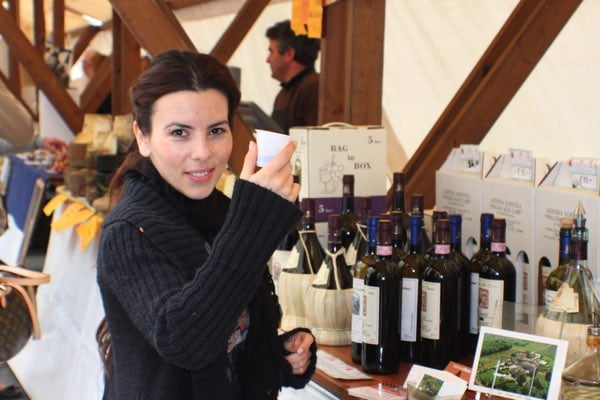 I guess it would not pass without mentioning balsamic vinegar, one of the unique flavors in the salads we tasted in Florence. If you want to have this flavor in your colorful salads in your homes, do not return without buying balsamic vinegar.
Don't underestimate the leather industry in Florence.
When we say textile and leather products in Italy, although Milan comes to mind first, we must definitely give Florence its right in this regard. In this city where leather bags and shoes are famous, you can go to Scuola del Cuoio (leather school) and watch the making of these shoes and browse these products for shopping. You can also buy souvenir bags for yourself and your loved ones in Piazza San Lorenzo , also known as leather people's square. You can find the special tastes you are looking for inMercato Centrale, thecentral bazaar, buy many products from electronics to textile products here, and make nice surprises for your loved ones on the return journey.
You can buy ceramic plates from this beautiful city, which also exists successfully in the field of ceramics, and set up wonderful tables for yourself and your loved ones.
Florence and Pinocchios
In addition to all this, you can find Pinocchio-themed products spread throughout the country in many parts of Florence, and you can also buy stationery and cosmetics. I don't know why, but Pinocchio-themed gifts fill us with strange happiness. We bought ourselves a pencil from Pinocchio. A beautiful gift that one can give oneself to write down our dreams and what we want to do next.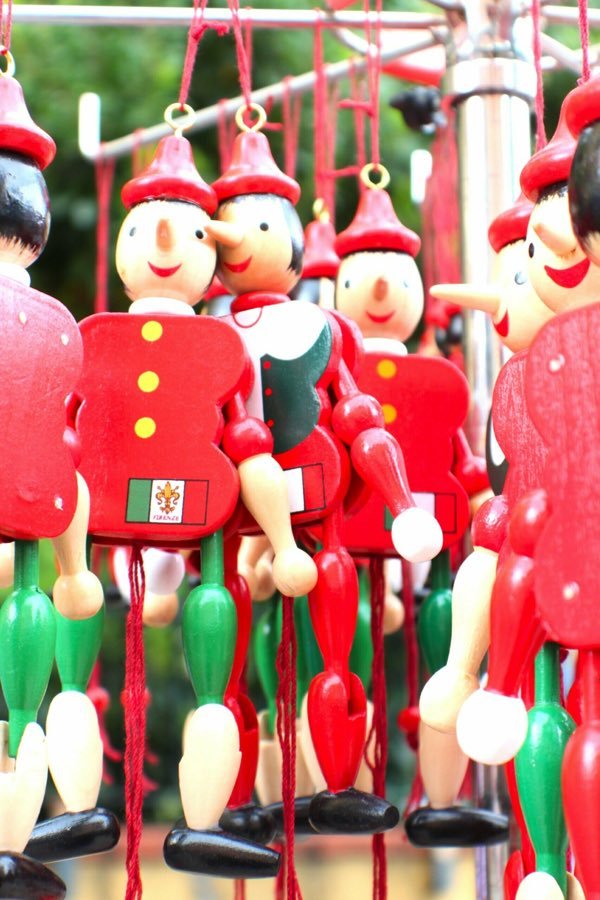 Also, like me, you can come here at Easter time and enjoy this holiday and Florence for something else. Do not leave this city without looking at the dates of the classical music festival, dance festival, paper lantern festival and flower festival held in Florence and participating in them if you have the opportunity.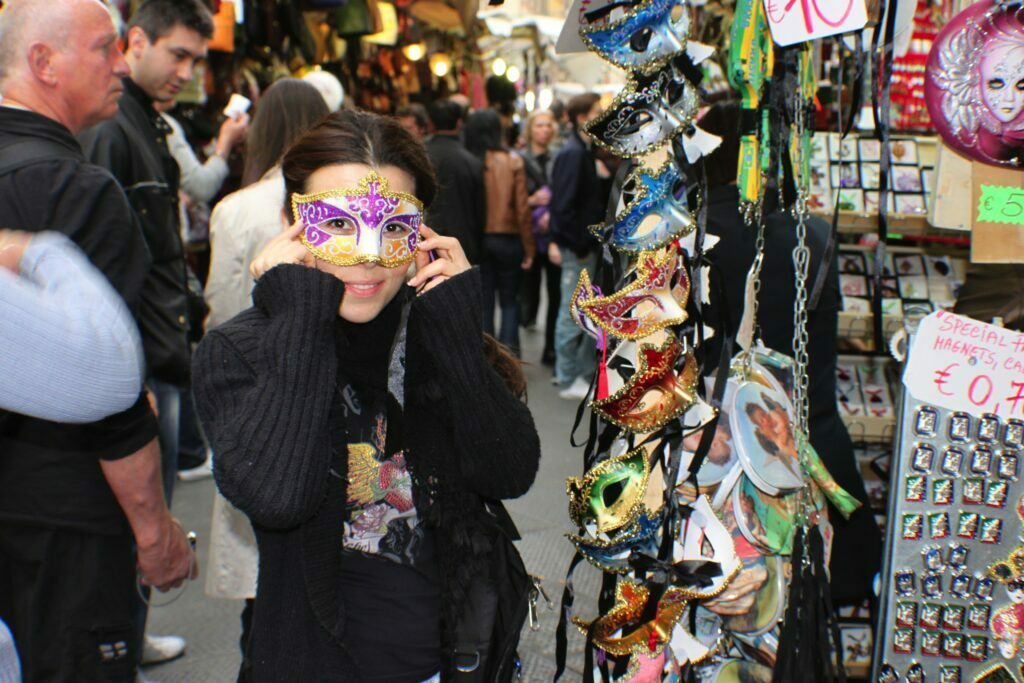 ITALY, Florence Delicacies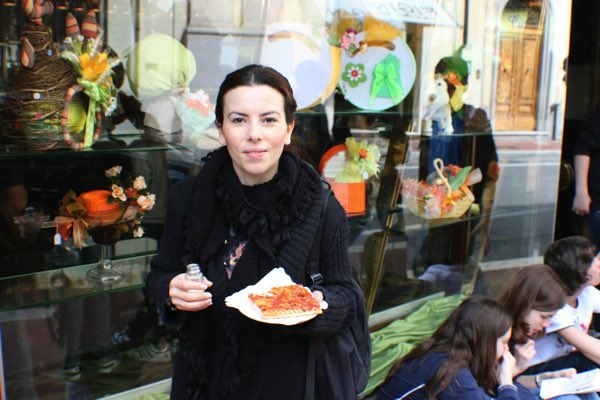 As soon as Italy arrived, we joined the Easter celebrations. There were big chocolates that I had never seen. They looked more like a work of art than a chocolate. It was like everything was covered with chocolate. While the spirit of Easter was felt, many venues and restaurants were closed. So there were both advantages and disadvantages to going at vacation time.
Especially in the first morning, I could not find a single place to eat and I had a hard time eating the eggs distributed in the church. Finally, we found a toast and pizza mix and a quick flavor and we sat on the curb and started making our breakfast. Don't expect a rich breakfast in Italy.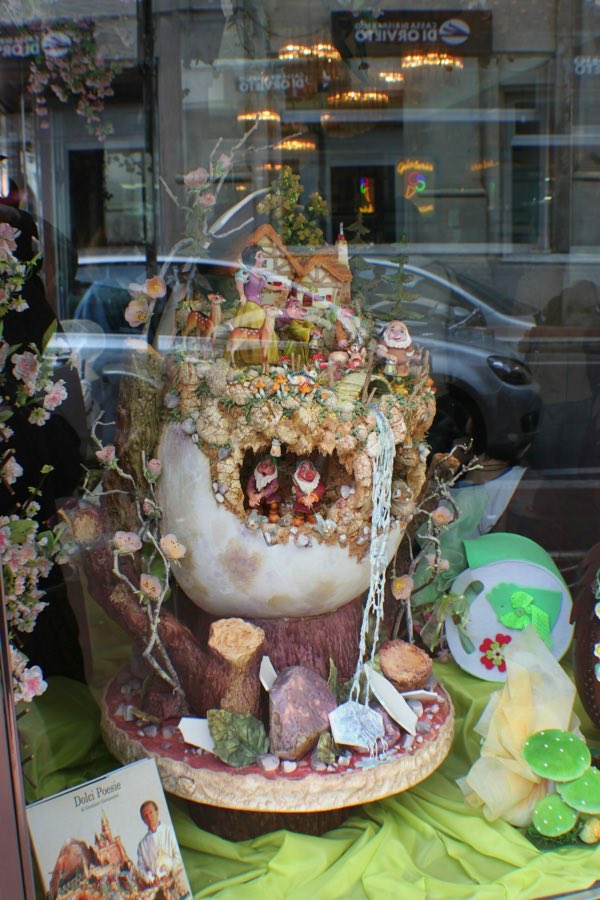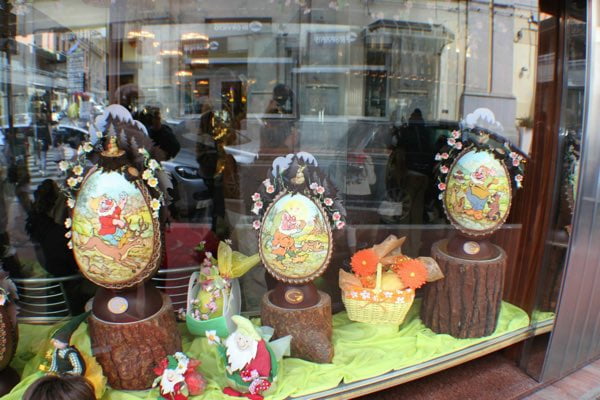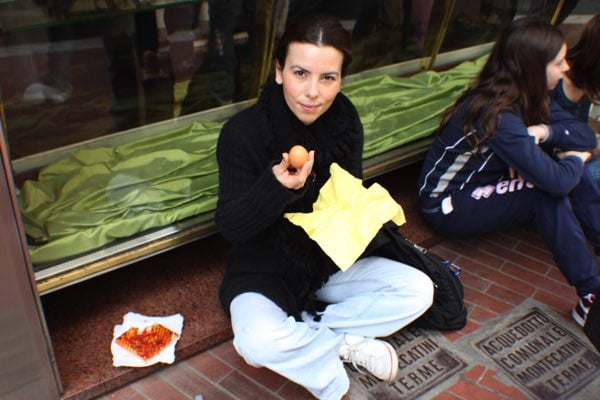 After I found a comfortable place for myself, I started to peel the egg they gave next to the toast. It's hard to believe, but we were even thankful that we found a place around where we could get them. I tried so many testes in Italy, but I can't forget the taste of that little egg.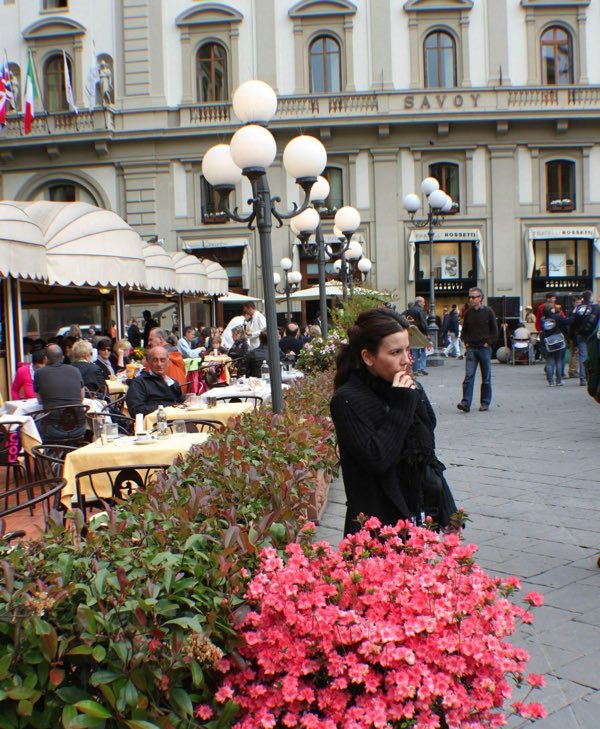 The most beautiful restaurant is sometimes a square.
Our favorite choice of cafes and restaurants would be to stand in the middle of a square, watch our surroundings and catch your eye on the most popular place. This is a method that works in every country.
My father had to be very careful about what he ate because he forgot his medication at home while traveling. He didn't have to choose food as in Thailand. As a result of the misfortune he had at work, he felt obliged to pay attention to what he ate in Italy. My mom and I usually tried pasta made from different sauces. One afternoon we sat in a restaurant next to the square.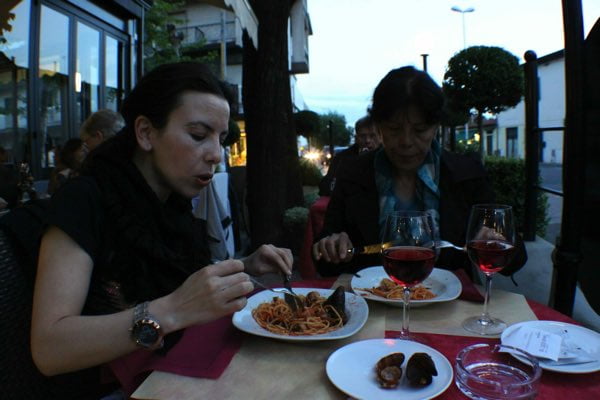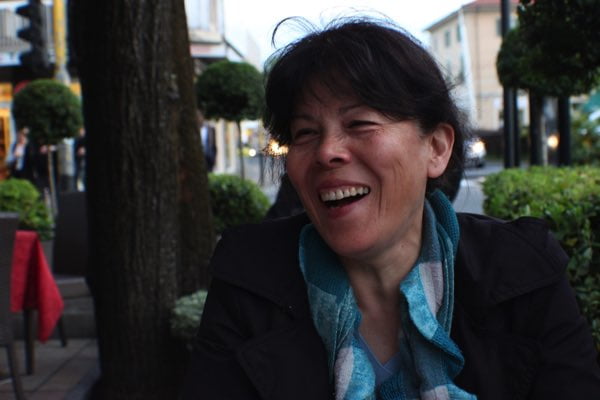 Florentine Delicacies
In Florence, where we can see a typical Mediterranean cuisine, you can try many testes of this fascinating city except for the tastes such as pizza and pasta, which are common throughout Italy. My advice to you is to enjoy all of these delicacies. Of course, my aim to enjoy here was to eat each taste experience slowly, by sharing and feeling. The first of these delicacies was the sliced Florentine steak called "Bistecca alla Fiorentina". This steak was made from Chianina or Maremmana cow species specific to the Tuscany region. This meat, which is seared in high heat and prepared to remain juicy and flavored with spices, is 4-5 cm thick. How about sharing this meal with your loved ones with a nice conversation? Italians are very generous with this serving of steak.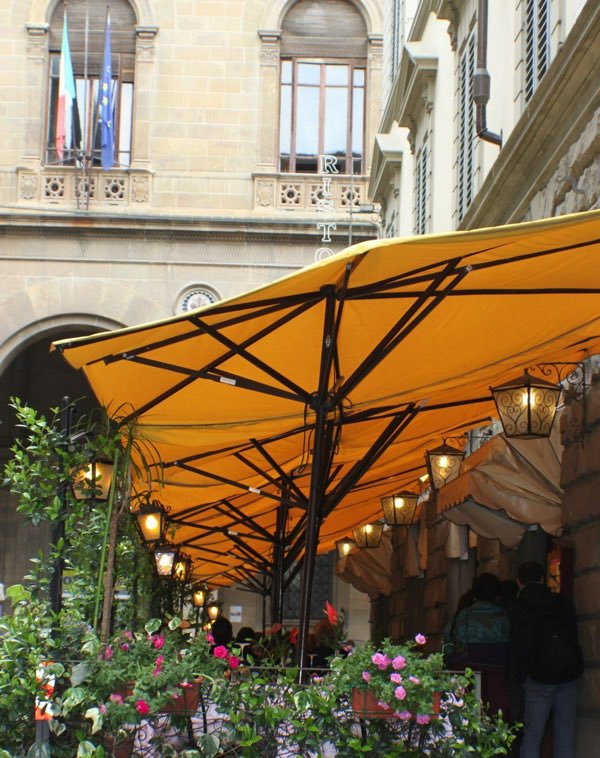 Each restaurant and café was beautiful and enjoyable.
A second taste that comes to mind when you think of Florence is the dish called Lampredotto, which is served with a green sauce made from cows' intestines or tripe. You immediately thought of the kokoreç in our country, didn't you? Not only the way it is made, but the fact that you can find it on the corner of many streets of Florence increases its similarity with kokorec. You can consume Lampretto as a portion between sandwich bread if you wish, but we have not tried these tastes yet.
Schiacciata Fiorentina preferred on carnival days in Florence
Schiacciata Fiorentina, which is preferred especially on carnival days in Florence, is a square-shaped sweet cake. If you wish, you can choose it with famous Italian coffees in the afternoon or after dinner if you wish, but if you ask me, when you take a break in the streets of Florence and take a break in the afternoon, I recommend you to eat slowly enough to both enjoy this beautiful cake and relax, accompanied by the famous Italian expresso.
In Florence, I was looking at the soup this time. Ribollita is very famous in Florence, especially in beans, carrots, seasonal vegetables and stale bread, which is preferred in winter. If you want a hearty and nutritious meal, you can choose Ribollita.
Tasting crostini in Florence
Crostini is a actually sandwich made with various salads and sauces on bread, and it resemble Bruschetta. You can choose these little sandwiches before dinner. The most famous of these is, of course, Crostini di Fegatini (fegato), which is made with liver crush. I think liver paste sounds interesting enough to be worth trying because that's exactly how I felt when I heard it.
Have you tasted Panzanella?
Panzanella can be one of the most refreshing dishes you will encounter if you want to eat a salad unique to this beautiful city. It is served with tomatoes, basil and various seasonal vegetables, vinegar, olive oil and toast. I recommend you to try this salad, which stimulates the appetite with its colorful appearance.
In Florence, if you take your wine and think of a delicious snack next to it, I will recommend a taste for you: Cantuccini and Vin Santo. Cantuccini is a type of hard cookie made with almonds, nuts or peanuts native to Florence. Vin Santo is the wine you can eat by dipping your cookies in it. It would be unique to dip your cookie in this wonderful wine and feel it soften in your mouth while at the same time watching the view of Florence, right? That's why I recommend you not to leave Florence without trying these amazing duo.
Is it possible without eating Gelato in Florence?
One of the first things that comes to mind when it comes to Italy is, of course, ice cream, also known as Gelato. You should walk on the streets in Florence and eat ice cream. You may find it difficult to choose these ice creams, which are almost a splash of color. So you can try another variety each time.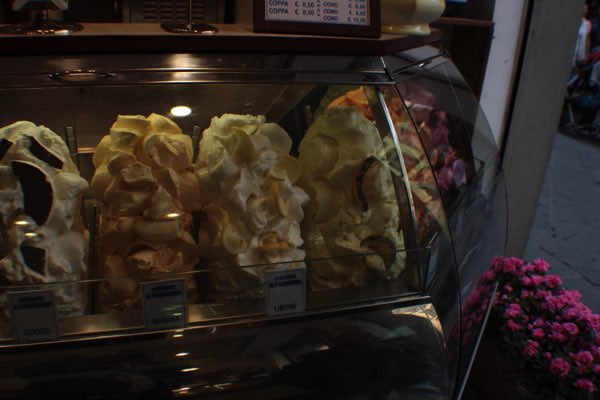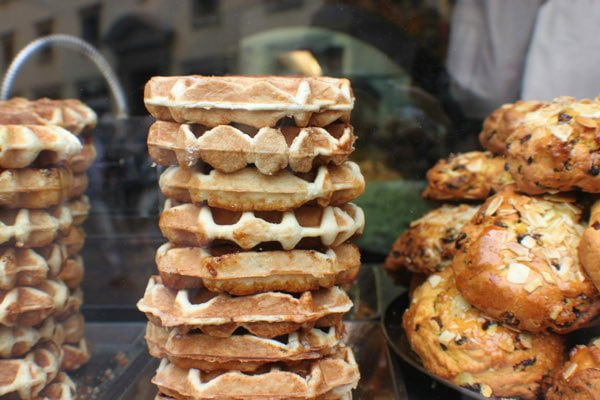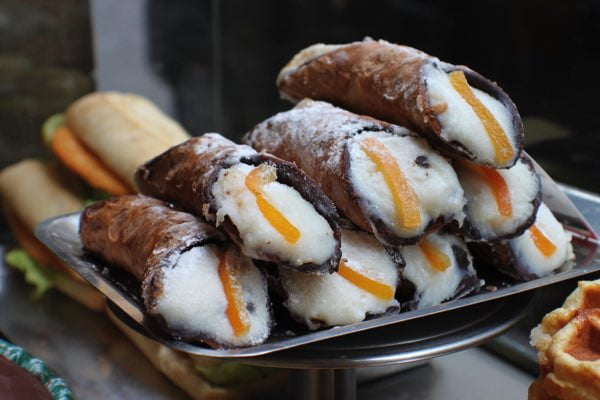 In addition to all these delicacies, among the things you should definitely try are Pappardelle al Cinghiale, a kind of pasta made with pork, duck or rabbit meat, Zuccotto, an exquisite dessert Zuccotto prepared with a cream and liquor unique to Italians, Pappa al Pomodoro, another soup made with tomatoes and preferred cold, Pici cake made with flour instead of semolina and cut thickly, Crespella alla Fiorentina, a fine pancake made with ricotta cheese and optional spinach, is a must try. And don't forget to buy yourself a tramisu and expresso at Gilli Cafe. Especially in Florence, where Tuscan wines are famous, do not come without drinking the famous Chianti Rossa wine.
Piazza della Repubblica District in Florence
At the last stop of your trip you can go to Bargello, the oldest state building in Florence, and if you want to go to quite luxurious restaurants, you can go directly to the Piazza della Repubblica area. Here you can taste the world-famous steaks unique to Florence. You can wander like a labyrinth through the side streets of Piazza del Duomo, which is exactly in the medieval atmosphere, and visit another museum in the Museo dell'Opera del Duomo. Santo Spirito is also a well-known place for its restaurants and cafes. In this place, which is on the opposite side of the Arno River, it is possible to see the basilica of the same name.
Wherever you eat, you feel the same pleasure and taste as you see cheerful people around.
Somehow we were having fun and laughing for no reason.