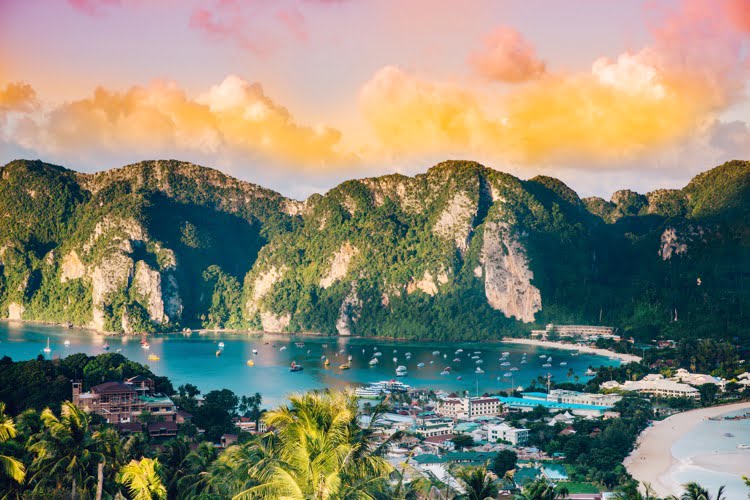 Phuket is a city of pristine white beaches and azure waters. Phuket is famous for its nightclubs and nightlife activities as well as its peaceful appearance.
Phuket and Its Islands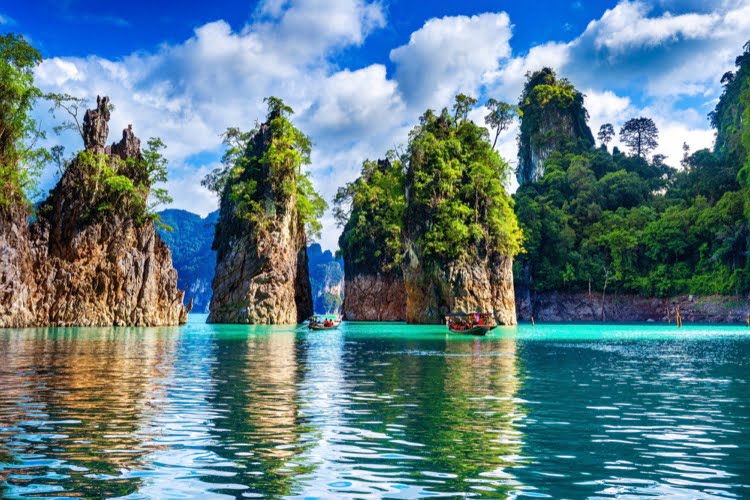 Since there is so much to do, we wanted to experience this city as fully as we could.
* We rented a motorcycle and discovered the whole island.

* We rented a speedboat with the group and toured those enormous exotic islands and walked on the white beaches.

* We watched the corals and colorful fish underwater with a simple snorkel.

* In order to understand the nightlife, we definitely took a tour on the street where the ladyboys lived and watched a few shows.

* We got rid of the fatigue of the day by having a lot of oil massage and foot massage.

*We went to nice restaurants to eat Thai food but also ate from street vendors.

* We spent time in society and tried to understand their lives. We chatted as much as we could.

* I've had a little snake experience.
After Bangkok, we went to Phuket. They placed us in a hotel in Phuket, surrounded by greenery, with bird sounds and wonderful orchids. Our rooms were one-floor, directly opening to the green area, with large beds, and one would feel special. Our first trip and coming to such a place from a neighborhood with tight apartments made us feel very different. As soon as we walked into the room, we opened the curtains and threw ourselves into bed. After all, this was the last time we threw ourselves on the bed, because every time we got tired afterwards, we found ourselves in a massage parlor.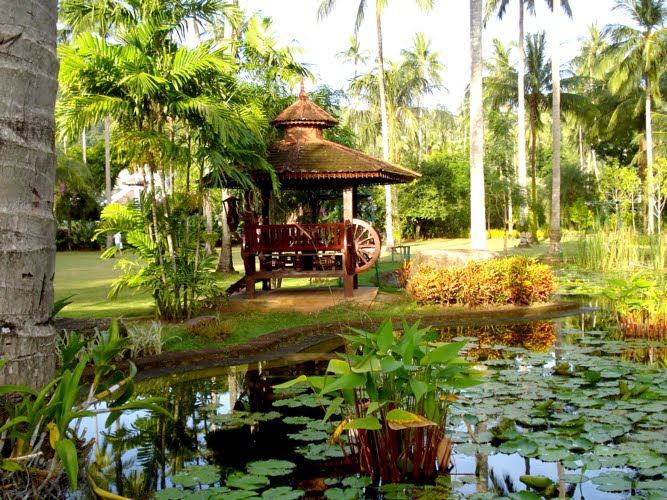 We didn't have a very luxurious life, we rarely took family vacations, and we always saved money for our dreams. Now it's like we're in the middle of those dreams and we're having this pleasure. That's why each of us felt special and happy.
Now I remember laughing for hours about something I don't even remember what happened. Apart from the tears in our eyes, we were laughing enough to miss our pee, and then we were laughing at this state we fell into. Those moments and experiences were invaluable to me. It was one of the best moments of my life. Looking back now, I can see once again that there was nothing more important than that. Making memories with my loved ones…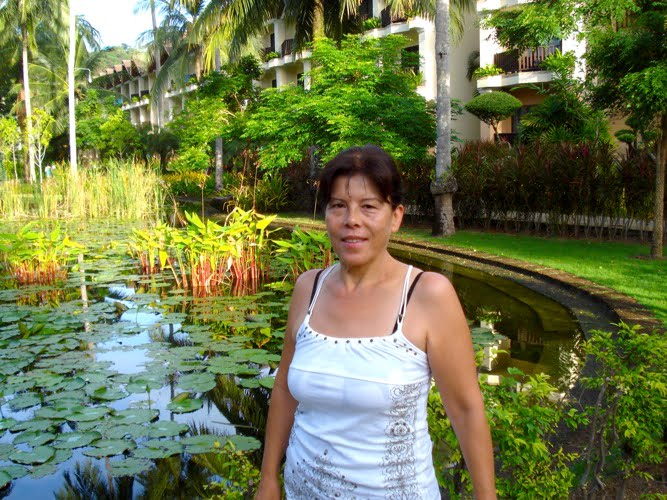 We decided to rent a motorcycle and go for a ride rather than take a tour of an agency on Phuket Island. I'm still thinking about how we made this decision, I don't know either.
My brother was still very young and I had just gotten my motor license. In reverse traffic, we were going to drive on a route where the signs were written in a language we didn't understand, and we were going to get lost on the roads.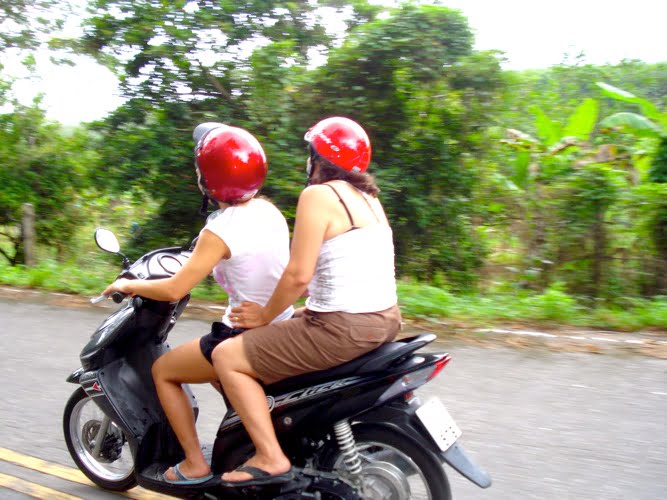 Now that my mom and dad had stopped parenting too, they accepted the idea of ​​riding a motorcycle for the life they couldn't live. Every member of our family was ready to live wildly. And we rented two bikes. My mother sat behind me, my father sat behind my brother. For the first ten minutes, we thought, "This is not going to work out", but then we were on the road in a way we couldn't understand.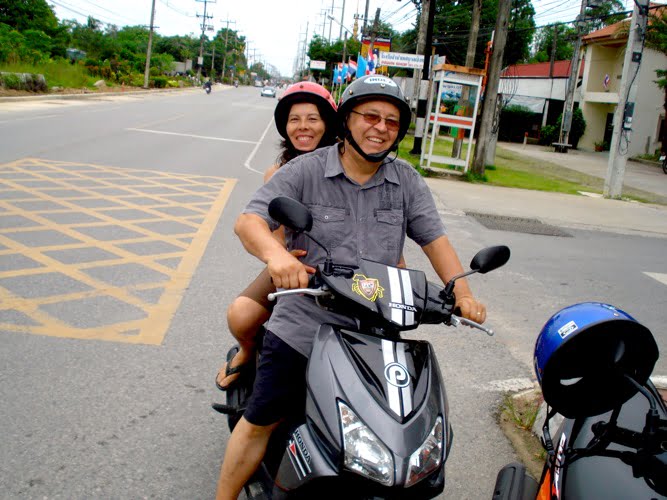 It was the most beautiful road of my life, we got lost on the roads, sometimes we couldn't drive because of laughing, sometimes we got sunstroke because of the hot weather. What's more, I'm ashamed to say, we knocked my mom off the bike. I dropped my mother off the bike when I drove the bike before my mother was getting in at the gas station. Now I'm talking to my mother and when we remember those days, there is only one sentence we say: "Every moment was worth living."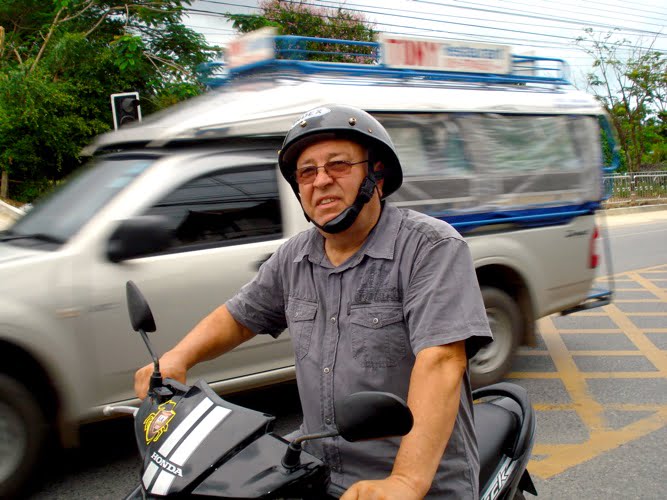 We rode the bike for 5 hours accompanied by wonderful trees, smells, roads and views. If you have the opportunity, rent a motorbike in Phuket like us and go wherever the road takes you. Swim, eat and laugh. I'm sure you'll find your way back to the hotel afterwards.
Phuket Tsunami
On the first days we went to Phuket, we were more impressed by the reality of the tsunami than the beauty of Phuket. There were paintings, photographs, exhibitions and signs describing the tsunami in 2004. Signs were everywhere telling you to flee upwards when you saw the tsunami. Signboards that I had never seen before in my country and that I was not accustomed to attracted my attention. For a few days, whenever I found the internet, I was reading the information about this tsunami and looking at the videos. The third-largest earthquake in the world, measuring 9.3 magnitude, occurred on the western coast of Sumatra Island in Indonesia. This earthquake, which happened in the Indian Ocean, was between 8-10 minutes on average. It's considered the world's longest recorded earthquake. It had such great effects that it moved the world by 1 cm. The effects of that earthquake reached the coast of Thailand as a tsunami.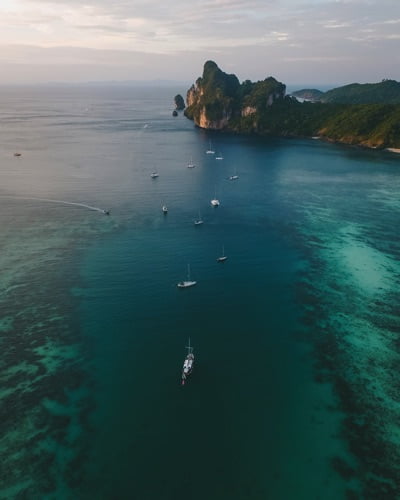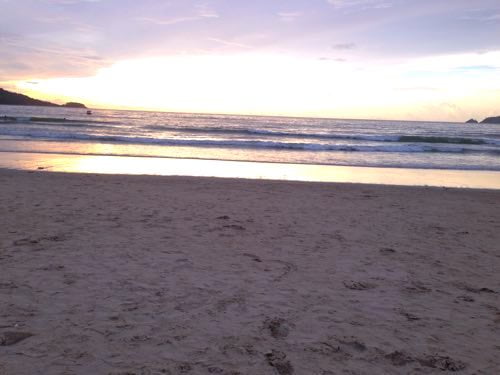 The thing that caught my attention the most in the photographs exhibited there was the facial expressions of the people. Instead of running away, a lot of people were trying to figure out what happened. Despite the tsunami coming from afar, there were people walking towards the sea and trying to understand the situation.
I had it engraved in my brain at that moment. If the sea receded and I saw white waves in the distance, I would run up, as high as I could.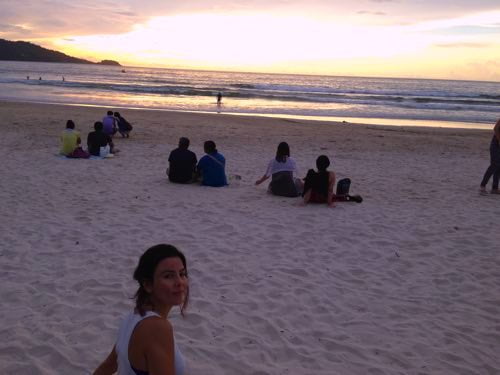 We had come there to have fun, but this region had suffered a great disaster in a near future. While having fun, you will always see content that will remind you of this fact. And while I was swimming in the sea, my eyes were always stuck on a piece of wave in the distance. Really, the waves were not like in the Mediterranean region. It was going back and forth in a long area, and the wave outside of what we knew was making us nervous.
Phuket Nightlife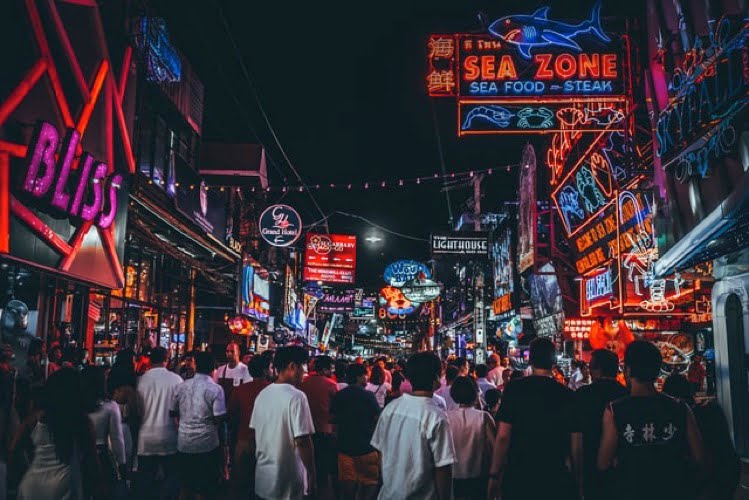 The entertainment place of the Phuket region is unquestionably Patong. Bangla Road is also a place that can be preferred from the moment the sun goes down. Bangla Road, which is about 400 meters long, is closed to traffic. Only pedestrians can walk around there. After sunset, it offers you a different sense of entertainment with its colorful lights, sounds and smells. Beer offered at cheap prices is also a good option for those who want to visit here.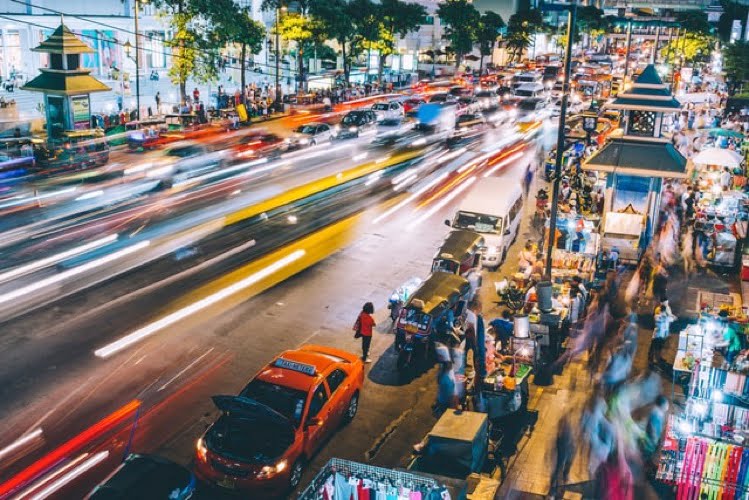 One of Phuket's most famous streets is Bangla Street. There you can see people of gender who you can't tell at all whether it's a man or a woman. I also want to say that I really respect them. In addition, many bars and shows also leave their mark on Phuket's nightlife. You can surely wonder about ping pong shows. We just went there out of curiosity and watched one. The environment was kind of erotic, but it wasn't really like that at all. Because I really watched the show there like a magic show. I don't think I'll ever forget the woman who climbed onto the bar table and pulled a bird out of her vagina for the rest of my life. One's mind cannot help but think about how they prepared for this.
And most of the girls who work in the bar and do pole dancing are ladyboys. In the face of their beauty, we were surprised to know that they were not women. You look at the faces of the girls for minutes and expect a masculine attitude and behavior. Actually, everything there was like an open-air museum for me.
No matter what happens, it's worth going and walking down this street once and seeing what's going on.
You can have a beer at the bar, watch a little show and leave.
Actually, there's a lot of other shows. But because we had a very active life during the day, we had no energy at night. We could take a tour of the streets and have a beer. We were more interested in massage parlors. But if you have a longer time, check out different shows such as Simon Cabaret Showroom, Fantasea Shows on Phuket Island, Cultural Siam Niramit Phuket Oasis. I wanted to watch men's Thai Boxing Fight shows or real fighting competitions. If you have such a curiosity, you can watch a Thai Boxing.
Phuket Islands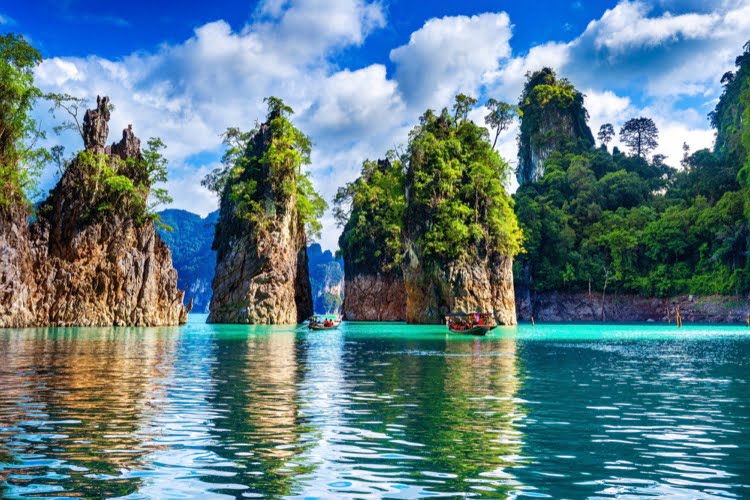 While I was in Phuket, I couldn't have returned without seeing the ocean islands, diving and touching the colorful fish and corals, and taking a nap on one of the white beaches. These islands, which have inspired many movies and books, offer a beauty that you should see at least once in your life.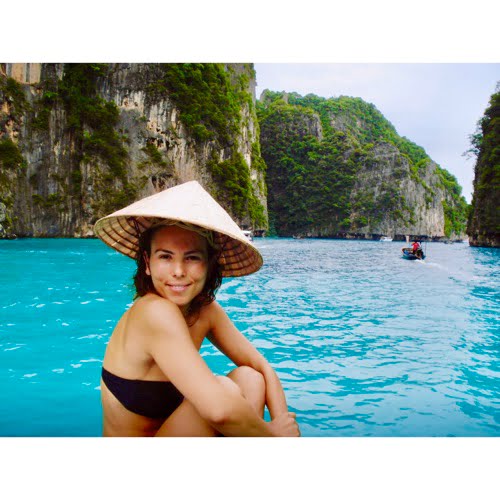 So we rented a boat and went to see these islands. Of course, I can't tell you how joyful to travel on that boat, on those waves. It was an incredible experience that with each wave, the waves lifted the front of the boat and hit the boat back into the water at the same speed. My father, mother, brother and I were the only group in the front of the boat that could withstand this crazy ride. Yet, after half of the road, we couldn't stand the effect of the speedboat and we had to go inside.
Phi Phi Islands, Ko Phi Phi Lee, James Bond Island, Phi Phi Lay… Some of the most famous.
A trip to Phuket is not counted without visiting the Phi Phi Islands.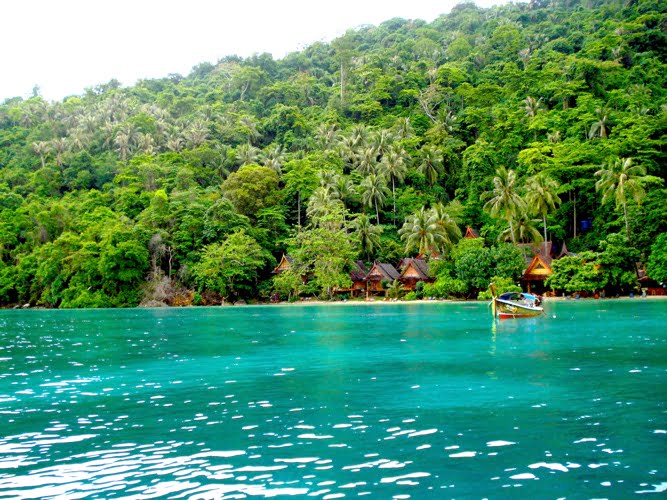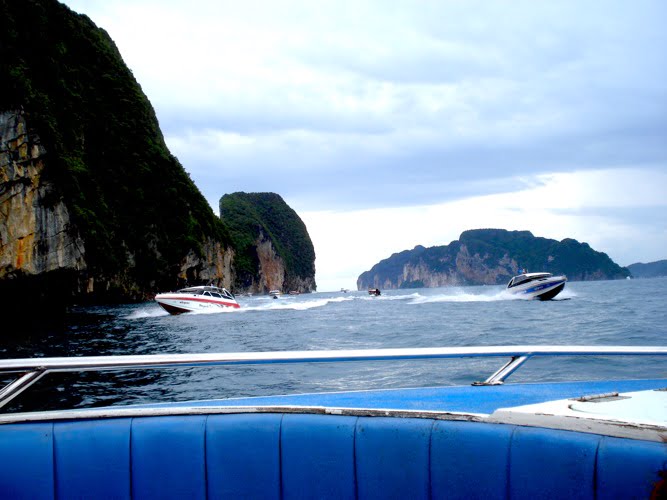 The islands, which are reached in 90 minutes by speedboat from Krabi and Phuket, actually consist of 6 islands. The largest of these islands, Phi Phi Don, can be accommodated.
There is no accommodation facility on the other big island, Phi Phi Leh.
Phi Phi Lay Island Maya Bay Beach (white sandy place with large tree roots)
Maya Bay of Ko Phi Phi Lay Island, one of the islands of Maya Bay, is quite famous.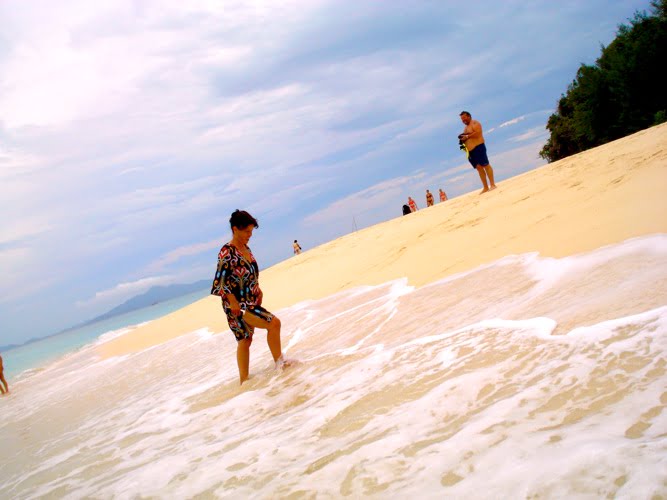 Maya Bay on Phi Phi Lay Island is where Leonardo Di Caprio's film 'The Beach' was filmed. When this is the case, the bay can be very crowded. Maya Bay was closed by the Thai government in order to regain its ecological balance, which it lost a while ago. It is said it will receive tourists in a controlled manner in 2021, but I do not know what the latest situation is due to Covid-19.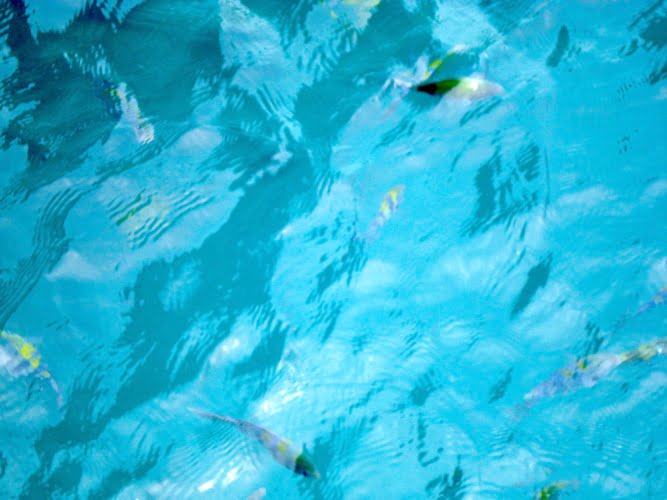 Here you can see the wonderful fish even without diving.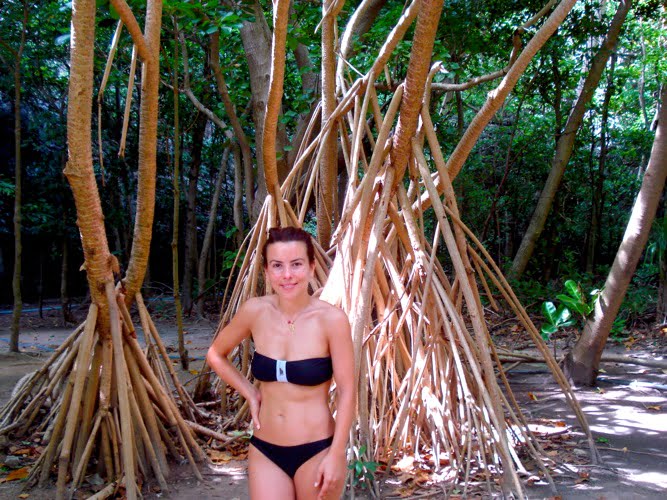 Koh Phi Phi Don Island (Viking Cave)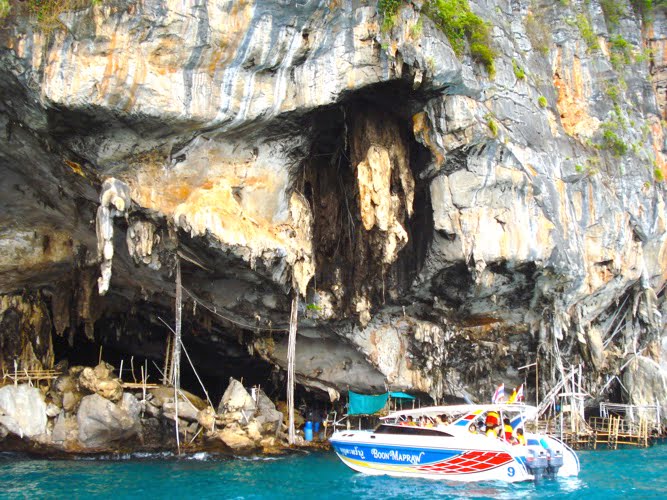 Even though we approach the "Viking Cave" (Tham Phaya Naak) on Phi Phi Leh Island by boat, we couldn't get inside, we just settle for what's being told. If you are imaginative, standing in front of the boat and listening to these stories will impress you. The pirates hiding their treasures, ancient Chinese drawings and other stories about the inside of the cave… Since we couldn't see the drawings inside, it didn't affect me much, but I still enjoyed seeing it from afar.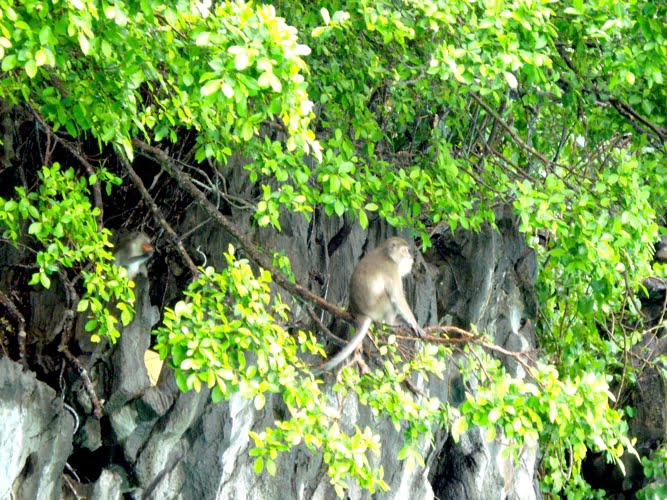 We went to Phi Phi Don Island and visited the Macaque monkeys that live on the island. They are so comfortable on the trees above the sea that we were afraid they would fall into the water. We found out later that they can swim pretty well. They told us not to get too close, that we never know what the monkeys were going to do, so we didn't go to the beach. We got as close as we could by boat to get closer to the monkeys and to stay safe. You can already tell which of the monkeys is calm from their approach. I think Baby monkeys are the most innocent and reliable ones, but of course you have to watch out for their mothers.
James Bond Island ( Phang Nga Bay)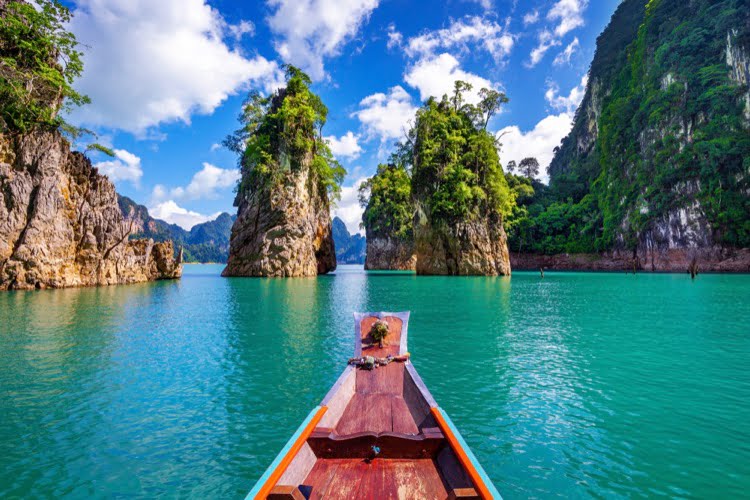 James Bond Island, whose real name is Phang Nga Bay, came to the fore with the movie The Man with the Golden Gun, starring Roger Moore. It has since been known as James Bond Island. The water is not azure as it is the confluence of rivers. James Bond island has a greenish hue of the water.
Thai Massage
I don't remember how many times we had a massage during our Far East trip. Our curiosity to see the country was dragging us from one place to another all day. By the end of the day, we were so tired that massage was no longer a beauty ritual, but a necessity.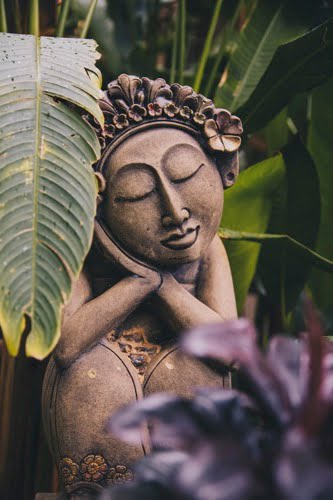 We had incredibly nice massages in Phuket. I recommend reading my more detailed article about the massage. Because I didn't want to go through it with a paragraph. Click here for more of the article
There are really good massage places in Phuket. But I always say that instead of tiring yourself out by looking for a massage parlor, choosing one of the alternatives when you are most tired will make you much happier. And it should definitely be at the top of the list, don't return without having a massage!
Snake experience
Why did I do it? It's one of those experiences that I have no idea about. All of a sudden, I felt like patting snakes. I wondered what it feels like to touch them. I patted it first when it was on the man's neck, it gave a really strange feeling. Then all of a sudden, the man put the snakes on my neck. So I started to touch them without hesitation. I guess some experiences have to be done without thinking too much. Just think that kissing a boa constrictor before you die is off your to-do list.